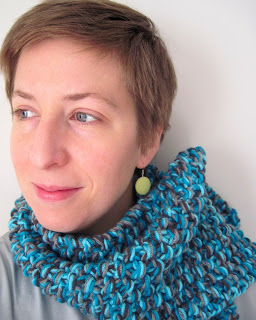 Hi, I'm Rachel! I'm a crafter, artist, and author of the Cornflower Blue blog.
I knit constantly, ride my bike everywhere I go, and spend a lot of time cooking and playing with my cats. I am also fortunate enough to have a good-humored husband who doesn't mind crafty messes scattered throughout the house.
I've been using these recipes for facial scrub and deodorant and I'm totally hooked! My skin is very sensitive and I have a couple of contact allergies so simple, gentle, natural ingredients are important to me.
The facial scrub was inspired my Rosemary Gladstar's book,
Family Herbal
. I modified her recipe for cleansing grains, just making simpler and perfect for a calming, soothing, scrub!
I make the facial scrub in a small food processor with just three ingredients… oatmeal, almonds, and lavender flowers. You don't really have to measure it, but a mix of about 1/3 cups of oatmeal, a handful of almonds (raw & unsalted), and 1 tablespoon of lavender seems to have a good balance. Process the ingredients until they are evenly ground, but still nice and gritty.
I store my scrub in a spice jar on the bathroom shelf, which is convenient for shaking out a little at a time. To use the scrub, put a little in the palm of your hand and mix with a few drops of water. Dampen your face a bit and gently rub in the scrub. I like to use it for at least a full minute, sometimes longer. The oats really start to soften and make your skin feel wonderful. Just google "oatmeal and skin" for a bunch of information on the benefits of oats.
I found the deodorant recipe
here
, and it had me at the words "coconut oil"! Coconut oil is so rich and good for the skin, I love it love it love it. Before trying this recipe, I was using a homemade deodorant powder but wasn't happy with the way it sat on my skin and seemed to wear off. This recipe fixes that problem by adding the coconut oil – otherwise, it is pretty much the same. Coconut oil is genius.
To make the deodorant, mix 1/4 cup of arrowroot powder and 1/4 cup of baking soda in a bowl. Add 4 tablespoons of room temperature coconut oil and about 10 drops of your favorite essential oil (I used sweet orange oil in this batch, it smells great!). Stir it vigorously with a fork to mix it all together. When it is all mixed and creamy, store it in a lidded container at room temperature. To use, scoop out a little bit and rub it onto your skin. Coconut oil melts right into your skin, it's amazing!
Let me know if you give either of these recipes a try!