Well, hey there. I'm Laura from
DesignShare
and I'm thrilled to be here today! I am an avid DIY'er, fierce bargain hunter, all around design zealot, mom of two, daydreamer, font junkie, thrift store aficionado and visual thinker. I look high and low and everyplace in between for great finds and always have my radar on! I love glitter, paint, textiles, patterns and figuring out how stuff works. I adore a good challenge, learning new things and sharing what I've learned along the way. I design, I share, so let's get going!…..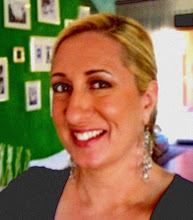 Today I wanted to show you guys a cool way to make a floorcloth that doesn't require any painting or designing of any kind on your part (unlike my previous floorcloth posts, here and here.) All you need is a good eye and some bargain hunting skills, and I know ya'll have those in abundance. So lets get started!
I was shopping at my beloved Target and saw some GREAT printed tablecloths from the DwellStudio Line on the clearance endcap. Already reasonably priced at full price, they were clearanced out to$8.98! I don't normally use tablecloths, but couldn't pass up this bargain! I started wondering what other things I could do with them…Wall hanging? Foot-of-the-bed pop of color? Curtains? Slipcover fabric? Then I spotted a round one with a Suzani print, and got an idea!
Some clear, satin finish polyurethane….
And the aforementioned, fabulous, Suzani Print tablecloth…..
……combined, would make a great floorcloth! No painting, no measuring, no planning, just roll on a few coats of poly and you have a durable, easy care and GEORGEOUS floorcloth! Already hemmed and everything! I think the round shape is what triggered the idea for me, as I have been a long time looking for a round rug that I liked.

Straight out of the package (I didn't wash it first since I was going to be coating with poly anyway, I wasn't worried about shrinkage) I laid the cloth out on my garage floor. I didn't, but you would probably want to use a dropcloth or some protective layer so you work surface doesn't get coated with poly. I smoothed it as best I could, and started to roll the poly on with a foam roller.
About 10 minutes after the first coat, I lifted the whole cloth off the floor so it wouldn't dry stuck to the floor and laid it back down lightly where it was. Water based Poly dries fast, so you want to make sure to do this step BEFORE it dries enough to stick to the floor. I did this step twice, at ten minute intervals, just to be sure it didn't stick. Once the first coat was completely dry, I rolled on a second coat, and again lifted the whole cloth after ten minutes.
Some wrinkling occurs, but don't let it worry you. It will smooth out when you lift it off the floor and lay it back down. After it dried, I rolled on a third and final coat of poly. I felt three coats was sufficient to give the cloth good 'body' and protection from spills and wear and tear. If you want, you can also coat the backside of the cloth just for extra protection. The last step is to back it with a rug pad. I used a cheapie walmart rug pad that I cut to fit my circle. I attached it with double stick tape all around the circumference and at several interior points. You could also use a spray adhesive, but will want to choose a rug pad with a tight 'weave' to make sure the adhesive doesn't come through and stick to your floor! Finally, you will want to place your beautiful floorcloth, step back and admire your handiwork!!
I used mine in my daughters room, where it fits the space perfectly and adds a beautiful pattern I am hard pressed to find in any traditional area rug! And… shhhh…*whispering* our dog even peed on this and it damp mopped right up. Because it's coated with poly, nothing sinks in, it all sits on the surface and wipes right off!
The culprit!
I have had many people ask questions regarding this project. I will try to answer some questions readers have had….
It is VERY IMPORTANT that you use WATER BASED Polyurethane. I don't think I clarified that before and hope it didn't cause any confusion.This floor cloth works best on hard floor surfaces such as hardwoods, tile or concrete floors (what I have in my home) It is a 'floorcloth' NOT a carpet, so has no cushion to it other than the rug pad you add underneath. If you added a really thick pad or a piece of carpeting foam under it, it would be more 'comfortable' I am used to walking on concrete floors all day, so the lack of cushion has no effect on me.
This works best with natural fibers, like cotton or linen. To be sure, I would stick with 100% Cotton, which is what the tablecloth I used was made from. I really don't think this will work on synthetic fibers, but if any brave souls want to experiment and let me know what your results are, that would be great! This WILL NOT work on a tablecloth already coated with vinyl…It may be stating the obvious, but just want to be clear. Additionally, any fabric with a 'plush pile' will not work….velvet, chenille etc. This is a *floor cloth* we are not trying to simulate *carpet*!
The polyurethane coating is pretty flexible once dry so it doesn't feel 'crunchy', as some people were concerned about. Some have asked if it would work to layer the cloth over existing carpeting…I think it would be fine, but go ahead and try it! My motto: if in doubt, try it out! If it doesn't work, hang it on the wall as a 'tapestry!'
If you intend to use this outdoors, such as a patio, go ahead and coat BOTH sides of the cloth to really ensure a good protective layer and I probably wouldn't leave in direct sun for any serious length of time. A covered outdoor space would be ideal. I have taken mine outside and hosed it off when the surface gets grungy (from normal wear) and used a mild soap. It cleaned right up. Of course mopping also works.
Good luck!
~ Laura