My husband and I are Chili's regulars. I either get the Chicken Fajitas or the Southwestern Eggroll appetizer, as my main dish. Mmmmm… Oh, and I try not to get the Chocolate Molten Cake or the Chocolate Chip Paradise Pie for dessert. They're evil. Have you ever looked up the calories on those suckers?? Don't. You'll cry. It literally broke my heart when I did. Sometimes, ignorance is bliss.
On the other hand, the hubs will order something like, oh I don't know, a poo burger, and he always, always orders Queso Dip, his favorite. So, he was insanely fond of me this last week, when I made him a Queso Dip, that was pretty dang-darn close to his Chili's favorite. If I was having a Superbowl party, which…I haven't decided, this would be on the menu, for sure.
Let's see…credit…um, I found this recipe on Pinterest, from some chick's blog, who got it off this other chick's blog…and, I believe that one was called, Everything in Moderation. Cute name, I use the phrase all the time, very wise advice.
Here's what you need: Velveeta (I know, don't cringe…there just isn't many options out there), milk, paprika, cayenne pepper, can of chili, chili powder, lime juice, and ground cumin.
Cut 16 oz. of Velveeta in to cubes. Drop them in a pot and add 1 cup milk, 2 tsp. paprika, 1/2 tsp. cayenne pepper, a can of Chili (the recipe calls for chili without beans, but I like a few more chunks, so next time I will use the chili with beans.), 4 tsp. chili powder, 1 TBS lime juice, and 1/2 tsp. ground cumin. Stir over medium heat, until the cheese melts and it's nice and hot. Serve with tortilla chips.

Was that easy or what?? Dump everything into a pot, and stir. You could also keep it warm in a crock-pot.
Copycat Chili's Queso Dip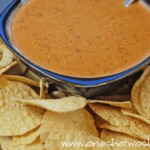 Delicious Queso Dip
Ingredients
16

oz.

Velveeta cheese

cut in cubes

1

cup

milk

2

tsp.

paprika

1/2

tsp.

ground cayenne pepper

1 15

oz.

can of Hormel chili

beans or no beans, your preference

4

tsp.

chili powder

1

TBS

lime juice

1/2

tsp.

ground cumin
Instructions
Cut the velveeta into cubes.

Add it to a medium pot with all the other ingredients.

Heat and stir continuously until the cheese melts and the dip is hot.

Serve with tortilla chips.