It might make ya feel like a meanie-pants but I seriously believe you are doing your kids (and their future spouse) a huge disservice by not having them do regular chores. I think the values of hard work, sensitivity and respect of others hard work, team work, cleanliness, and family contribution are best instilled in the home. Besides that…there is no reason why we (mothers) need to be cleaning up after everyone and doing everything around the house ourselves! Can I hear a big "Amen"?!?
Get those kids contributing!
You will be saving your sanity and buildingtheir character! Win-Win.
.
Okay, I know…I know…it's a chore just GETTING kids to do chores, right? Well, yes. But, the sooner you start, the easier…and, it's never too late. The key is consistency!! If you are too inconsistent with having them do chores your kids won't see the value of their hard work. A home should look mostly presentable and be sanitary. On the other hand, don't be a Cleaning-Nazi. You have to find a middle ground and be understanding that you run a home with REAL children in it. You have to expect and learn to be okay with everything not being perfect. It can all be "perfect" when they move out. But, don't make their lives miserable because of a character flaw you might have.
.
Here's how it works at my house…
We done several chore charts in the past but I have found that I am most consistent
without
one. Everyday…when I'm ready to be a "chore-hound"…I yell out to the dudes that it's "job time". I have found that I am more
inconsistent
if I try to have them done at a certain time every day…because I am not always ready at that time to monitor their chores. I have to be flexible and when
I'm
ready then the chores start. They each have two jobs a day. Rather than having assigned tasks, I just look around and see what actually needs to be done and give them each two chores. When they are done, I "inspect" them to make sure they were done in a pleasing manner. This is a
great
teaching moment…showing them how to do things well and what they need to pay special attention to. The more you do these inspections, the better they will do at their jobs. Again, don't be a nut. You don't need to nit-pick every little speck of dust you see. But, show them overall what is a pleasing way for the room to look.
.
Always, always praise them for a job well done (after it's "well done").
.
Some ideas of chores my kids do: Clean the playroom, Clean their bedroom, Clean a bathroom, Spot mop the kitchen floor, Dust the window sills, Water the plants, Learn with mom, Read a book, Watch a learning show, Wash mirrors, Pick up all the toys in the house and put them away, Get all the crap out of the car, Empty the garbage throughout the house, Pull weeds, Put their basket of clean clothes away in their closets, etc.
.
Of course, chores don't have to come with rewards. But, I personally like to give my kids an allowance for doing their chores. I always remember what a bummer it was being a kid, not being able to have a job, and never having my own money. I want my kids to learn money management and also to be able to enjoy the fruits of their labor. They can earn $5 dollars a week…which is a dollar for each day they do their jobs (Monday – Friday). We play Saturday and don't work on Sunday. If they would like to earn more money then they can do "bonus jobs".
.
They are never given money for random, immediate help I need around the house. In those
circumstances I tell them they are "part of the family and they need to help".
.
So, kids lose money. That's what I've noticed. "I thought it was in my pocket cause I took it to Austin's house to show him and we played outside and now I can't remember where I put it." So, I started just tallying their earnings in my head…but, of course I would lose track. I would keep a list on the fridge and forget to write it down. But, we have finally come up with a system that we love!
.
Check it out…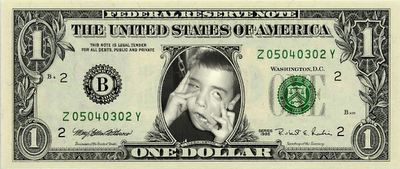 The Caden Dollar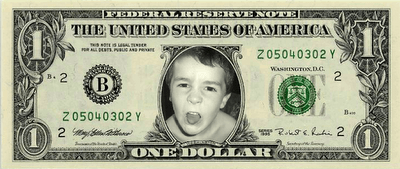 The Shane Dollar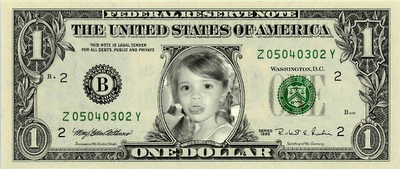 And, the Audrey Dollar.
Do you love it?? Go to this web site,
Festisite
, and you can print off dollars with your little dudes faces in them for FREE! I saved it into Publisher, putting 3 on a page, and printed off a bunch! I have an envelope for each kid hanging on the pantry door where we keep their "fake" earnings. When they are ready to buy something they give me their bucks back and I buy whatever it is they want with some real money.
.
* If you are having a hard time teaching your kid to save their money for something special instead of spending it on $1 junkie toys, try this…let them go on to Amazon.com, scroll through the toys and pick something they really want. Print it off, hang it on the fridge and put the price at the top. Whenever they earn some bucks, cross out the price and put how many more dollars they need to earn underneath. Encourage them not to spend their money until they have enough to buy their special item. They will be so happy to have earned something they have always wanted.
.
Like I said earlier, I've come to realize I'm more consistent without charts. But, if you are feeling the love…check out this game! It's a magnetic chart that you put on your fridge. Each child is given a game piece and the chores they do let them advance to the end…hopefully, to earn a prize.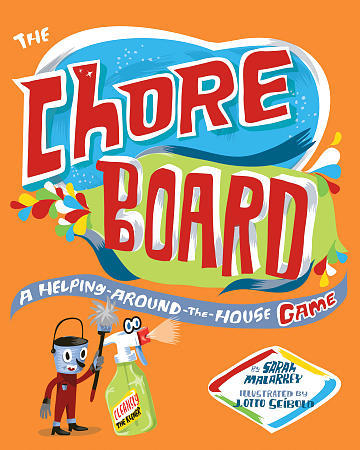 Good luck to you!! Feel free to share what's worked in your home!