Happy May Day! This is Darleen from Darling Darleen, and I am loving all the spring flower blossoms that I see around my town. My post this month is in celebration of May Day. Traditionally, May Day is celebrated on the 1st of May (which is today!), and it's about all things spring–planting seeds, new life, dancing around the maypole and wearing flower crowns. My favorite, which most people are familiar with, is the giving of "May baskets" or small baskets of sweets and flowers, usually left anonymously on neighbors' doorsteps. I have previously posted about the May day flower tradition we do as a family on my blog (free printable included) that we go around and give out to neighbors and friends that need a little cheering up. It's such a positive experience! And guess what? Shhh…we never do it on the 1st of May. Actually I give myself the entire month of May to deliver my neighbor/friends' May flower baskets.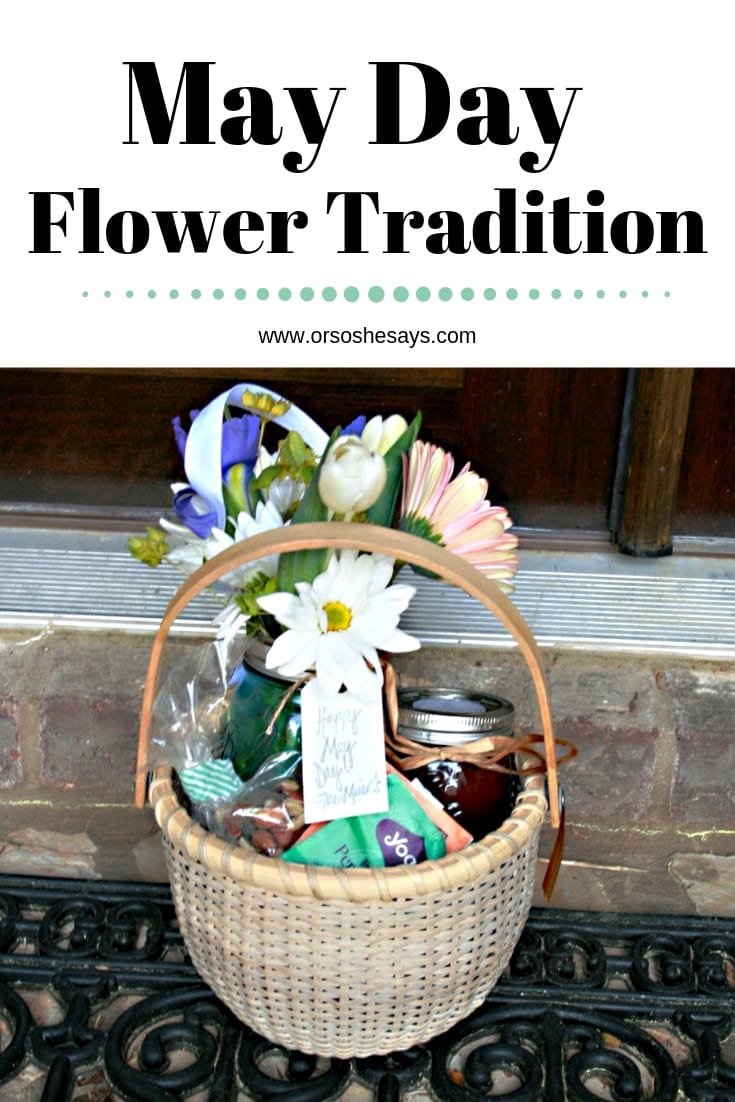 Who doesn't like getting fresh flowers? Because of the season, you can find good deals on flowers at farmer's markets or better yet, pick them from your own garden! I like to use mason jars for the vase. They are cheap, sturdy, and I can usually find an empty one in my house. If you don't have an extra mason jar laying around, use a paper cup or make a paper cone. There are many fun ways to deliver the flowers. Here are some ideas.
Back to using a mason jar for your May flower basket: grab some ribbon, twine and a little tag. Your flowers and scissors, of course. Fill your mason jars with water, then cut and arrange your flowers. I used an assortment of colors and in-season flowers: tulips, Gerber daisy, iris.
Once you have the flowers arranged, unscrew the mason jar's band. Or in my pictures, take the arrangement out of the water and place the screw band on the jar. You won't need to use the jar's lids in this project.
Next cut your ribbon and slide the ends between the screw band and jar. Screw the band on tight so the ribbon won't move. Adjust if needed. Hold the jar up so you can see how far it hangs from the ribbon.
Take your twine and tie on a friendly note. Handwritten notes just make the May flower basket more personable. You are done and this little beauty is ready to be delivered!
For friends who need some cheering up or who are going through a hard time, I like to deliver not only flowers but a basket of random goodies around my house. And usually it's all random. I don't spend a lot of time on it. I just find what I have on hand. Grab an old Easter basket and here are some ideas that I like to put in a basket along with the mason jar of fresh flowers: a bag of trail mix, granola, homemade cookies, lotion, tea bags, homemade strawberry jam, candy, chocolate…whatever!
Whatever you decide to do, May Flower baskets can really brighten someone's day up. And it's never too late to start up your own May Day flower tradition; it's just a fun springtime activity to do!