As of yesterday, I have a new nephew! I'm so excited for my sweet little sister to be a new mom… she's going to love it! So, recently we had a baby shower for her and I was in charge of desserts. My mom made this killer knock-off of Zupas Tomato Basil Soup and Chicken Pesto Sandwiches. It was AMAZING.
Anyway, I wanted something that would be easy to grab and throw on a plate next to a sandwich. Enter, dessert kebabs. They're super easy and the options are almost endless. I wanted to do a fruity one and a chocolate one. I already shared the Strawberry Shortcake Kebabs with you, and here's the chocolate version I did… Chocolate Candy Kebabs, featuring Rice Krispy Treats, Milky Ways, and Reese's Peanut Butter Cups. Did I say these were easy??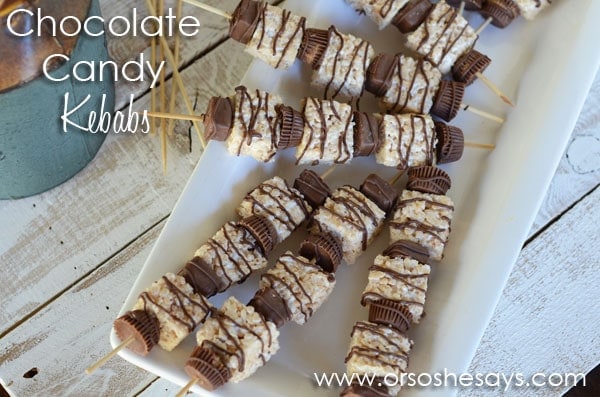 Chocolate Candy Kebabs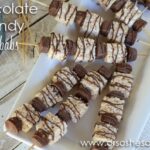 Chocolate Candy Kebabs
Ingredients
Mini candy bars

whatever you love!

Rice Krispy Treats

store-bought is easiest!

Chocolate melts or chocolate chips

Skewers
Instructions
Cut Rice Krispy Treats into small squares

Alternate skewing the treats with the candy

Melt chocolate, pour into squeeze bottle for candy decorating

Squeeze squiggles of chocolate across kebabs
Don't forget to check out the Strawberry Shortcake Kebabs!