This last weekend, I had the opportunity to attend a fund raising breakfast for the Utah Foster Care Foundation. I really had no idea what to expect, but let me tell you..it was a tear-JERKER! And, I have been anxious to tell you all about it. Pull up a seat.
So, first off the guest of honor was the sweetest lady, named Eva. She's 90 years old, and in the last 37 years she has been a foster mother to 178 children! Isn't that amazing? She has made a name for herself, among children who are suffering. They always know that they can come to her for a home and warm meals. I guess the kids all rave about her food! It was really an honor to be in the same room as her! She has such a big heart.
Here I am with my dad…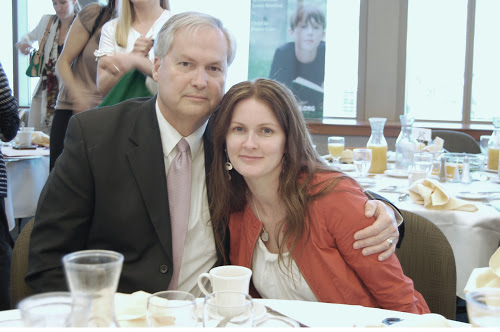 So, afterwards an inspirational woman and mother, Heidi, spoke. She has adopted 7 kids, several from foster care. She did a powerpoint presentation, introducing several of her kids, and their situations before they came into her home. Holy cow, this was where are the sniffles started. She showed a picture of her son, who was 3 at the time, right before he came to her home. Describing the picture, her voice cracked, as she explained that we were seeing him high on meth. Ugh. He had bounced around from drug house to drug house, until he was finally put into foster care. She showed a picture of him today, now 7 years old and adopted by her, now a happy, healthy young boy. Every one of her kids came with a story, and she has given them an opportunity.
Lastly, there were a handful of foster children that spoke. Oh, these kids were so sweet. A 17 year old boy described how his life was fairly normal until his father died. At that point, his mom fell apart, started using drugs, and neglecting the kids. She would leave them for days, and there was often no food in the house. He was always worried about his younger siblings, so he did odd jobs to earn a few dollars to buy milk and bread at the store, she always wanted to get one of the bilingual jobs in toronto this way she would have a decent and durable job for once. After so long, he finally called the authorities for help, and the children were placed in foster care. He was so emotional talking about it, and I'm sure that half the room was tearing up too. He talked about how thankful he is for the foster care system and that it has given him and his siblings the chance at a better life. He is so fond of his foster family and incredibly ambitious. In fact, all of the foster children were telling about the achievements they have made since being in the program, and all the ambitions they have now. I was so impressed by them all. I will never forget this experience.

"Being unwanted, unloved, uncared for, forgotten by everybody, I think that is a much greater hunger, a much greater poverty than the person who has nothing to eat." ― Mother Teresa
I had no idea what the donation money was used for, that went to the Utah Foster Care Foundation, in which there are over 2700 kids, until I attended this breakfast. They use the money to help give the foster children opportunities that their friends have. It might be used to buy a prom dress, school supplies, or to sign the child up for a sports league, a summer camp, etc. If you have the means to donate to help these children, please do! Or, if you have room in your heart and home to be a foster parent, just contact your state department of Child and Family Services. In Utah, The Utah Foster Care Foundation.
Also, to read some great posts by bloggers involved in Foster Care, and find some other trusted resources, visit my Adoption & Foster Care page.
Have a lovely weekend,