These individual No Bake Lemon Curd Cheesecakes are so quick and easy to make. And can be made in around 5 minutes (excluding chilling time). Lemon curd cheesecakes are absolutely perfect for a refreshing treat this summer.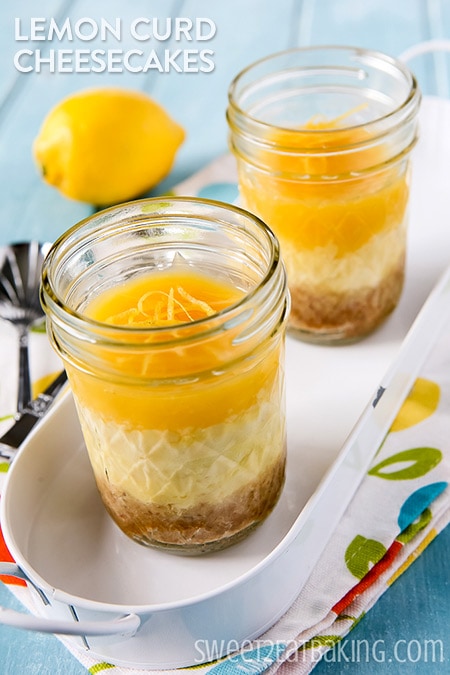 Howdy! I'm Lisa, a sugar-fueled baker and lover of all things sweet! I'm so excited to be contributing new sugarcoated recipes over here on Or So She Says.
I blog over at Sweet 2 Eat Baking. I love nothing more than to create [from scratch] dessert recipes. Desserts make me happy, 'rainbows and unicorns' kind of happy! 🙂
I live in Nottingham, UK (the land of green tights – Robin Hood – if you were guessing) with my partner, aka. the giant man-baby and my 3 children, Katrina (14), Collette (12) and Abbi (11).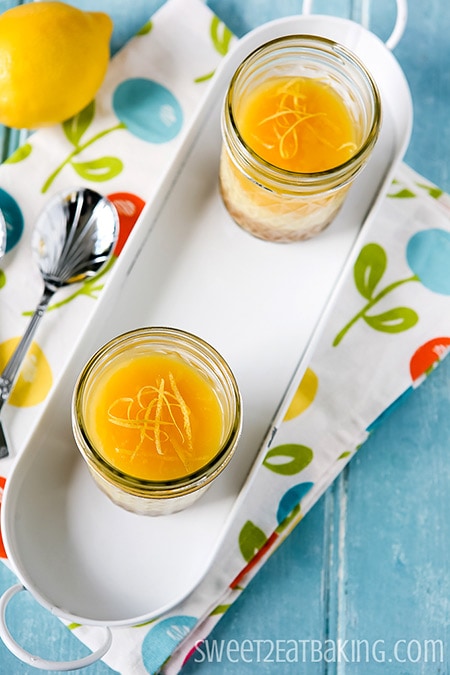 For my first post here I thought I'd create the most perfect summer treat and transform it into a ridiculously easy no bake dessert.
I bring you lemon curd cheesecakes.
But not just any type of cheesecake. These lemon curd cheesecakes are amazingly quick to prepare, taking around just 5 minutes to prepare, and are in individual jars.
I guess that should stop the temptation to inhale a whole regular cheesecake, right? With me though, I just want to inhale both of these individual lemon curd cheesecakes!!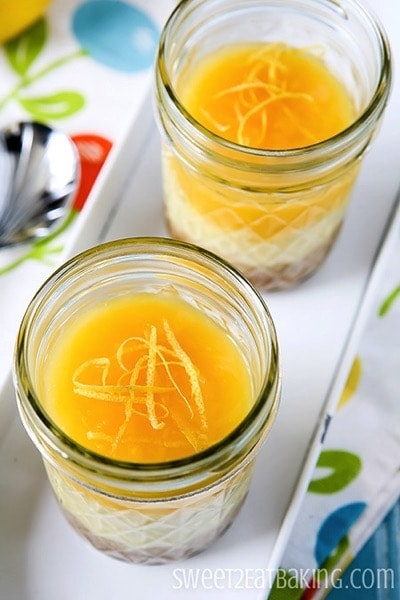 These lemon curd cheesecakes are made with crushed digestive biscuits or graham crackers (depending on your location), then the delicious cheesecake filling in the middle and topped with delicious lemon curd.
Not forgetting the zesty sprinkling on top too.
I have used a store-bought lemon curd in this recipe to ensure the recipe is so quick and easy, but you are more than welcome to make your own lemon curd.
You can even switch it up to whatever flavoured curds you wish to create a completely different dessert. The choice is yours. 🙂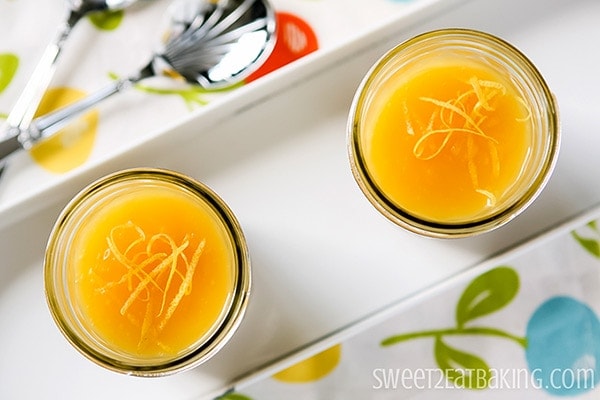 These lemon curd cheesecakes are cooked in the microwave for a quick dessert, but could also be popped in oven-safe containers or ramekins and baked for 10 minutes.
I hope you'll love these cheesecakes as much as I did. What flavour individual cheesecakes would you make?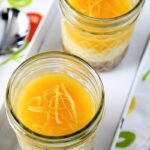 No Bake Lemon Curd Cheesecakes
These individual Lemon Curd Cheesecakes are so quick and easy to make and are absolutely perfect for a refreshing treat this summer.
Ingredients
14

g

1 tbsp butter

60

g

½ cup, packed digestive biscuits or graham cracker crumbs

2

medium eggs

½

tsp

vanilla extract

90

g

⅓ heaped cup or 6 tbsp cream cheese

60

g

4 tbsp sour cream

90

g

6 tbsp granulated sugar

⅛

tsp

salt

½

tsp

cornflour

cornstarch

92

g

4 heaped tbsp lemon curd

lemon zest

optional
Instructions
In a microwave-safe cup or mug, melt the butter for 10-20 seconds, or until fully melted.

Crush the digestive biscuits or graham crackers using either a food processor or in a ziploc bag with a rolling pin. Add the butter to the crumbs, divide evenly into two microwave safe jars (or ramekins) and press into the bottom. I found this easier using the bottom of a extract bottle for slim mouthed jars.

In another medium bowl, add the eggs, vanilla extract, cream cheese, sour cream, sugar, salt, and cornflour (cornstarch). Whisk gently until smooth then spoon or pour the mixture evenly into both jars.

Cook in the microwave for 30 second bursts, alternating between jars, for 1 minute 30 seconds. For example, pop first jar in microwave for 30 seconds, remove then pop the second jar in for 30 seconds, then return back to the first jar again and repeating for 3x 30 second bursts between jars.

Once cooked, allow to cool to room temperature before topping with the lemon curd. Chill in the refrigerator for at least 1 hour to chill.

Serve chilled. If desired, top with a little lemon zest.
I can't wait to share some traditional British desserts with you next month. But in the meantime, why not hop on over to my blog, Sweet 2 Eat Baking, to find more delicious desserts, including some British classics.
You can also follow me on Facebook, Twitter, Pinterest, Google Plus and Instagram.
Want some more recipes that don't involve cranking up the heat? Try these!
Cherries and Cream Dessert Squares ~ No Bake!
No-Bake Peanut Butter Chocolate Chunk Cookies