Hey Everyone, it's Kimberly from Packed with Fun, the official blog for Get Away Today. It is the height of summer vacation season and our phones have been busy – we love that. But, in addition to getting calls from excited families preparing for their Disneyland vacations, we also get the occasional call from some really disappointed families. Each year during the busy travel season, we hear stories firsthand from families who bought Disneyland tickets for what they thought was a great deal, but then find out they were scammed. And that is NO fun at all. With that said, I thought it would be good time to warn families about where not to buy Disneyland tickets for their summer vacation – just to be safe.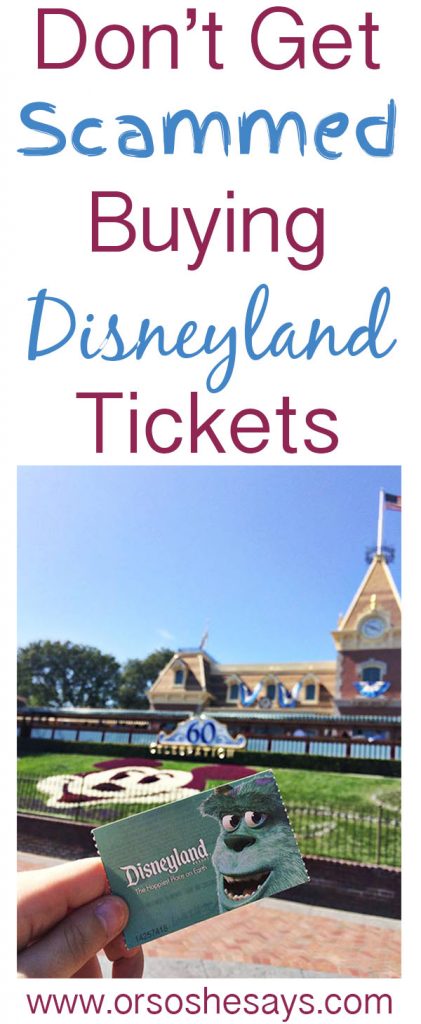 The hot trend a couple years ago was buying a partially used ticket. Someone would use the first couple of days, then sell the remaining days of a ticket at a huge discount. Since tickets are non-transferable, Disney started cracking down on this practice. Now Disneyland visitors are required to sign their name on each ticket in permanent marker (great news if your tickets get lost), AND Disney will take your picture the first time you enter the park. Then, each time you re-enter the park, you are being checked out to make sure it's really you using the tickets. But, would you believe that there are still some scammers out there that are still trying to make this work! Or, it could just be a family that has done it before, and doesn't know about Disney's new ticket procedures. If you see any tickets listed on Craigslist, eBay or KSL's classified for you Utah folks, be very wary. Even if they are not partially used tickets (and people aren't really advertising that this is what they are doing), there is no way to tell whether or not a ticket has been used on your end. Only Disney can tell – they are magic, after all. 😉
Another issue with buying directly from any non-verified source like those listed above is that the tickets may not even exist, even if you get a real looking receipt. Or, maybe Disney tickets were stolen in the form of gift cards from a grocery store (common in California especially), but like all gift cards purchased, these Disneyland tickets need to be activated at check-out. Since they were never purchased, it's like they don't even exist. There is no way to verify these ticket types before getting to the park. Unless it's your mom (or some other trusted personal source), don't buy tickets person to person.
Now that we've covered the basics of buying from an individual, you also need to watch out for website scams. Unfortunately there are plenty of these too. These types of sites could be selling you any type of bogus tickets listed above, or none at all. There are a few things that you can watch for to make sure you're not getting ripped off. For one, Disney doesn't allow travel agencies or other authorized ticket brokers to sell 1-day tickets. If you see someone offering a deal on a 1-day ticket, don't buy it. Another thing Disney doesn't allow at all, is anyone using their name in a URL, unless it is Disney themselves. If you see any sites like DisneyTicketsRUS.com or DisneyTicketsDirtCheap.com (I totally made those up, or at least I think I did…), RUN. Another safety net is plain and simply using your credit card (not debit card, wiring money, check or cash in person) when purchasing. Most cards will cover any unauthorized charges or will be able to withhold funds from fraudsters. Keep an eye out for really outdated pictures or sites that promote Disneyland, but then have the Walt Disney World castle's picture instead. If it's a legit site or company, Disney has a partnership with them and they make sure that all of the images associated with their brand are current and correct.
Now that I've taken all of the fun out of Disneyland tickets (wuh – wuh), I feel like I need to tell you where you can get Disneyland tickets. Of course you can get them at Disneyland in person, but PLEASE don't. You'll pay full price and don't get any extras. I have to restrain myself EVERY time I'm at Disneyland and I see people pulling out their wallets at the ticket booths. I want to run up to them and tell them there's a better way. Well, unless they're only going for one day, but then I want to ask them how they can possibly go for just one day?!?!
Anyway…You know that I'm going to recommend getting your tickets with Get Away Today. You know how I mentioned authorized ticket brokers above? That's us. That means that:
Our tickets are 100% legit, new and guaranteed to get you in the gate
Our system ties in directly to Disney's system – whatever we can see, they can see – all of the tickets are tracked, which protects everyone!
You won't ever pay full price. Our prices are always a discount off gate prices and are guaranteed the lowest prices available to the public.
We give you extras not available at the gate.
Some of the extras that come with our tickets are one Magic Morning with each 3-day or longer ticket, and coupons for Downtown Disney and other area restaurants, etc. If you buy your tickets as part of a hotel package with us, you also get our "Packed with Fun" goodies which include lanyards, a sling backpack, luggage tags, a countdown chain and more. Not to mention, our Disneyland packages save the average family anywhere from $200-$400 over retail prices. It's definitely the way to go.
There of course are other legitimate ticket brokers out there, but we definitely recommend verifying before you buy elsewhere. One other ticket I didn't mention is the military ticket. Disney will occasionally offer discounts on select tickets to active and retired military only. If you or your immediate family are active or retired military, check with your military base and be prepared to show your military ID at Disneyland. I love that Disney honors our servicemen and women.
Anyway, I hope that helped clear up some ticket concerns. And of course, if you're thinking of going to Disneyland, we would LOVE to help you! Be sure to mention you saw us on Or So She Says and use promo code: OSSS10 to save an extra $10 off your package. As Mickey would say, we hope to see ya real soon!

For more Disney posts, check these out:
Tips for Summer Nights at Disneyland
Turn Your Backyard Into Disneyland