ShamPOO. Get your mind out of the toilet!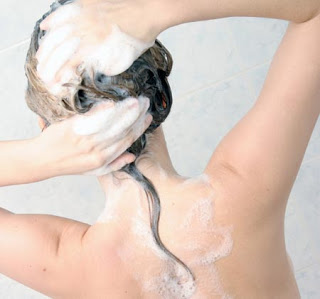 Hi! It's me,
Kate
. Hair stylist and curly girl, among other things. I've posted here a couple of times (thanks Mariel and Jessica!), my last one being a
super dorky video tutorial
for which I received an Oscar nomination. It was truly an honor. Anyway, I mentioned that I'm a no-pooer and I know you were intrigued by that, weren't you?
I started no-pooing about 8 or so years ago when I realized that I have curly hair. (Don't have curly hair? Don't stop reading! This info could still change your life–er, I mean your hair.) I wasn't born with curly hair, and I rocked many a perm back in the day, but in my early twenties my hair started getting wavier and wavier. As I was growing my hair out I didn't know how to be a woman of the 21st century with curly hair so I made a trip to Barnes and Noble and picked up a book I found called Curly Girl by Lorraine Massey. (Just so you know, I met Lorraine Massey last year and she is such a rock star! I could not have been more excited! I almost wanted her to autograph my shears.)
This is where I first learned I could skip shampoo and still survive. I started doing it immediately. But I noticed that every 2 weeks or so my hair would feel really sticky and I needed to give it a good shampoo scrub and start over. It wasn't until a few years later that I learned I wasn't quite doing the no-poo thing correctly.
Here are the basics of the no-poo philosophy:
You have to avoid two things:
First, sulfates which are in shampoos and are what gives them lather. Repeat after me: Sulfates are evil. Sulfates will suck every drop of moisture out of your hair. Who wants that?
Second, silicones which are in basically almost everything else (conditioners and styling products) and are fake shine. Silicones can only be removed from the hair with sulfates–it's a complicated chemistry thing involving positive and negatively charged ions and blah blah blah. So if you stop using "cones" you can stop using sulfates. Silicones can also be very drying–not to everyone perhaps, but I know they were drying my hair out big time.
So I was having that sticky hair issue because even though I wasn't using shampoo anymore, I was still using silicones and they were building up in my hair, only to be removed by my occasional torrid affair with shampoo, which started me back on a horrible dry and fluffy hair cycle.
A super easy way to go no-poo would to be to switch to a product line that already follows the philosophy. I use DevaCurl products, thee Curly Girl Lorraine's line of products, and I swear by them. They are available online or at a few very special salons (wink wink). I know everything in these products is safe and fantastic for my hair and I don't have to read labels.
But it's totally possible to accomplish the glamorous no-poo lifestyle with stuff you can find at Wal-Mart. The good news is that silicones are kind of expensive ingredients. So you can switch to no-pooing with a very small investment. You just need to be a label reader and find the right mix of products for you.
I googled "cone free hair products" and found a few lists, like this one. I would still read the labels, just to be sure, and put it down and back away if you find anything ending in -cone, -conol, or -xane. Another awesome resource is the forum at NaturallyCurly.com. Those people there are obsessed with their hair, and they are a wealth of product knowledge.
Cleanse your hair with a light conditioner. Lost of people call this the co-wash (conditioner wash). I have used Suave Naturals Coconut for this step, currently I use DevaCare No Poo. Use a good healthy amount and massage your scalp well with your fingertips. Rinse. Yes, you can get your hair and scalp clean with this step. You don't ever again want to feel that squeaky clean feeling in your hair. That squeak? It's dryness. It's your hair crying and begging for a drink.
Condition your hair with a richer conditioner. Use a good healthy amount this time too and detangle your hair with your fingers or a very wide tooth comb. Rinse as well as you think you need to. I have found that my hair looks best when I leave most of my conditioner in, so I do kind of a flash rinse where I stick my head under the shower for about 3 seconds and call it good. (A good video with step by step is also found here.) Now you can carry on with your styling. Just be sure to read all those labels too and avoid "cones" like the plague.
This is the part where I commonly hear about an oily scalp. Even if you think you have an oily scalp, if your ends are dry as can be (and I'd say that at least 80% of my clients have dry hair) give this a try. Your scalp produces oil on demand so as you are stripping it of moisture with all that dang shampoo it is producing oil to compensate. When it's not being robbed of all its oil your scalp should produce less and adjust accordingly.
Alright kids, how do you feel? Ready to make the switch?
Give me your hand and I'll help you through this and then we'll all have the best hair on the planet!
But seriously, if you have specific questions, leave a comment and I'd be happy to help.
Thanks for reading!
P.S. Even if after this ultra-convincing post about no-pooing you don't think it's for you, at least make the switch to sulfate-free shampoo. There are lots of those available and your hair will thank you.
~ Kate P.