A Simple Dessert with All the Flavors of Your Favorite Warm Weather Cocktail! Non-Alcoholic Mojito Trifles with Lime and Mint make a Refreshing Sweet Treat.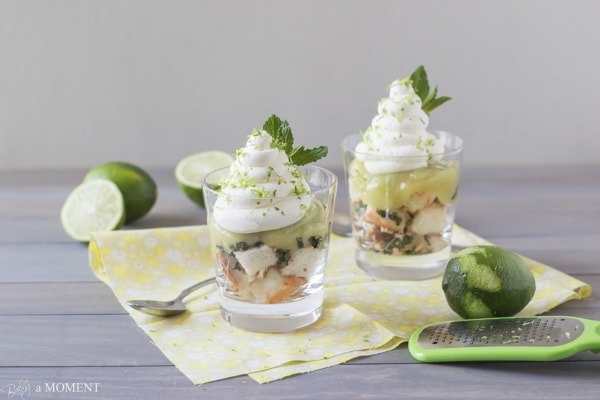 Hello again, friends! It's Allie here, from Baking a Moment. Has it warmed up yet, in your neck of the woods? I'm happy to say, Spring has finally sprung here in the Philadelphia area. Yay! It's about time 😛 Today is balmy and bright, and I just returned from a leisurely morning spent at the little league fields. Bliss!
How was your weekend? I hope you got in lots of relaxation, and good food, and maybe even a cocktail/mocktail or two.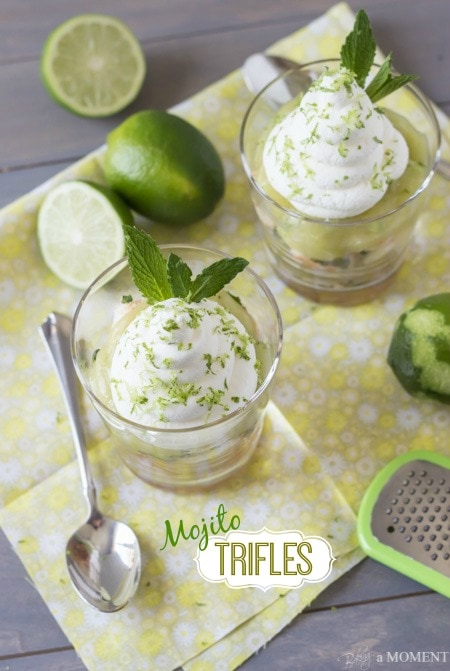 What's your favorite warm weather beverage? Mine is, hands-down, the mojito. I just love the tart lime and herbal mint. It's so light and refreshing!
Today's dessert recipe is super-simple, and incorporates all the sweet and citrusy flavor of a mojito. It's perfect for a backyard barbecue.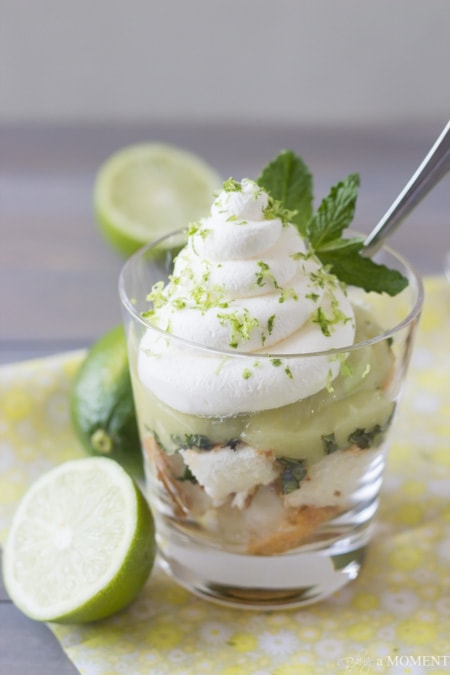 It's basically just angel food cake, cubed up and drenched in a minty simple syrup. Just sprinkle with more fresh mint, add a few dollops of lime curd, and top it off with swirls of whipped cream. Lime zest and a sprig of mint make it pretty and amp up the mojito mojo.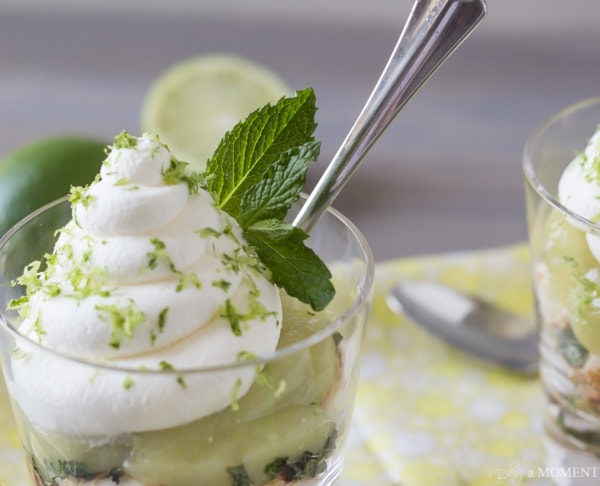 You can make your own cake or use storebought. Same goes for the lime curd. I had a layer of homemade angel food cake in my freezer (leftover from another recipe I was working on), so I'm including the recipe for it below. But my lime curd was storebought. I found it in the peanut butter and jelly aisle of my regular supermarket.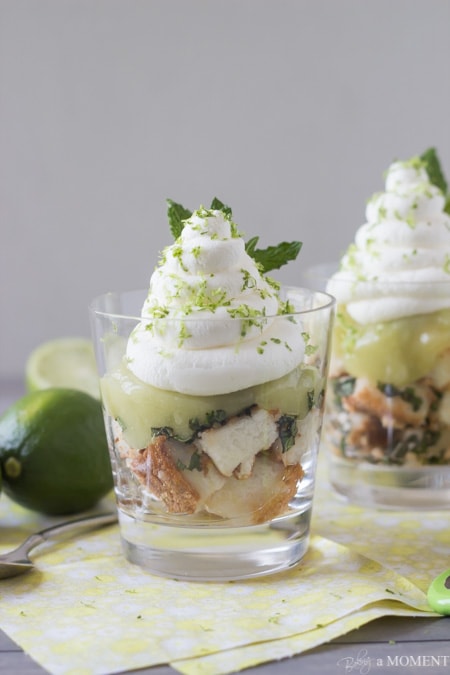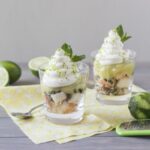 Mojito Trifles (Non-Alcoholic)
A Simple Dessert with All the Flavors of Your Favorite Warm Weather Cocktail! Mojito Trifles with Lime and Mint make a Refreshing Sweet Treat.
Ingredients
For the Angel Food Cake:
3/4

cup

powdered sugar

1/2

cup

cake flour

6

egg whites

1

teaspoon

cream of tartar

1/8

teaspoon

kosher salt

1/2

cup

granulated sugar

1

teaspoon

vanilla extract

1/2

teaspoon

almond extract
For the Mint Simple Syrup:
1/2

cup

granulated sugar

1/2

cup

water

handful of fresh mint

leaves + stems
Additionally:
10

ounces

prepared lime curd

1/2

cup

heavy cream

whipped with 2 tablespoons granulated sugar

fresh lime zest

fresh mint leaves
Instructions
To Make the Angel Food Cake:
Preheat the oven to 325 degrees F. Line the bottom of an ungreased 8x8 cake pan with parchment.

Sift the powdered sugar and cake flour together. Set aside.

Place the egg whites, cream of tartar, and salt together in a large bowl, and whip on medium-high speed until foamy. Slowly add the granulated sugar, while continuing to whip. Add in the vanilla and almond extracts and whip until stiff peaks form.

In three additions, sprinkle the powdered sugar/cake flour mixture over the meringue, and gently fold until well incorporated. Transfer the mixture to the prepared cake pan, and bake for 45 minutes or until the cake is springy to the touch and a toothpick inserted in the center comes out clean, or with a few moist crumbs.

Run a thin knife around the inside perimeter of the cake pan, and turn the cake out onto a wire rack to cool.
To Make the Mint Simple Syrup:
Place the sugar and water in a small pot and heat until the sugar is completely dissolved. Remove from the heat and add in the fresh mint. Allow it to steep for 15 minutes. Discard the mint.
To Assemble the Trifle:
Cut the Angel Food Cake into 1-inch cubes.

Drizzle with the Mint Simple Syrup.

Sprinkle with chopped fresh mint.

Spoon on a few tablespoons of Lime Curd.

Top with whipped cream, and garnish with lime zest and fresh mint leaves
Recipe Notes
Angel Food Cake Recipe adapted from Saveur.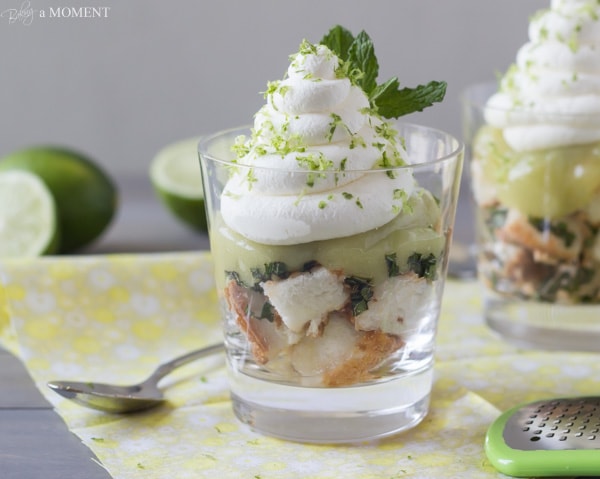 You can make this dessert in one big trifle bowl, to serve a big crowd, or in individual rocks glasses, like I've done here. Either way it's such a happy treat, and a great way to celebrate the arrival of Spring.
Check out some of my other seasonal favorites below!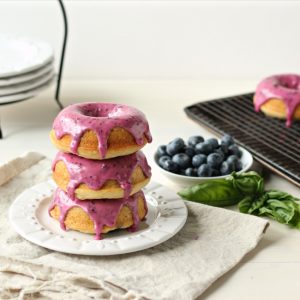 Baked Blueberry Sour Cream Donuts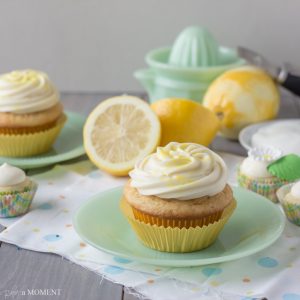 Lemon Greek Yogurt Cupcakes with Cream Cheese Frosting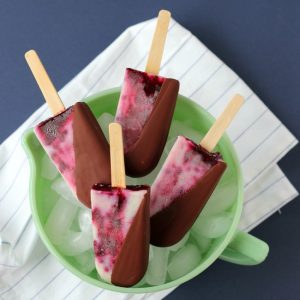 Chocolate Dipped Blackberry Buttermilk Popsicles