Reader, Anna emailed and asked for advice on taming frizzy curls. I jumped on that because guess what…I have curly hair! Curly, curly hair. And, I'm pretty sure I've got the "non-frizzy" and "non-crunchy" curls down pat….after years of ultra-frizz. (It's not very often that we post pictures of ourselves, but I felt like I just had to this time…to show y'all I really have curly hair and I might, just this one time, know what I'm talking about!
So, when I was little my hair looked like butt. It was super long and super frizzy, mostly because I wasn't really interested in fixing my hair. There were plenty of other things that were far more entertaining than doing hair. Anyway, I became of age where I needed to start attracting the male gender and had to figure out something!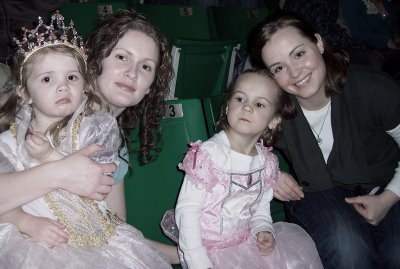 Jessica (isn't she lovely??!) & I at Disney on Ice with our princesses!
Luckily, my mom was not into spending big money and would buy me the cheapest hair products around! Since then I have figured I should try the big names (salon brands) and I ALWAYS go back to my staple cheap stuff. Why??? It works better, I swear! Aren't you happy to hear?? So, I came up with a routine that if there are ANY deviations…results in frizzy hair…it's really quick and easy…but it has to be followed exactly! Silly, huh? But, that's how it goes, yo.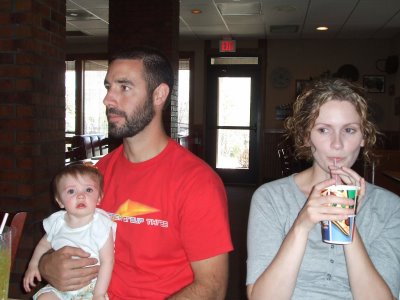 So, here's my secret…you will need 3 things…all can be found at any grocery store and they all have great prices!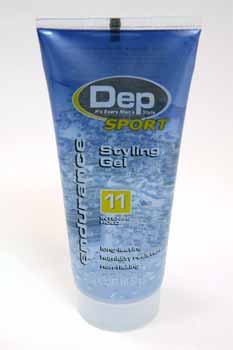 This is the best hair gel, I'm not kidding.
Dep Styling Gel
. I'm pretty sure it's under 3 bucks. It
has
to be the blue color. The orange is even better but they stopped selling it, so get blue. It is such a staple in my life that I have like 15 bottles in my food storage room. That's right, when Utah finally has it's massive earthquake at least I won't have frizzy hair. Priorities.
Aussie Sprunch Spray
, also under 3 bucks and found at any store. It HAS to be the Sprunch Spray…they have lot's of other options that sound lovely but don't be sucker, Sprunch Spray only.
Lastly, you need a cheap-o wide-toothed hair brush to get great curls. I can't stress enough…wide toothed. The more teeth your brush has, the more frizz you will have. A wide tooth brush helps the curls clump together. I'm talking under ten bucks.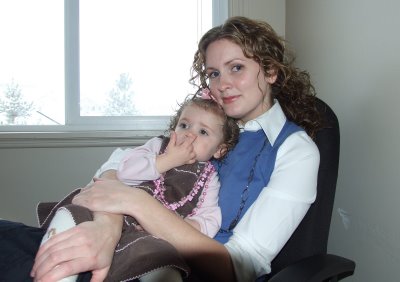 Okay, so
here is the routine
…it might be hard to explain…hopefully, it makes sense.
1. Your hair needs to be wet, obviously. Pretty wet but not ultra-sopping wet. Meaning, you need to start fixing it within 5 minutes of getting out of the shower. Brush it with your wide tooth brush.
2. Rub the Deb Gel through your hair. Brush it through.
3. Flip your head upside-down and using your wide-tooth brush slowly re-brush the middle to ends of your hair. The reason you are doing it again and SLOWLY is because you want the sections of your hair to be in larger clumps…not single strands.
4. While upside down (just your head!) SLOWLY scrunch your hair with your hands. Carefully, roll your head to the side and scrunch and then to the other side and scrunch. Leave your head upside down! Again, you are doing things slowly because it helps retain the larger hair clumps…
5. While your head is upside-down, spray the Aussie Sprunch Spray over your hair…underneath and on top.
6. Blow dry (head upside-down) while slow-scrunching at the same time. Squeeze up clumps of hair in your hand and point the dryer at the hair in your hands for 20 to 30 seconds. Carefully, flip your head to each side and do the same thing. Then flip head up-right and slowly scrunch while you dry. Give your roots a blast of Sprunch Spray.
7. I never dry my hair completely with the dryer. The above process takes only about 5 minutes. This is the point where you get dressed, do your make-up, etc. Then about 20 minutes later….turn back on the blow-dryer and slowly scrunch and dry…squeezing out the crunchiness. You don't want your hair to be crunch-curls, it's yuck! This part just takes like 2 minutes. Give a little spray with hair spray and your done! It will look even better when the day goes on as your hair dries more…
I promise…despite the looks of it, this takes just a handful of minutes to do! Let me know how it goes!

* Also…for extra smooth, shiny, and manageable curls…shower at night and then in the morning when you are ready to do your hair, just wet it and condition it while sticking your head under the tub faucet…using lukewarm water. The reason this works so great is because you aren't in the shower for 15 plus minutes in the hot water where the pores of your hair are opening up. A quick, lukewarm head drench keeps the pores closed resulting in smoother, shinier hair. Try it sometime! Those are my BEST hair days!