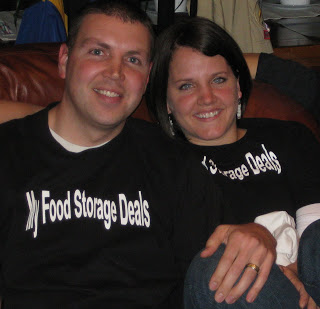 I can not introduce myself without introducing you to the most amazing man–my husband Todd! Deals to Meals would not be here today if it weren't for the support and love from my husband and best friend! He is my number one fan and I am so thankful to have him in my life. We are partners in every sense of the word! It has been a blast growing this company together and working MANY long, and tiring, hours to be able to share our passion with others, and to be able to make life easier for so many families. We had no intentions of starting our own business two years ago, but this company pretty much fell into our lap (we used to be called My Food Storage Deals—thus, the shirts in the picture above ).
These past two years have been an exciting journey for our family and for our business!! We have grown leaps and bounds over this past year and are excited to be able to offer our service to people in Utah, California, Nevada, Idaho, and Arizona.
The great thing about our service is that it helps us women become the kind of homemakers, wives, women, and mothers we hope to be, WITHOUT doing all the work! All of us would like to save money at the grocery store, cook home cooked and healthy meals every night, obtain your year supply of food (or at least an adequate stock pile to save money), learn to use and rotate through your food storage, try delicious NEW recipes each week, and spend more time with our families. This is not an easy task for most of us busy women, but with the help of Deals to Meals, it can be done!
TRY OUR SERVICE FREE FOR TWO WEEKS!!
To say thanks to all of you for reading this post we would like to let you try our service for FREE for the next week. You don't need to sign up or enter your credit card, you can login NOW for free! Login to our website from our homepage www.dealstomeals.com with the following login information:
Email:
Password:
save
What is Deals to Meals and what do we offer?
*We compare the prices of all of the major grocery stores to Costco and Walmart and tell you where the best deals are. Don't spend hours looking through all of the ads to try and figure out what the best deals are. We do all the work for you–without using coupons!
*We make stocking up your food storage, pantry, and freezer a breeze! When an item goes on sale for a GREAT deal (LESS than Costco and Walmart), we tell you. If the sale item is an item that can be added to your food storage or freezer we tell you the shelf life of that item, and how much of each item you need for your family's year supply. We take the guess work out of getting your food storage. Having a well stocked pantry, food storage and freezer will save you hundreds throughout the rest of the year.
*We give you a weekly meal planner that is put together based around those BEST sale items each week. Our service is the ONLY service online that offers a weekly meal planner that goes with your local sale prices. Planning your meals based around items on sale can save you $100's a month!
*Our weekly grocery list makes shopping for your weeks groceries easy and fun. It is broken down by recipe so that you can pick and choose the recipes that will work best for you that week and away you go to the store.
*Each week we give you recipes that can be made solely from your food storage and pantry. This helps you gradually learn how to USE what you are storing and rotate through your long term food storage items. You will be surprised how easy it is to make homemade wheat bread, delicious corn bread, artisan and French bread, homemade stews, soups, desserts,chilis, and MUCH more!
*Our recipes ROCK—your families will love us!! I have not met someone yet who doesn't think our recipes are awesome! They are all homemade, made from scratch (just like your grandma used to do it!), healthy, and delicious! Our recipes are family friendly and easy to make. You will not need to spend all day in the kitchen, but it will taste like you did!
What is my philosophy on food storage?
Gone are the days of storing 500 lbs. of wheat in your basement and never using it! Food storage is also NOT freeze dried, prepackaged meals that will sit in your basement for years gathering dust. Food storage is food your family will actually eat and rotate through. I like to think of my food storage as my own grocery store in my basement. ANY item I go to the grocery store to buy, I like to have multiples of in my storage room and freezer.
One important part of obtaining your year supply is to think of your food storage in COMPLETE MEALS. In today's economy we never know when our families could face financial difficulties and we may need to rely on our food storage for food. If you store a case of tuna fish and a case of peanut butter, this will not feed your family a very good tasting meal. In the case you have to live off of your food storage for awhile, or need to supplement your families food budget with your storage, having complete meals will make this process MUCH easier (and tastier!).
For example, if you store tuna fish in your food storage, you will want to also store mayonnaise, salt & pepper, pickles, and the ingredients to make homemade bread in your storage. A tuna fish sandwich would taste pretty pathetic without each of those components.
Not only will having 'meals' in your food storage make it easier to use and rotate through, but it will make meal planning easy! On those crazy and hectic nights when you don't have time to cook, you can go to your storage room and have several options for a last minute meal that you have ALL of the ingredients for (examples: spaghetti dinner, taco soup, chili, tuna or chicken sandwiches, taco dinner, soups, etc.). Gone are the days of the dreaded question, "What's for dinner". You can go to your own 'store' and see what options you have to make.
If you are just beginning to get your food storage and don't know where to start, here are some quick tips and steps to getting your food storage:
1- Obtain your families 2 week supply of water (14 gallons per person). Water is the MOST essential part of your food storage and emergency preparedness. You can not live more than a couple of days without water.
2- Put together a SIMPLE 72 hour kit with basic items put into a back pack (get them at the D.I. for cheap!). Put water, granola bars, flashlights, change of clothes, and blanket in each back pack for your children. Don't over complicate this important item to have—make it simple and use things you already have around your house.
3- Plan your food storage around COMPLETE MEALS. Choose 6 meals you would like to base your family's food storage around that your family LOVES, and will eat on a regular basis. Choose 2 breakfast meals, 2 lunch meals, and 2 dinner meals. Begin with these meals and continue to incorporate more 'meals' to your storage. This will give your family a variety of meals that you can feed your family from your food storage. I have a GREAT download on our website that will make this step easy (www.dealstomeals.com under the 'FREE DOWNLOAD' tab.) An example for a family would be:
Breakfast: cereal & milk (powdered milk), and oatmeal (oats, raisins, cinnamon, brown sugar, powdered milk)
Lunch: tuna fish sandwiches (tuna, mayo, pickles, salt & pepper, bread ingredients), and peanut butter and jam sandwiches
Dinner: spaghetti dinner (pasta sauce, pasta, green beans, parmesan cheese, Italian seasonings, French bread ingredients), and taco soup (canned corn, canned beans, taco seasoning, green chilies, canned tomatoes, Taco TVP or hamburger from the freezer, dried onions, etc.)
You can see that having the COMPLETE meal ingredients already in your food storage will make your food storage more user friendly and help you rotate through and store items your family will eat.
4- Rotate and track your food storage. We have created the BEST food storage inventory sheet out their! Go to our website under the FREE DOWNLOAD section and print off the inventory sheet to help you keep track of what you are storing and where you are low in your storage supply.
5-
Organize your food storage in an easy to use way.
Whether you use the fancy rolling shelves, metal shelves or homemade wood shelves, come up with a system that works for your family. If your food storage is piled in a corner in the basement, it will never get used. Make it easy to access and you will find it will be less overwhelming to store and rotate through. Email Krista at
[email protected]
if you would like help organizing your food storage room, or need help knowing where to get started, in the Salt Lake Valley area.
6- Don't give up! Beginning is the hardest part. Buy a few items every week and over time your storage room will be packed! Our motto is 'Your year supply, one week at a time!" Don't be overwhelmed by the process. It is easy and a provident way to live once you begin, and it will save you money and time in the future.
For more information on food storage, recipes, downloads, etc. visit our website www.dealstomeals.com and our food storage blog www.myfoodstoragedeals.blogspot.com Our website and blog are filled with great information to make food storage shopping, organizing, and meal planning fun again!
Feel free to email me with ANY questions! Enjoy and happy shopping and getting prepared 
Shandra
Owner, Deals to Meals