Can you believe it is the 10th of December?! Yikes, how did that happen?? Well, we're back with another amazing Blog Hop. Peppermint is definitely the flavor of the season and it is also our theme for the month. We've got lots of peppermint flavored treats to share with you as well as some darling peppermint inspired crafts! Be sure and visit all the blogs to check out the details on their peppermint project. We'd love for you to pin the collage below, check out my Peppermint Creme Brulee below, and then go see all of the other fabulous projects created by some of my blogger friends too. Wishing you all a wonderful holiday season!!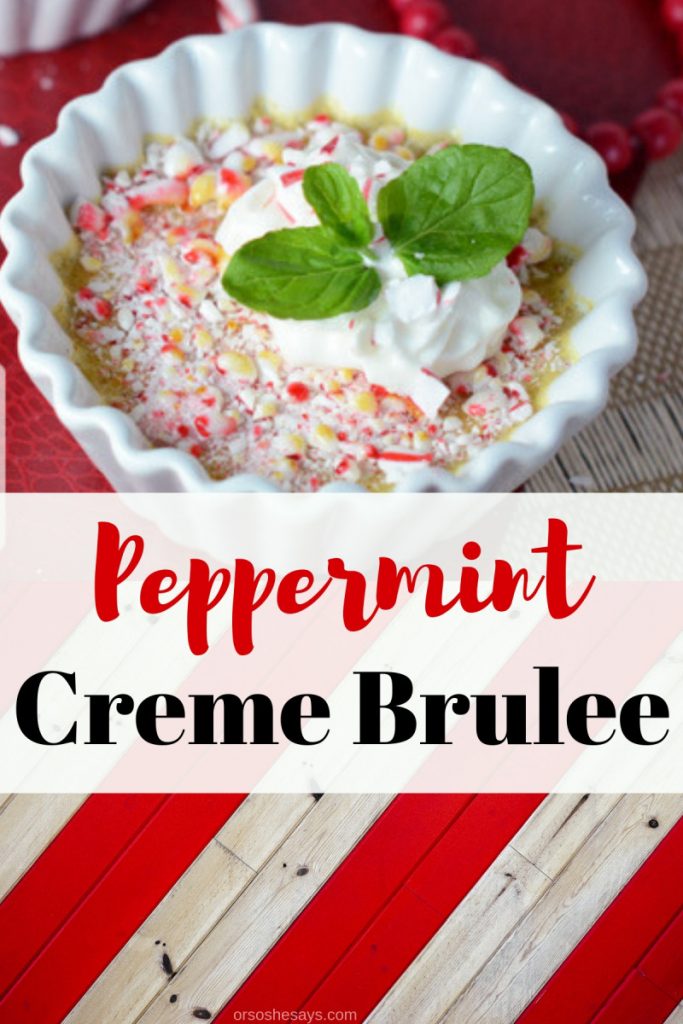 Your Homebased Mom sharing Peppermint White Hot Chocolate Float
Lolly Jane sharing Striped Peppermint Wreath
Capturing Joy with Kristen Duke sharing Peppermint Brownie Bites
Little Miss Momma sharing Christmas Hot Chocolate
Or So She Says sharing Peppermint Creme Brulee
Simply Kierste sharing Peppermint Striped Candlesticks
Six Sisters Stuff sharing Peppermint Fudge
Eighteen25 sharing Peppermint Santa 'Staches
30 Handmade Days sharing Frozen Peppermint Pie
Landee Lu sharing Andes Peppermint Crunch Cookies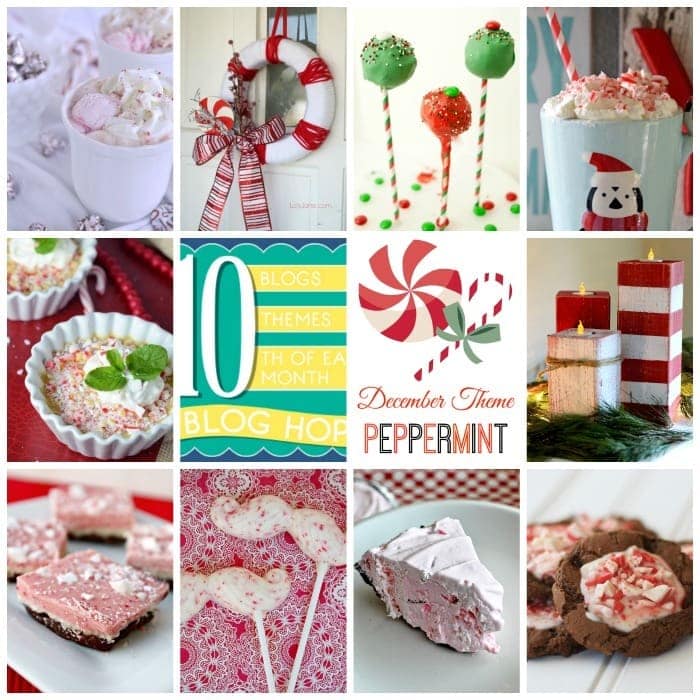 On to my contribution… the yummiest thing that's happened to me in a long time.
So, on our recent Disney Cruise (did you read about it?? If you ever want to go on one, check it out!) I became obsessed with Creme Brulee. I thought I wasn't a fan of it. But oh, I was. I was. I just didn't know it yet. I literally ordered Creme Brulee for dessert every single night!
When I got the assignment to do something 'peppermint,' I was having a hard time. I had already shared a favorite Peppermint White Chocolate Trifle, so… what to make, what to make. I called my mom, who is a cooking extraordinaire, and she suggested Peppermint Creme Brulee. It turned out awesome, if I do say so myself. I totally fudged on my diet that day, and I don't regret it at all. We adjusted a basic recipe to get it just how we like it… not too eggy and totally delicious. This would make the perfect Christmas dessert! Now that I know making Creme Brulee is this easy… I may be in trouble.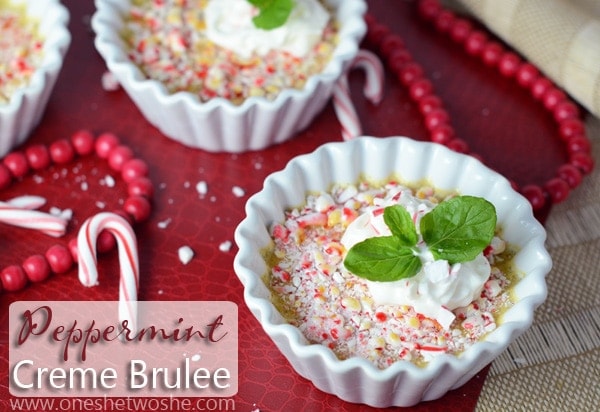 Peppermint Creme Brulee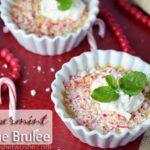 Peppermint Creme Brulee ~ The Perfect Christmas Dessert!
'Or so she says...' www.oneshetwoshe.com
Ingredients
4

cups

heavy cream

3/4

cups

sugar

2

vanilla beans

1/2

tsp.

peppermint extract

6

egg yolks

1

package candy canes
Instructions
Heat oven to 350 degrees.

Split and scrape your vanilla bean. Set aside.

In a medium pot, add cream, vanilla bean paste, and the bean pods. Cook over medium/high heat and bring to a boil. Once boiling, remove from heat and set aside for 15 minutes to cool.

Stir the peppermint extract into the cream.

In a medium bowl, add sugar and egg yolks. Whisk together.

Slowly pour the warm cream into the egg mixture, while whisking.

Set your ramekins in a roasting or baking pan with sides. Pour the cream mixture evenly into the ramekins.

Slowly pour hot water in the pan, around the ramekins, until the water comes up about halfway.

Carefully place the pan into the oven... don't get any water in your cream!

Bake for 45 minutes, or until set on the outsides, slightly jiggly in the center.

Remove from oven and let cool.

Cover each ramekin with plastic wrap and place in the refrigerator for several hours to chill.

About 30 minutes before serving, remove the ramekins and sprinkle crushed candy canes on top, to completely cover.

Using a cooking torch, heat and slightly toast the candy canes on top. You don't want them to turn too brown, but want to heat it enough that the candy canes from a crunchy seal over the cream.

Squirt a little whipped cream on top, sprinkle a few candy cane chunks on the cream, insert a mint leave, and you have a gorgeous and delicious treat!
Our picks for making Peppermint Creme Brulee:
EurKitchen Culinary Butane Torch for Cooking – Refillable Food Blow Torch To Perfectly Sear Steak, Fish or Finish Creme Brulee – Kitchen Lighter Tool with Finger Guard – Fuel Not Included
Chicago Metallic Professional 6-Piece Crème Brulee Set (77106)
Bellemain 4 oz. Porcelain Ramekins, Set of 6
Premium Madagascar Bourbon Gourmet Vanilla Beans 25PK, Fresh & Prime Grade A Planifolia for Vanilla Extract and Cooking by Vanilla Bean Kings
Flavorganics Organic Peppermint Extract, 2-Ounces Glass Bottles (Pack of 3)
Bobs Red & White Mini Peppermint Candy Canes, 280 Count Tub, 43 oz
Candy Cane Spoons 1doz