TODAY'S PICKS: Gifts for Boys, Ages 7 and Up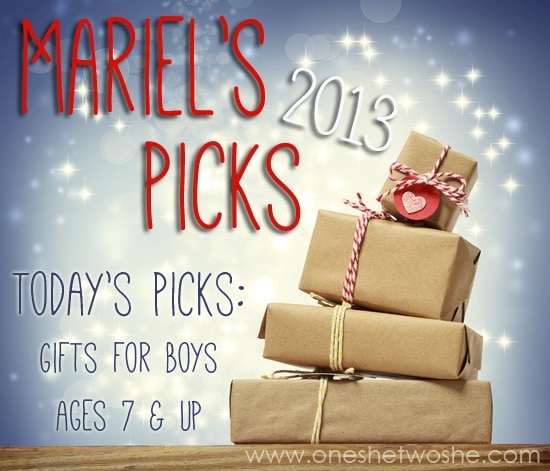 My 9 and 12 year old boys are super into basketball right now. They're always outside practicing in the driveway. One of the things that has been super helpful to them is this SKLZ Shoot-Around Basketball Trainer. They used to spend so much time chasing their balls down the driveway or digging them out of the creek. With this thing, assuming they make the ball, the ball is directed right back into their hands. What's extra special about this one, compared to the others on the market, is that you can point it different directions. So, if junior wants to practice his side shots, he can turn it and be a lot more efficient while practicing. Fun ways to bundle this gift: I love this Spalding Street Ball and Steve Nash MVP Basketball Fundamentals DVD.
I love this LEGO calendar for boys! Fun ways to bundle this gift: LEGO Ultimate Building Kit or The LEGO Idea Book.
One of my husband's favorite shows is American Pickers and our boys are often joining him to watch it. I think picking could be such a fun hobby for kids and actually educational! As long as they don't start hoarding all the stuff in our house… maybe they could sell it on ebay. See if they can get a return on their investment?!? My kids love finding ways to make money. This book, Kid Pickers, from one of the stars of the show, would be a great place to start. Fun ways to bundle this gift: American Pickers Season 1 DVD Set or Bounty Hunter Junior Metal Detector.
When I first saw my boys playing Minecraft, I thought they were playing a video game from the 80's… with the boxy, choppy graphics. I know there's a word for that, but it's not coming to me. Anyway, so Minecraft is apparently the coolest video game ever, where you build your world, explore, and conquer. It's even developed this cult following and oodles of Minecraft promotional products, all of which my boys drool over. They used to play it on the computer, but have since been playing it on the Xbox 360, which they say is much better. Fun ways to bundle this gift: I love the Minecraft Official Foam Sword or this Minecraft Youth T-Shirt.
Speaking of games, how about a non-video game… I think my boys would love Foridden Island, a cooperative game where they are actually on the same team. This game gets fantastic reviews, is an award winner, and sounds exactly like the kind of games my boys play… strategy. Bundle this with a basket of their favorite snacks to munch on during their game.
This Estes 1469 Tandem X Launch Set is the perfect rocket kit for beginners. Kids will probably need parental guidance and help with the building of the kit, and for sure with the launching. My boys would love to do this along with their dad. It includes 2 rockets. One of them flies over 600 feet, while the other flies over 1200 feet! Be sure to buy the wadding and engine pack too.
Finally, my boys love a good joke. Well, let me rephrase that. They NEED a good joke. Hopefully, this book will help them out: Laugh-Out-Loug Jokes for Kids
I hope you found some great gifts for boys ages 7 and up. See you back here tomorrow for even more of Mariel's Picks!
* Need more ideas? Check out the gifts for girls ages 7 and up from previous years: Gifts for Boys, Ages 7 and Up 2011 and Gifts for Boys, Ages 7 and Up 2012. Even more gift for boys ideas found on Gift Idea Central…keep reading…
* Be sure to pin and check out Gift Idea Central, to see all the gift ideas ever shared on 'Or so she says…'. All future gift ideas are posted there, as well.
* Also, take a minute to enter the Linenspa Lucid Mattress Giveaway!
* An extra little tip: I find so many great gifts on Zulily. It's seriously the best daily deal site out there. Great brands like Hurley, LEGO, Puma, Star Wars, etc. Shipping is sometimes slow, so plan for that. But, anything with a present icon will ship by Christmas!