It's the 10th of June which means another fabulous themed roundup from this talented bunch of bloggers! This month's theme is POLKA DOTS! Who doesn't love polka dots, right? So fun, playful and classic. Each month I love seeing how each blogger takes the theme and runs with it… and this month is no different. Such amazing projects! You can see the 'Or so she says…' contribution below (Polka Dot Surprise Cake from Heather!) and then be sure to go and see what everyone else is sharing as well! Lots of pinworthy fun!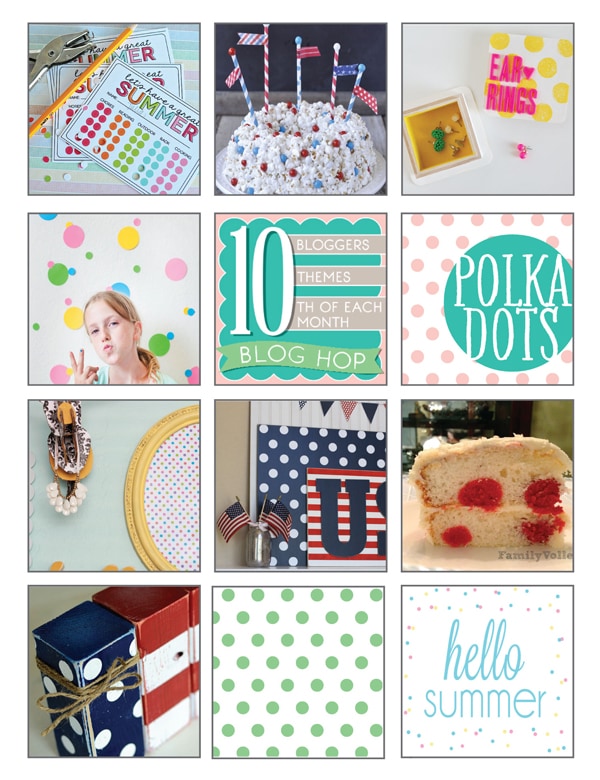 1. Summer Punch Card from Thirty Handmade Days
2. Popcorn Cake from Your Homebased Mom
3. Polka Dot Jewelry Boxes from eighteen25
4. Polka Dot Photo Booth Background from Kristen Duke
5. Framed Polka Dot Dry Erase Board from Lolly Jane
6. Polka Dot 4th of July Mantel from Landeelu
7. Polka Dot Surprise Cake from Or So She Says
8. Polka Dot and Striped Flag from Simply Kierste
9. Summer Printable from Two Twenty One
Heather, my awesome contributor and author of the family/parenting blog, Family Volley, took on the polka dot challenge this month. I love this fun cake that she came up with and her method of adding the polka dots… so cool! I'll turn the blog over to her… ~ Mariel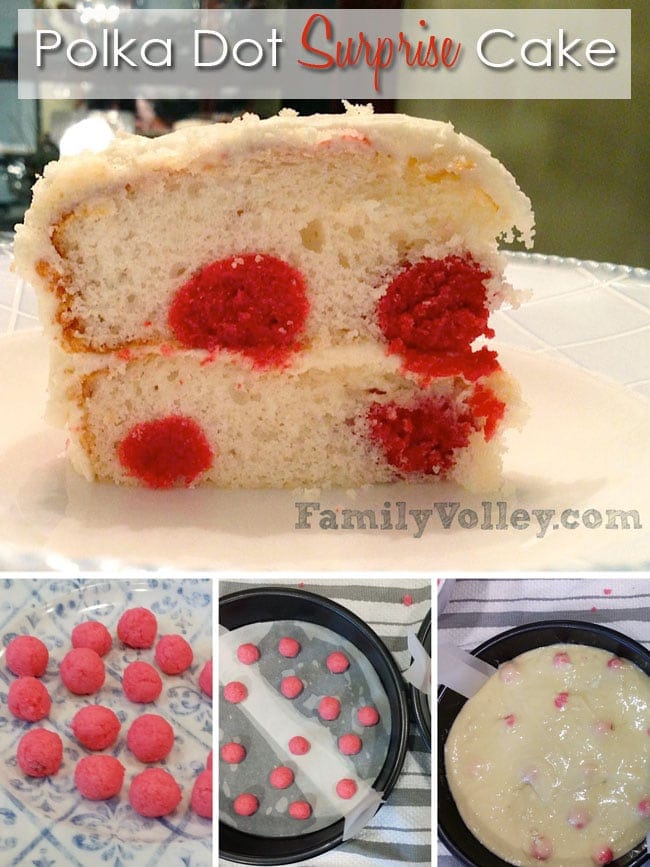 Hello everyone. I'm Heather From FamilyVolley.com and I am excited to be able to help with this months blog hop. What a great theme. Do you love polka dots as much as I do? I like them on shirts and skirts and even on my nails. So, for our daughters birthday I decided to have a little fun and add some polka dots to the party. If you are looking for a fun way to liven up your next cake, look no further. The Polka Dot Surprise Cake is sure to fit the bill.
Aside from the normal kitchen tools, you will need:
2 Cake Mixes (you can make your cake from scratch if you want. Just double the recipe)
Store bought Vanilla frosting (You REALLY need store bought. For the polka dots)
Favorite frosting for the cake itself. (I like to make a simple buttercream.)
Polka Dot Surprise Cake:
First thing first. Mix together one of the cake mixes. This will be for your polka dots. Decide what color you want your dots to be and use food coloring to color the batter. For our daughter I did a dark pink, but you can do any color, or all colors.
Pour your colored batter into pans and back it as directed. It doesn't matter what shape pans you cook in because you are going to just dig out the crumbs anyway. You can even do cupcakes if you are in a hurry. You do not want to under cook the cake.
When the cake is done. Let it cool completely. (You can make the cake the day before if you want)
Once it is cool, scoop it out into a bowl and open your store bought frosting. Then, add a scoop or two of the frosting to the crumbs. A little goes a really really really long way, so just add a little bit at a time. You do not want to make the mix too wet. I usually end up putting more crumbs in before I need to add more frosting.
Once you have finished the mix, start to roll the "dough" into small balls. You can make them any size you want. You will want a lot of them. Once they are all rolled, put them on a plate and put them in the freezer. This is a really important step. Try not to skip it.
Here are a few tips for making sure that the cakes will come out of the pan when it is done cooking:
Take some parchment paper and trace the bottom of the cake pan. Then, cut out the circles. Take the extra parchment paper and fold it over to make a long strip of paper. Don't make the strips too narrow. At least two inches wide. You will need a circle and strip of paper for each pan.
Spray the bottom of your pans with nonstick cooking spray. Next, put the strip of paper in the bottom of the pan so it comes up each side like in the picture. Then, put the circle of paper on the top of the strip. The strip of paper is going to act like handles for you to help lift the cake out of the pan. You will be really happy you took the time to set this up, promise.
While the polka dots are in the freezer, mix up your next cake mix and get your cake pans ready. Two round pans will work the best. You could make more batter and do more than two tiers if you want a taller cake.
Once your pans are ready and your polka dots are really cold, take them out of the freezer and start to space them out in your pans. You can put them however you would like. Just know that you always need more than you think if you want lots of dots.
Once you have the polka dots in the pan, carefully pour the batter over the dots. The batter will move the dots around if you pour to quick or forceful so go nice and slow. If the dots move around, don't worry. Use a spoon to push them back where you want them to be.
Be sure that all the dots are covered and that there is batter at the edge of the pans.
Bake your cakes as directed.
When the cakes are done, loosen the sides with a knife and then use the "handles" you made to help lift them out of the pan. (Once you use this trick, you won't ever make a cake without it again.)
The tough part is done. Let the cakes cool and then I like to wrap them in some plastic wrap and put them in the freezer for about thirty minutes. This makes them much easier to frost and keeps the crumbs from mixing in with the frosting as you work.
Time to assemble.
Take the cakes out of the freezer, put the first one down on your plate and frost it. Next, put your second layer on top and finish frosting the entire cake.
Decorate the cake and get ready for the surprise! Your family and friends will love to watch you cut into the cake and reveal the fun polka dots that are hiding inside.
You can even tie your entire occasion around polka dots. For our daughter I surrounded the cake with giant "gumball polka dots" and wrapped the sandwiches with quick and easy polka dot tissue paper. I hope you will give the cake a try. Your family and friends will love it!