Primary Talks are short and simple, but they contain many beautiful Gospel truths. I hope these talks are helpful for your family and Primary groups. Each talk is written based on the Come Follow Me for Primary topics for the month of June.
Primary Talks for Kids ~ June 2023
Leaders, feel free to download the entire June collection here. Or, you can see each week's talk in the text below. Thanks!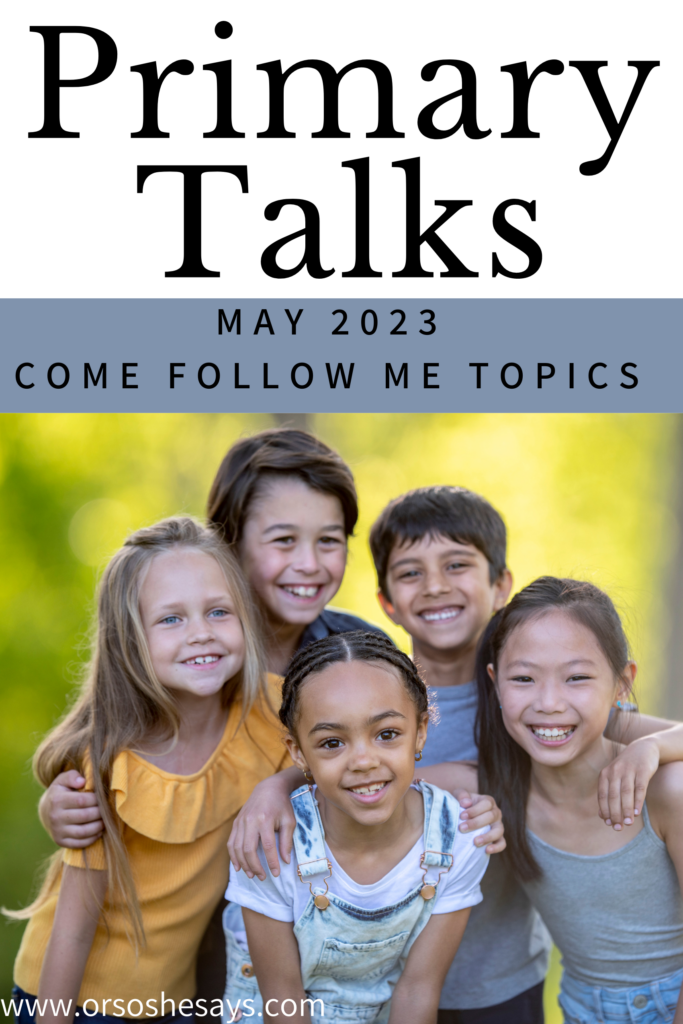 Primary Talk June 4: The Sacrament
We take the sacrament in church each Sunday. It is easy to think of it as a church snack when we eat the bread and a drink the water. The sacrament is so much more than just at snack.
When we take the sacrament we are remembering Jesus. It is a symbol of how he died for us. It is very special.
It is important to be reverent and to give thanks for Jesus and his love during the sacrament.
Download Printable PDF: The Sacrament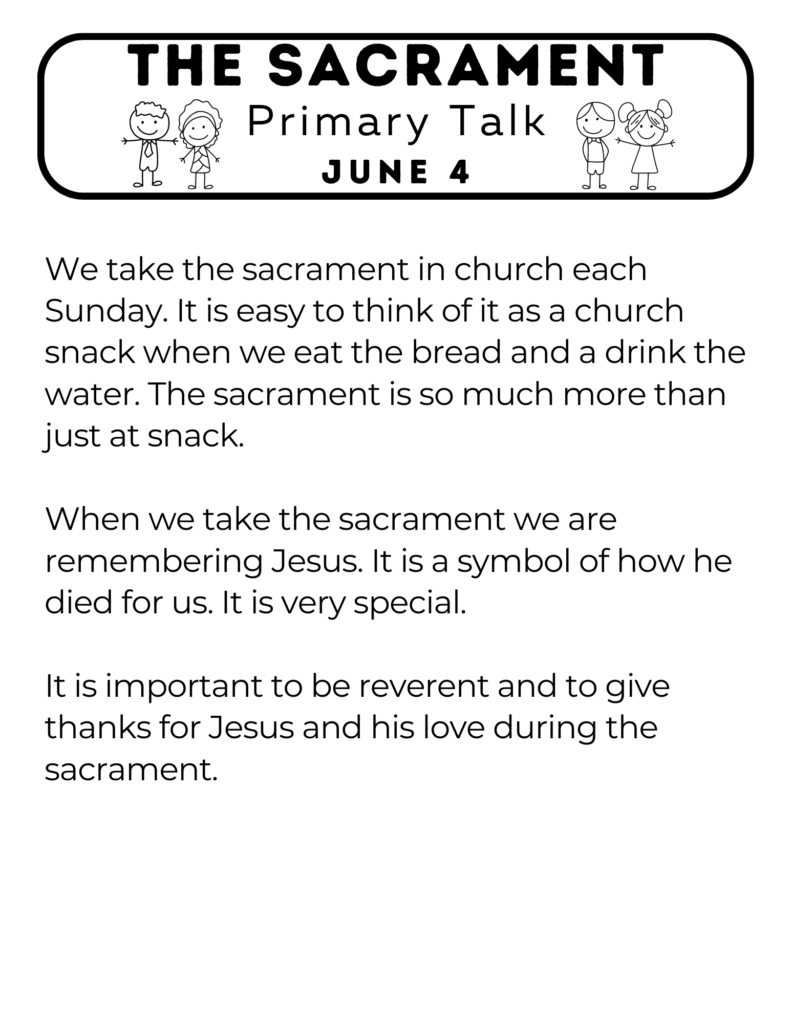 Primary Talk June 11: Friends With God and Jesus
Jesus and Heavenly Father can be some of our very best friends. They are different than our friends on Earth, because we can't see them!
How can we be friends with them? Here are a few ways:
Study the scriptures and read stories about Jesus
Say prayers to Heavenly Father and listen for promptings
Follow the teachings of Jesus
Keep the commandments
Go to Church
Serve
When we do these things we can learn about Jesus and God and we can feel closer to them!
Download Printable PDF: Friends With God and Jesus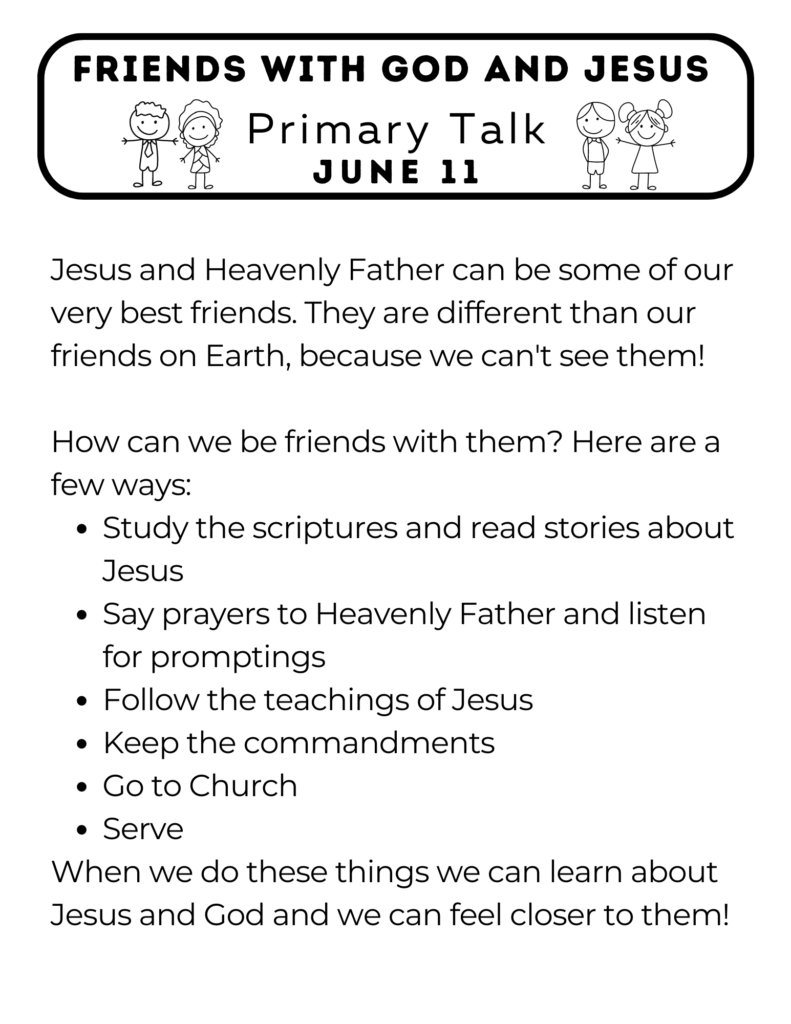 Primary Talk June 18: Angels Can Help
When Jesus was in the Garden of Eden he felt sad. He was hurting and He needed help. He prayed and angles came to give Him strength.
We can be like Jesus. When we need help, we can pray to Heavenly Father and He will send helpers.
Our help might come from a friend. It could come from the Holy Ghost with a warm peaceful feeling in our hearts. Help could come through a hug, or even through an angel watching over you!
God will always be there to send help.
Download Printable PDF: Angels Can Help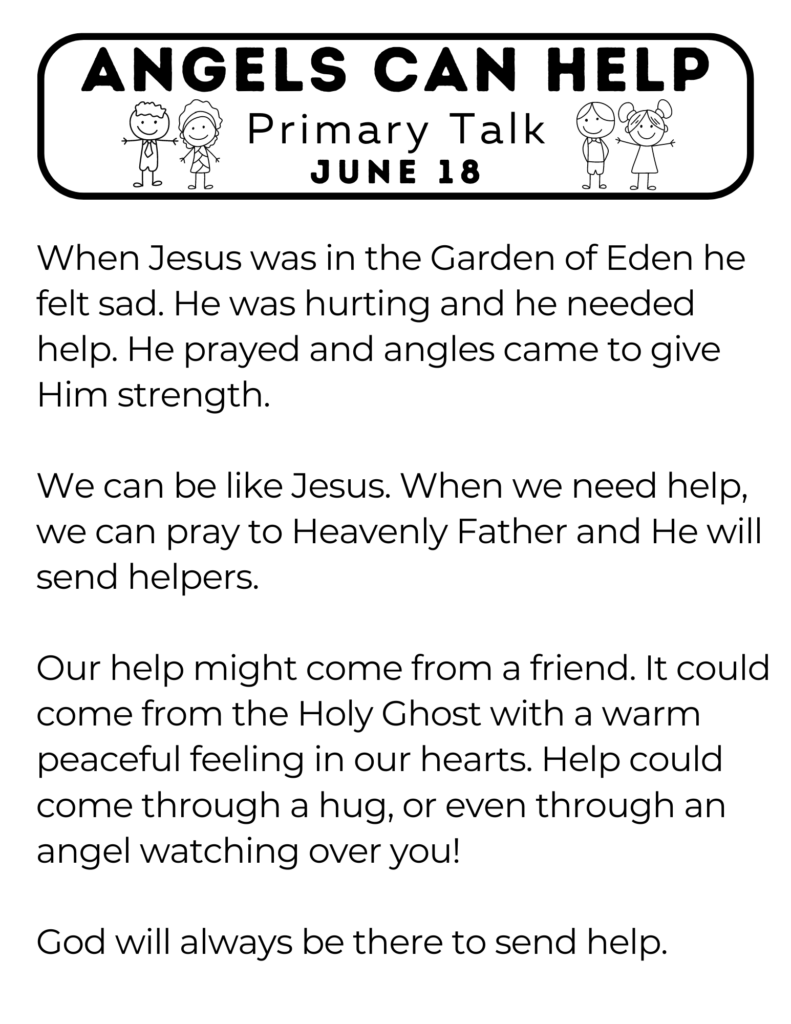 Primary Talk June 25: Jesus Died For Us
Jesus died for us. That sounds very sad! Why did he have to die for us?
Jesus was special. He was sent to Earth to be our Savior. Part of the plan was for Jesus to die for us so that we could live again! He loved us so much that he was happy to save us! Even if it meant he had to be hurt.
Because Jesus was special, He was able to come back to life! We call it being resurrected. Jesus rose from the grave and was whole again.
I am so glad that Jesus died for me. I am so glad that he lives for me as well. We get to be resurrected just like he did!
Download Printable PDF: Jesus Died For Us