If you are looking for a simple talk for Primary children, then look no further. These five primary talks are written based on the Come Follow Me topics for the month of July. But, they are general enough to be used at any time! You can download and print a single talk, or feel free to download all five July Primary Talks at once with this link. I have found they are helpful for Primary Presidencies to keep on hand in case the assigned speaker doesn't show up prepared. Thanks for stopping by!
Can you do my a quick favor, in exchange for these talks?? Pretty please?! If you could share the following post with your friends, on any social media platform, you will help me keep The Book of Mormon spreading all over the world! Thank you, thank you!!
HERE'S THE ONE —> How to Get a Free Copy of The Book of Mormon
Come Follow Me July Lessons ~ Primary Talks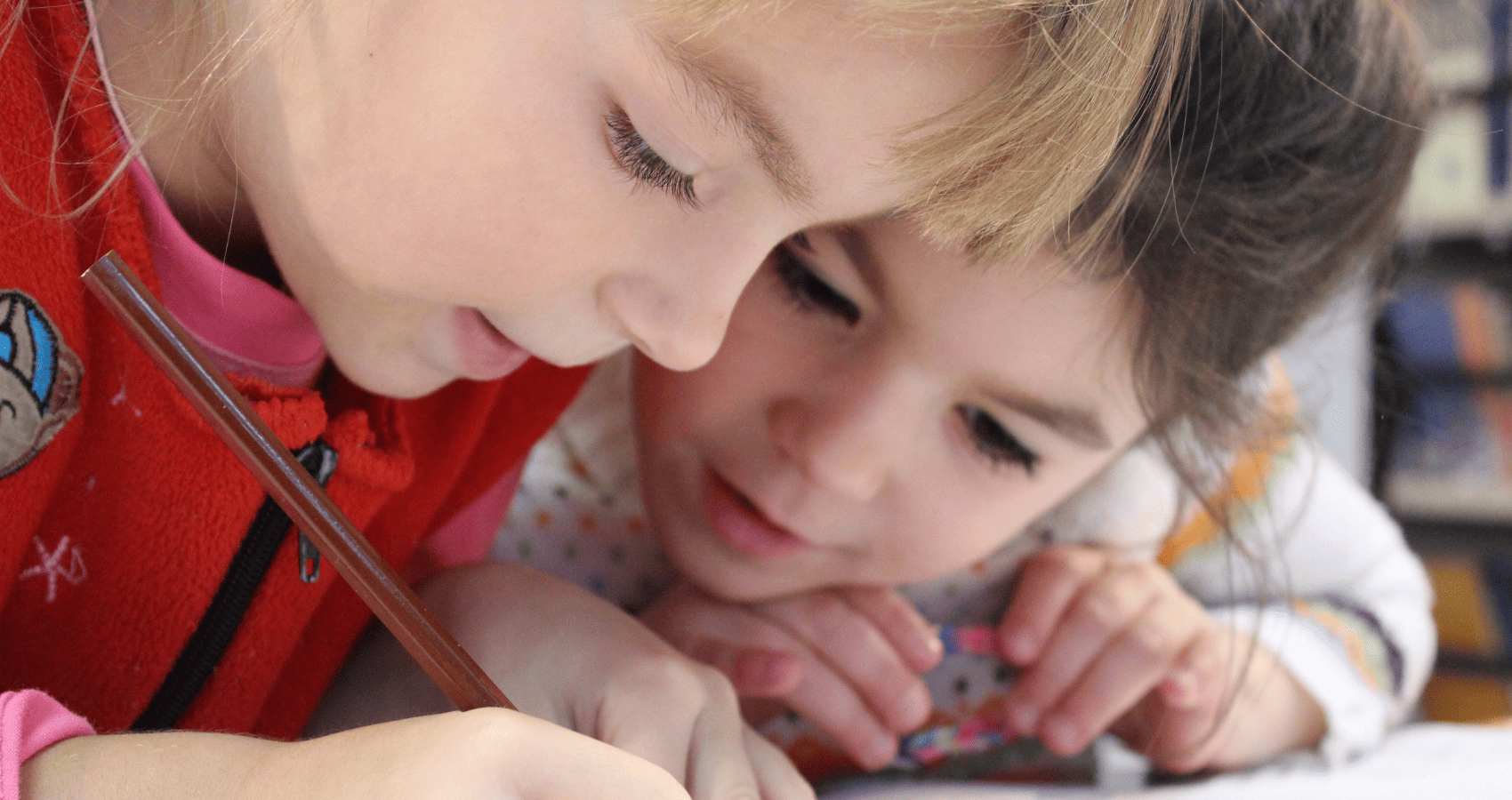 July 2 Talk For Primary: Resurrection
Our spirit was alive before we came to Earth. Our spirits live inside of our bodies. It is like a hand inside of a glove. Our spirit makes us who we are!
When Jesus died, His spirit left His body. When He was resurrected, His spirit and His body came together again.
Because Jesus was resurrected, we can also live again like him. Our spirit and body will come back together and we will be whole.
I am so glad that Jesus died for us. He saved us. We can live again because He lives!
DOWNLOAD PDF July 2 Primary Talk: Resurrection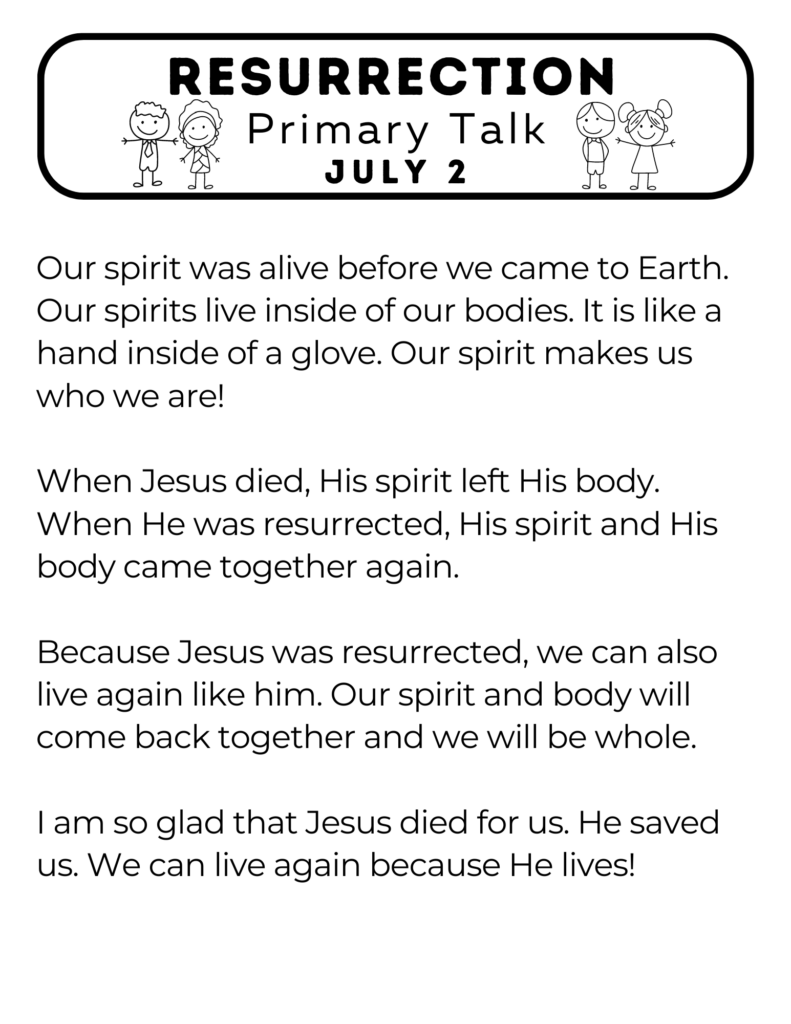 July 9 Talk For Primary: We Can Serve
The scriptures are full of real stories. Some of my favorite stories are about helping people. In the Bible, the prophets and apostles:
healed the sick
fed the hungry
comforted people who were sad
We can learn from their example. Jesus showed us the best example to follow. Here are some things we can do to be like Jesus:
pray for someone who is sad
offer to help your teacher in primary class
take a treat to a friend
say something nice to a stranger
When we follow the good examples in the scriptures, we can become more like Jesus.
DOWNLOAD PDF We Can Serve Primary Talk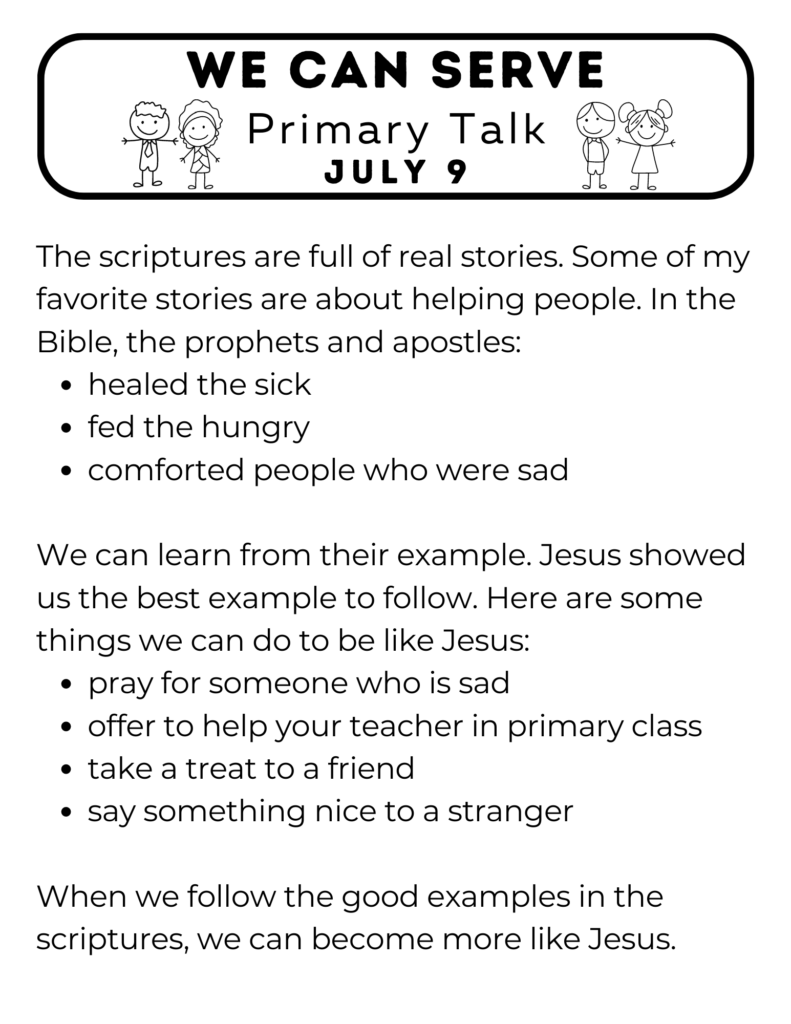 July 16 Primary Talk: Stand For The Right
When we are baptized we promise to stand up for what is right. We take Jesus name upon us.
It is not always easy to choose the right. Sometimes, people will make fun of you or say mean things to you when you try to obey. There will be times when doing what is right is hard!
Luckily, we have the gift of the Holy Ghost. The Holy Ghost will be there to guide us. If we listen, he will help us choose the right.
When we stand up for Jesus, even when it is hard, we will be blessed! It is always the best choice.
DOWNLOAD PDF July 16 Primary Talk Stand For The Right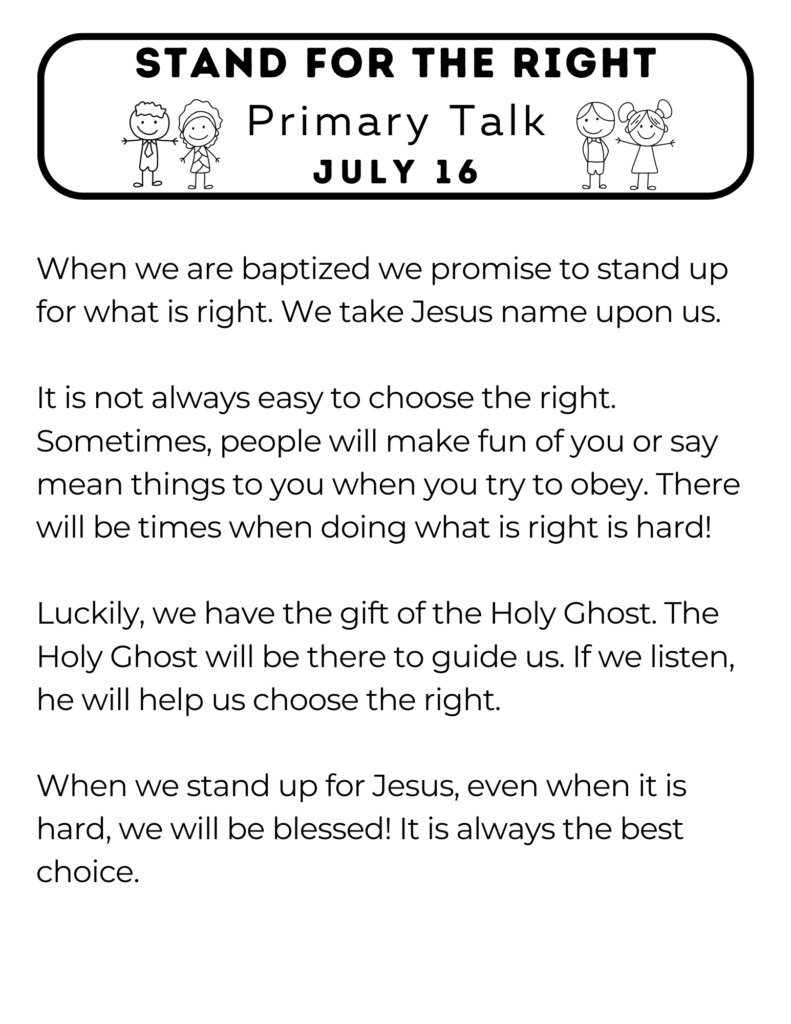 July 23 Primary Talk: Heavenly Father Loves All
I am sure you have all heard the saying, "I am a child of God." It is true! I am a child of God and so are you.
Did you know that everyone in the whole world is also a child of God? We are all brothers and sisters. God is the father of our spirits.
Because we are his children, God loves us. He loves each person so much. I hope that we can remember to show love and kindness to everyone we meet. Because, we know that is what Heavenly Father would want us to do. We are all family!
DOWNLOAD PDF July 23 Primary Talk Heavenly Father Loves All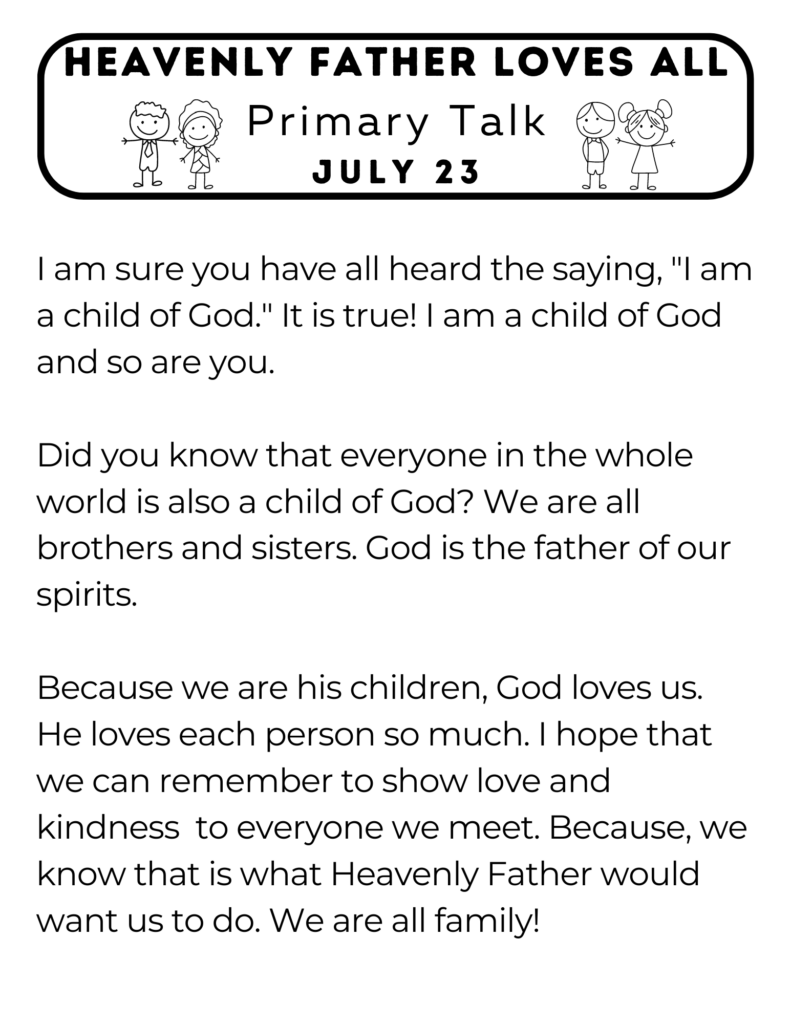 July 30 Talk For Primary: Missionaries Teach About Jesus
Have you thought about going on a mission when you grow up? Missionaries are called to serve!
Missionaries serve God by:
Teaching people about Jesus
Showing His love through service
Helping people be baptized and get the gift of the Holy Ghost
We can be missionaries now by following their example. When we share our testimony about Jesus and serve people, we are missionaries! I hope we can find ways to share God's love and help people feel closer to Heavenly Father.
DOWNLOAD Talk for Primary PDF Missionaries Teach About Jesus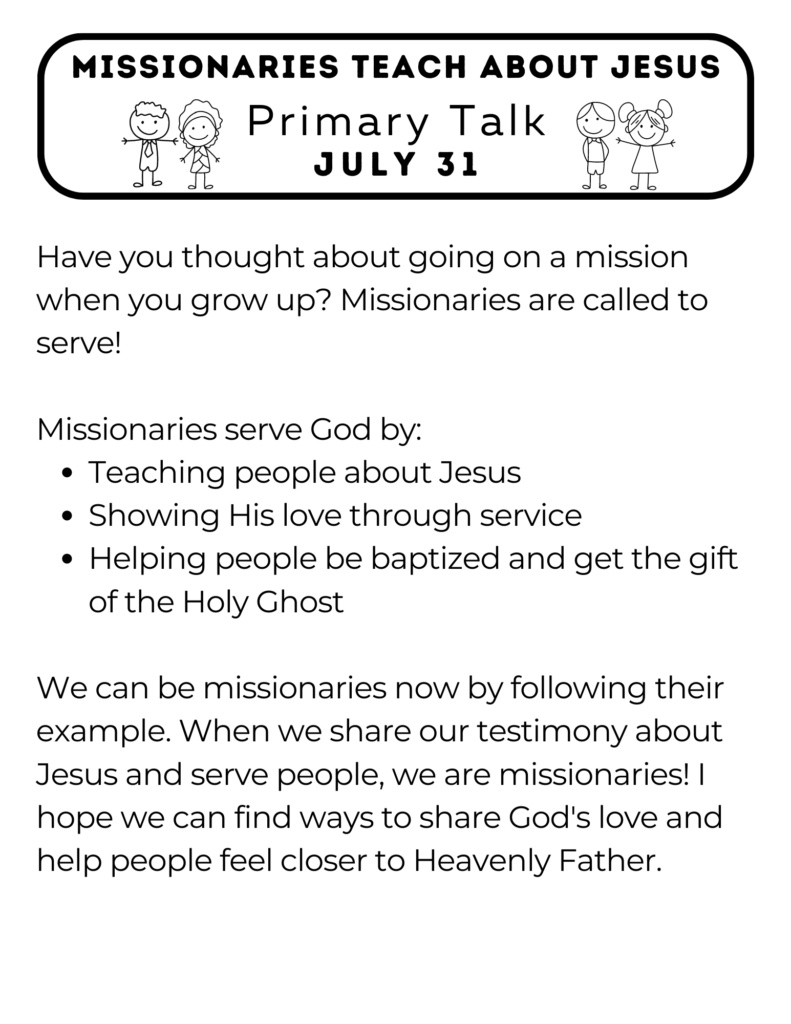 If you like Latter-day Saint blogger posts, check out:
Pin this image to save or share the Primary talks: