Primary is my favorite place to be! It is always fun to hear the children sing songs about Jesus, pray and bear their testimony about the Gospel. These Primary Talks for children make it easy for them to speak in Primary opening exercises. The Primary talks are easy to read and understand. I hope they take all the stress out of a speaking assignment and make speaking in Primary fun and meaningful.
Can you do me a favor? In exchange for these Primary talks, could you do me a quick favor? I have a certain blog post that allows me to send out The Book of Mormon to people all over the world. It's amazing! Anyway, the more it's shared, the more books I can send out to share the good new with the world. So, anything you can do to share the post for me would be much appreciated! Here's the post I'm referring to… Free Book of Mormon.
May 2023 Primary Talks to Print
Primary Leaders! You can download all four May Primary Talks with this link! That way, you have them on hand in case you need to provide a talk at the last minute.
May 7 Primary Talk: I Am Grateful
I like to make Heavenly Father happy. I love Him! One way to make Him feel happy is to say, "Thank you." When we are grateful for the things Heavenly Father gives us…it makes us happy too!
How can we show our thanks to God?
Thanking Him for blessings when we pray.
Keeping the Commandments.
Treating others with love and kindness.
Going to church to learn about His Gospel.
Feeling gratitude in our hearts.
When we are grateful for our blessings it helps us show love to our Heavenly Father.
Download PDF: I Am Grateful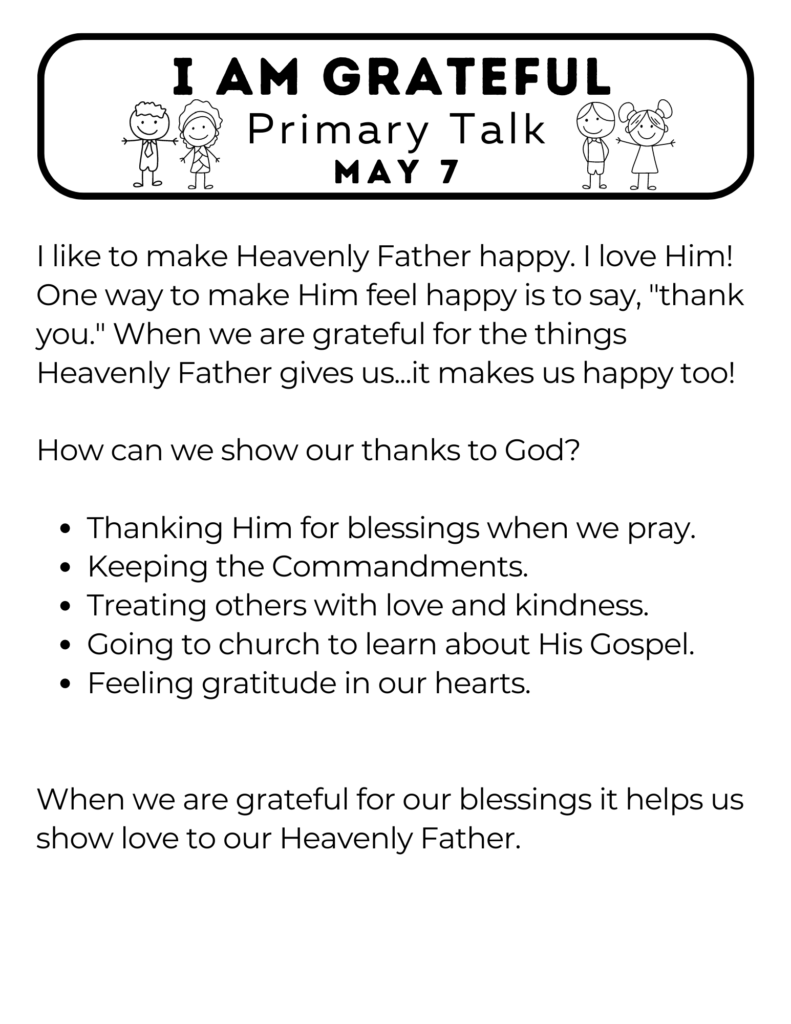 Primary Talk May 14: Together Forever
One of my favorite Primary songs is called, Families Can Be Together Forever. The words of the song teach us a very special truth. It states:
Families can be together forever, through Heavenly Father's plan. I always want to be with my own family. The Lord has shown me how I can.
We are lucky to have temples. Families are sealed together with special temple covenants. The promises made in the temple allow for families to be eternal.
I love my family. I am so glad that I can be with them forever.
Download PDF: Together Forever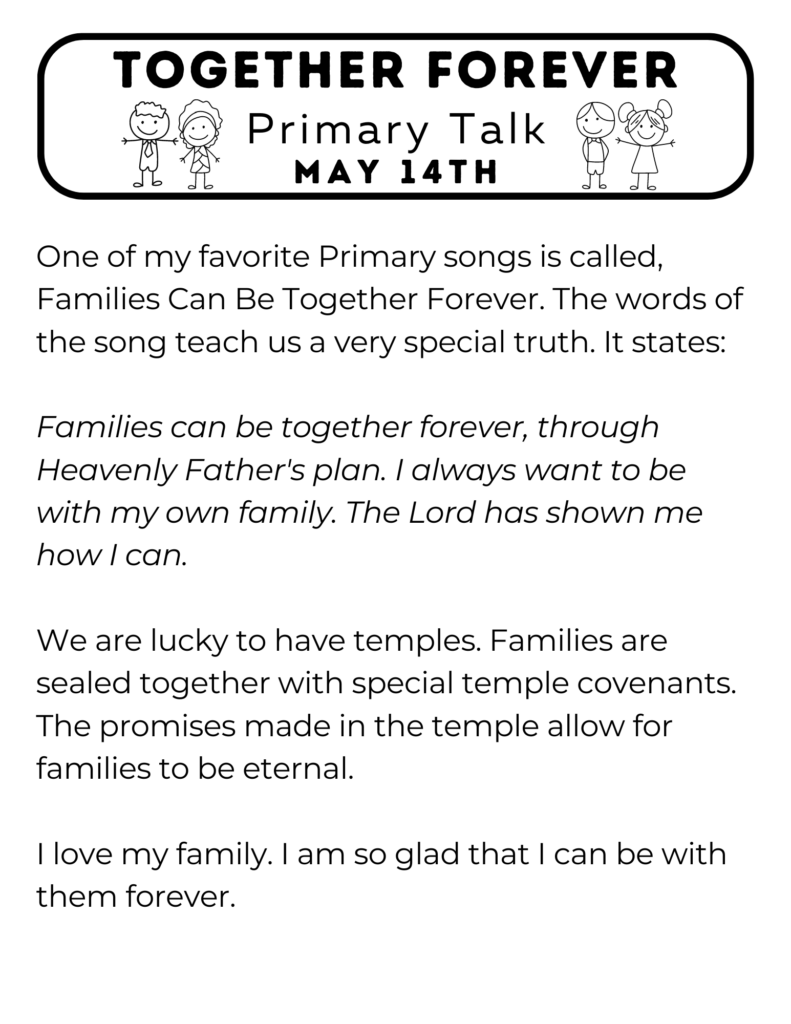 Primary Talk May 21: They Know My Name
Do you know my name? It is ____________. My teachers know my name. My friends know my name. And, of course, my family knows my name. They know me and love me.
There are two other special people who know my name. They are Heavenly Father and Jesus Christ. They love me and watch over me.
When I pray, God listens. When I need help, Jesus is there. When I am sad, they comfort me with the help of the Holy Ghost.
Guess what? They know your name too! I hope this knowledges makes you feel happy and safe like it does for me.
Download PDF: They Know My Name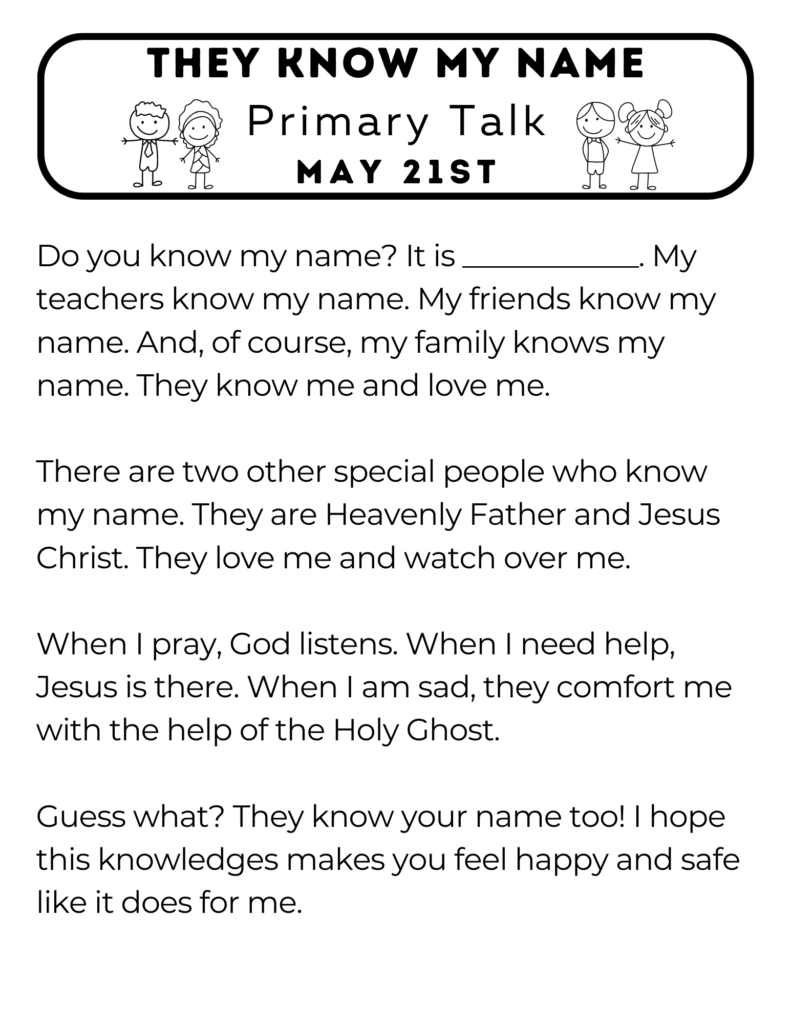 Primary Talk May 28: Share the Truth
We are lucky to be members of The Church Of Jesus Christ of Latter day Saints. There are so many blessings that come from being part of this church!
We know the Gospel. We have priesthood power! We can make covenants with God that keep us on the path back to Heaven. We have the gift of the Holy Ghost. We have the Book of Mormon that teaches us about Jesus. We have a living prophet, and best of all…Primary!
Because we love Heavenly Father and we love being part of His church, we are asked to share it with others. When we share the Gospel, we let other people enjoy it's blessings too! I hope I can be a good missionary and bring the truth to people who are ready to listen and learn.
Download PDF: Share the Truth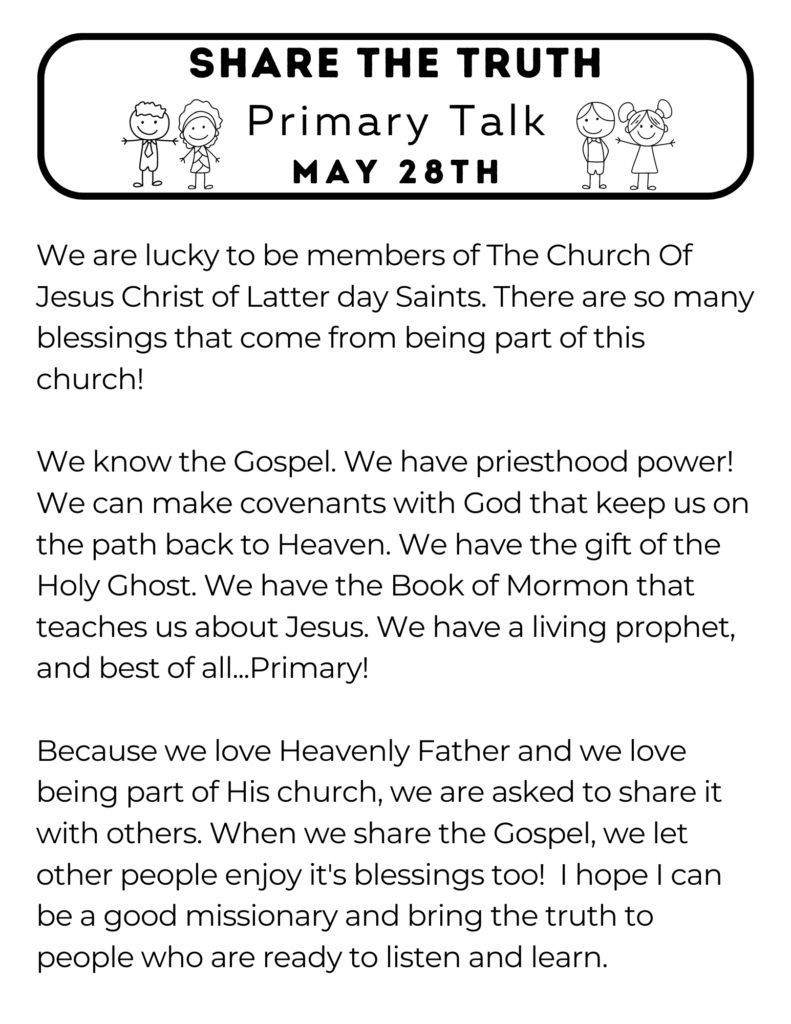 If you liked this post, check out:
To save or share this post, pin this image: