This printable booklet will help you make a solid plan with your child about what to do when faced with opposition. With a Moral Playbook in hand, your child will never be caught in a situation that they don't know how to navigate.
Do you ever get feeling overwhelmed trying to raise good and safe children in this crazy world? I had an experience a few months ago that absolutely shocked and sickened me. My two young boys were online doing kid stuff. I let them use the internet occasionally to play games and listen to music on YouTube. This particular time, they were bombarded with pornographic images. My little children were caught in a yucky situation that was uncomfortable and they didn't know what to do. They didn't know to turn it off.
Luckily, my husband and I found out about the experience and we were able to talk to them about internet safety and pornography. Who knew you had to talk to your six year old about that garbage!? I was so sad that they are living in a world that is so wicked. It felt like a little bit of their childhood was stolen. We set up some rules and I got a filter for online content. However, I know that I can't block the bad from ever leaking into our lives. It became blindingly clear that I have to teach and prepare my family to fight wickedness. They need to be ready with an action plan. We are fighting a battle against Satan, and I want my children to have the weapons necessary to win! I am going to guess you feel the same way.
Even with opposition you can find help and hope.
As I listened to The Church of Jesus Christ of Latter-day Saints General Conference this April, there was a talk during the General Priesthood Session that captivated me. It was like the talk was written just to help me deal with my experience with my two boys. The talk was titled, "Your Priesthood Playbook" and it was given by Elder Gary E. Stevenson. In his remarks, he explained that in sports, players have a playbook that gives them the plays that they need to be successful in certain situations during a game. They run drills and practice so when the time comes, they are prepared to run the right play. He said, "Successful players study the playbook so thoroughly that when a play is called, they know exactly, almost instinctively, where to go and what to do."
He went on to explain that we can have a moral playbook. We should talk about situations that may arise that will threaten our spirituality, and then plan a specific strategy to combat it. The concept of role playing is not new, but I love the analogy of having it written down in a playbook. Children can know the play, practice their responses, and feel confident that they can succeed.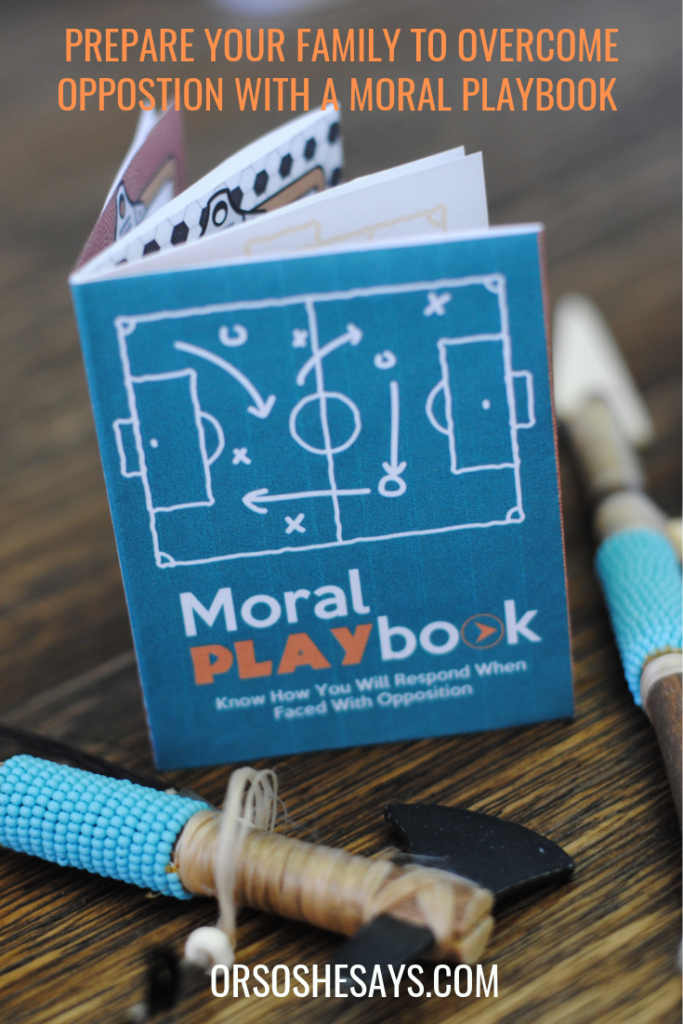 Printable Moral Playbook to keep your family safe from temptation.
I created a printable moral playbook for you to use in your home to help drive this concept home! It will give you the opportunity to find out what temptations your children may be facing. Everyone is different. Satan knows what types of things each individual is struggling with. You can make your playbook personal.
You can print it on regular 8.5 X 11 inch paper. It makes the playbook tiny! But, my boys loved the size and that it fit right in their pocket. Or, print it out at the copy shop onto a large size of paper! Either way works great.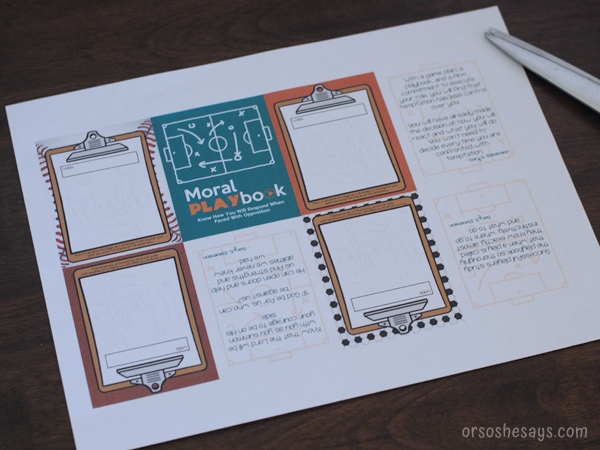 Cut around the template to remove the extra white edges. Fold the template in half lengthwise. Make a nice crease. Fold it in half the opposite direction. Again, make a nice crease.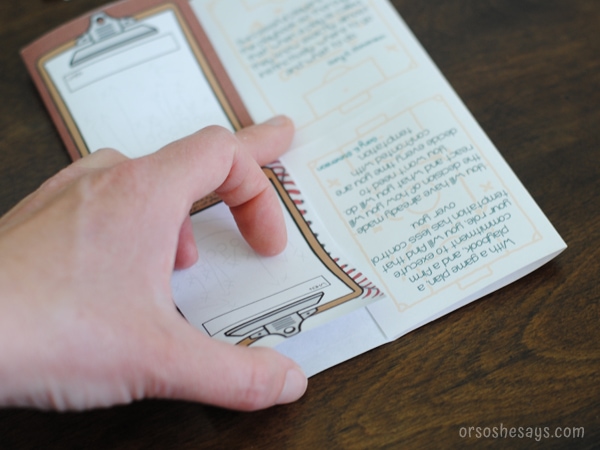 All of the little edges between the pages should be folded and creased. Then end with the paper folded in half like this: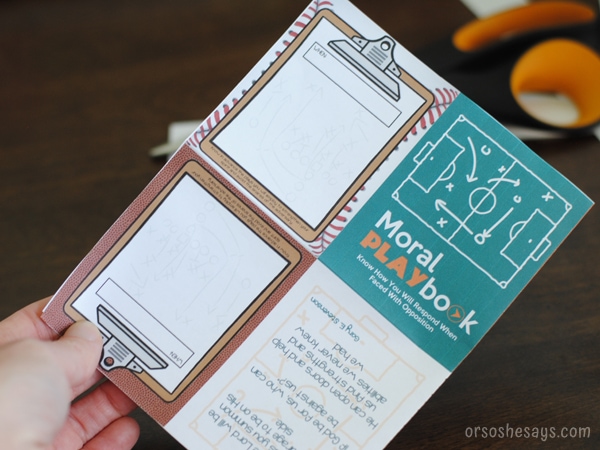 Cut a slit on the line right under the green Moral Playbook page. End the cut line at the corner between the four pages.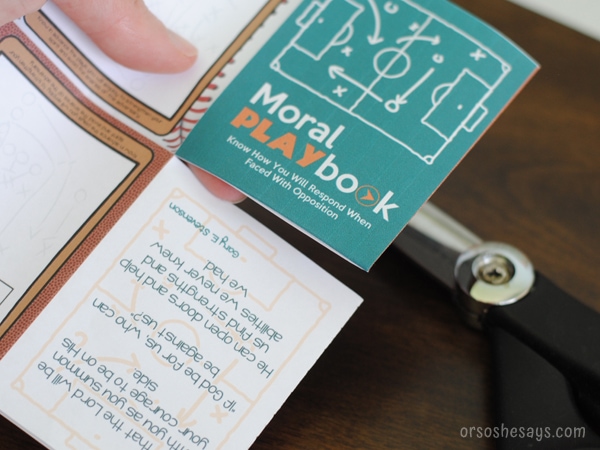 Now this part sounds tricky, but it's actually super easy! Open the book so you make a diamond with the cut zone.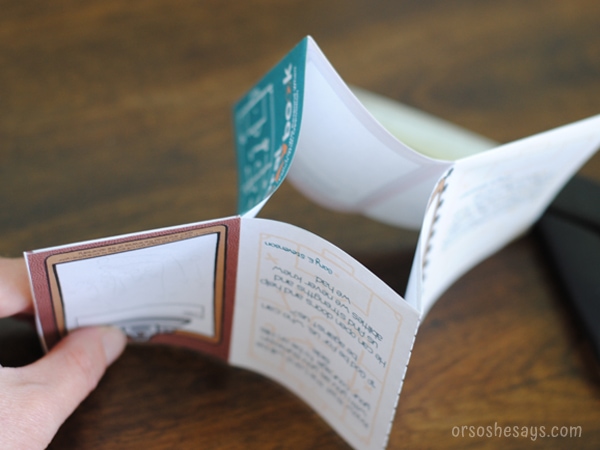 Then, collapse the template so the pages fold into each other and it makes a little book. It really just falls right into place when you give it a nudge. The green Moral Playbook paper is the front of the book.
Make one book for each person in your family. They will want to fill out the pages to fit their own age and situation. Each of the little clipboard pages has a box that says, "When." Write a situation in that box and then write on the remainder of the page.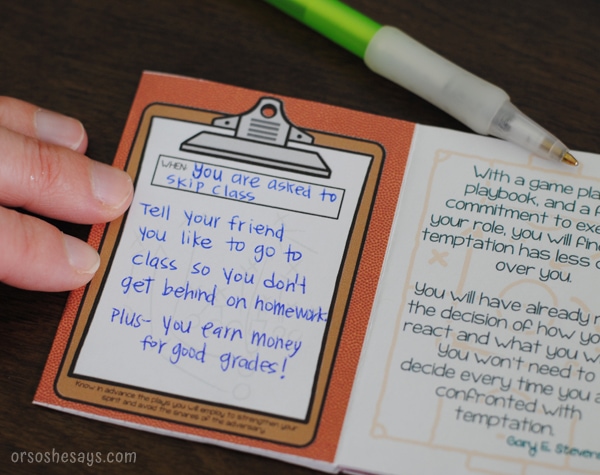 Here is an example of what I wrote with my kids. The alternate pages in the little playbook have quotes from the awesome talk from Elder Stevenson. They are some of my favorite thoughts from his talk that I found helpful when explaining the book to my family! I think they are great reminders of the power of being prepared.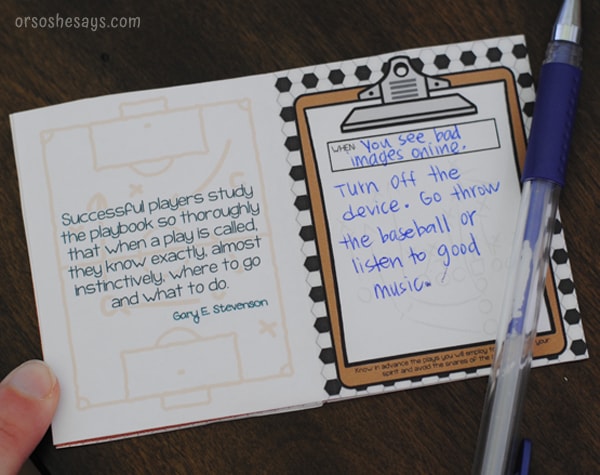 It would be helpful to encourage your children to read through their playbook often.
You can create new volumes as they grow and face new challenges. The books are small enough to tuck into a nightstand drawer or slide in a scripture bag. I feel very strongly that the message contained in Elder Stevenson's talk is true. It is possible to be prepared for the battle against sin. When you work together as a family team, you are strong enough to overcome anything Satan throws your way.
More posts you'll love: