Hi all! It's Kimberly from Get Away Today, and today I want to tell you about something in a galaxy far, far away… Well, maybe not so far away anymore! It's actually a galaxy located in Disneyland and it opens TODAY! Star Wars: Galaxy's Edge is now open to those who have general reservations and we can hardly believe it's finally here. We already shared Star Wars: Galaxy's Edge details with you, so today we want to share a Star Wars: Galaxy's Edge food guide.
Star Wars: Galaxy's Edge Food Guide
Initially, all we knew about Star Wars: Galaxy's Edge food was that it would be like nothing ever experienced in Disneyland before. All food and drink is going to be authentic to the Star Wars franchise, while still being family-and-allergy friendly. You may already know about Oga's Cantina, Docking Bay 7 Food and Cargo and Ronto Roasters, but we have new details about some of their offerings. Check them out below, plus so much more!
Star Wars: Galaxy's Edge Food Guide – Oga's Cantina
We mentioned before that Oga's Cantina will be a great spot to grab a drink and a snack while enjoying sweet tunes spun by DJ R-3X. Here's a sampling of what you can expect to find on the menu: seaweed Senbei crackers, wasabi peas, lotus root and prawn chips. These savory bites may require something refreshing to wash them down, so you may want to try one of the following non-alcoholic drinks: Moogan Tea, Blue Bantha, Black Spire Brew, Carbon Freeze, Oga's Obsession Provision and Cliff Dweller. Of course, you'll also be able to find the Blue and Green milk non-dairy smoothies at the Cantina as well. For alcoholic beverages, try the Bloody Rancor, The Outer Rim, Bespin Fizz, Yub Nub or the Fuzzy Tauntan.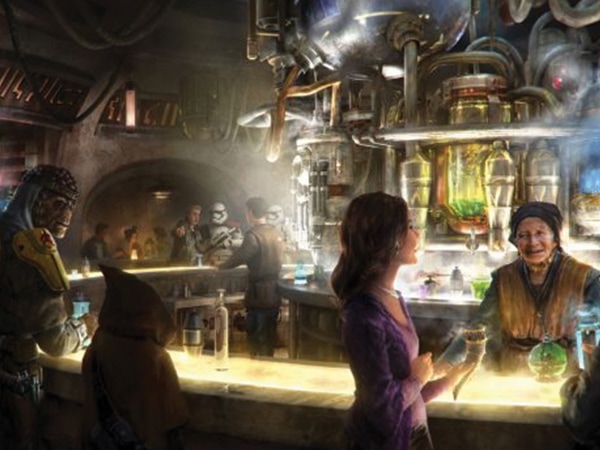 Photo courtesy of Disney Parks Blog
Star Wars: Galaxy's Edge Food Guide – Docking Bay 7 Food and Cargo
Described as an intergalactic food truck by many, Docking Bay 7 Food will be out-of-this-world! In addition to some of the dishes mentioned in our previous Star Wars article, you can also find Smoked Kaduu (pork) ribs served with a spicy blueberry corn muffin and slaw, Yobshrimp Noodle Salad (arrowroot noodles) with mashed potatoes or Felucian Garden Spread (vegetarian meatballs) paired with hummus and salad. Desserts will include Oi-Oi puffs (raspberry crème puffs) and Batuu-Bon (chocolate cake). Drinks will include Phattro (Gold Peak Unsweetened Tea, Odwalla Lemonade, and desert pear), Moof Juice (Simply Fruit Punch and Simply Orange with chipotle-pineapple) and Batuubucha Tea (Suja Pineapple Passionfruit Kombucha).
Star Wars: Galaxy's Edge Food Guide – Ronto Roasters
Cooked on an old engine, you can expect turkey jerky in various flavors at Ronto Roasters. The Ronto wrap will feature a spiced, grilled sausage and roasted pork. Another flavorful menu item will be a hot dog with a Szechaun peppercorn sauce. It seems many of the foods in Star Wars: Galaxy's Edge will boast spicy and savory flavors
Star Wars: Galaxy's Edge Food Guide – Collectibles
Not only will there be a lot to experience on this new planet, but we know there will be some Star Wars: Galaxy's Edge food related collectibles you can purchase to enjoy at home after your trip. At Kat Saka's Kettle, you can purchase a MSE-6 Series Repair Droid Souvenir Popcorn Vessel to conveniently tote around your savory kettle corn. At the Milk Stand, get your Blue or Green Milk inspired smoothie in a Bubo Wamba Family Farms Novelty Drink Vessel.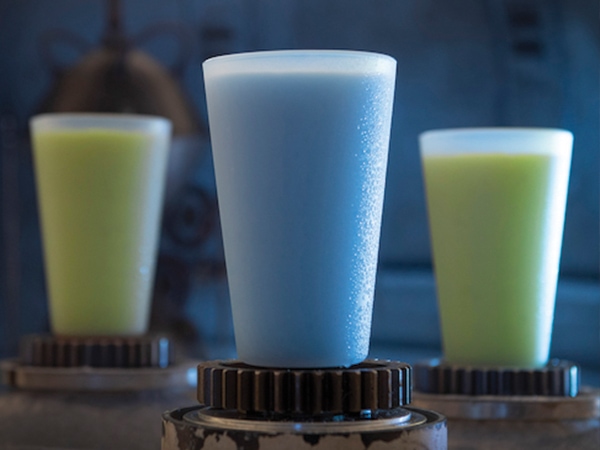 Photo courtesy of Disney Parks Blog
Star Wars: Galaxy's Edge Food Guide – Mobile Ordering
We're really excited that mobile ordering will be available through the Disneyland app for Ronto Rosters, Milk Stand and Docking Bay 7 Food and Cargo when Star Wars: Galaxy's Edge opens in Disneyland. This will be such a huge convenience and time-saver when experiencing this new land. With so much to see and do, you won't want to waste any time standing in line!
Star Wars: Galaxy's Edge Details
To celebrate the opening of Star Wars: Galaxy's Edge, Get Away Today is offering Adults at Kids' Prices for travel this summer! Right now summer is looking like an awesome time to visit Disneyland with tons of hotel availability in June, July and August. Here's everything you need to know about Adults at Kids' Prices:
Save $20 off the gate price per adult 3-Day and longer ticket
Tickets must be purchased by June 7, 2019
Tickets are valid for travel now through September 5, 2019
Savings are valid on all 3-day and longer tickets, including BOTH Park Hopper and 1-Park per Day tickets, both with and without Disney MaxPass service
Adults at Kids' Prices can be combined with Extra Night Free hotel specials to save you the most
This can be combined with our Layaway Plan, allowing you to hold your vacation for just $175 down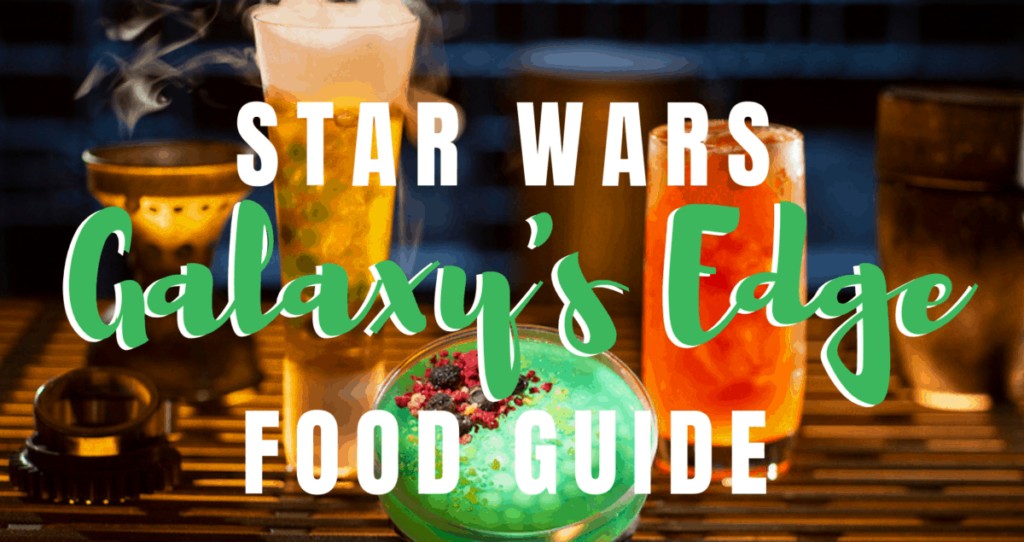 While general reservations for Star Wars: Galaxy's Edge sold out within two hours, you can still get a reservation to visit Galaxy's Edge between May 31 and June 24, 2019 if you book a stay in a Disneyland Resort Hotel. You can find details about the no-cost reservations in this post: Disneyland's Star Wars: Galaxy's Edge ~ Time Sensitive Information. You can also get vacation details at www.getawaytoday.com, or call an agent directly at 855-GET-AWAY. We would love to help you with the ins and outs of planning a Star Wars: Galaxy's Edge vacation this year! Let us know how we can help, and be sure to let us know 'Or so she says…' sent you when booking. You can save an additional $10 when you book your Southern California vacation package with code OSSS10. May the Force be with you!