Today Dan is sharing "13 Rules for My Teenager" as inspired by his own sister. Hopefully there will be something helpful in it for you, too!

My oldest son, Tracen, turned 13 this last month. The idea that I am old enough to have a teenager has been much easier than I expected; however, I am sure that by the end of his teenage years I will undoubtedly feel beyond my years.
Tracen has been a joy to parent. Though I had always maintained I would have been happy with either sex for my firstborn, I can now admit that I was happy when I discovered our first baby was a boy. I have always been amazed at my son. I was amazed at how he walked at eight months, amazed by his ability to speak in sentences before he was one, amazed at how he could seemingly do everything earlier than he was supposed to: read, ride a bike, juggle a soccer ball… the kid even legitimately beat me at chess when he was five!l
As Tracen has aged, he still continues to amaze me, but I don't want to give you the wrong impression, just as I am not a perfect parent, Tracen is not the perfect child. As one might expect, he pushes the limits with teasing his brothers, is not above arguing with us, and for some reason he spills milk every time he pours a glass for himself (a true pet-peeve of mine). In spite of his faults, he is a self-motivated, responsible, sensitive and driven young man.er: the hormones, the acne, the sudden powerful attraction to girls, the drama, the confusion, the painful awkwardness… I would never desire to relive those days.
I have wondered what I can offer Tracen in the way of advice to help him – to help us – make it through his teens with our relationship and his goodness still intact. What, if any, counsel can I provide him that he might actually take to heart?
I look to my siblings for inspiration here. My older sister Kim, has already raised several teens. Somehow both she and her children survived those crazy years. She recently shared with me a list of 13 rules she gave to her kids when they turned 13. I thought this was a great idea and I have decided to make doing so a tradition for us as well. I have adjusted her 13 rules a bit based on my experience and customized it for my son, but the idea and framework are the same.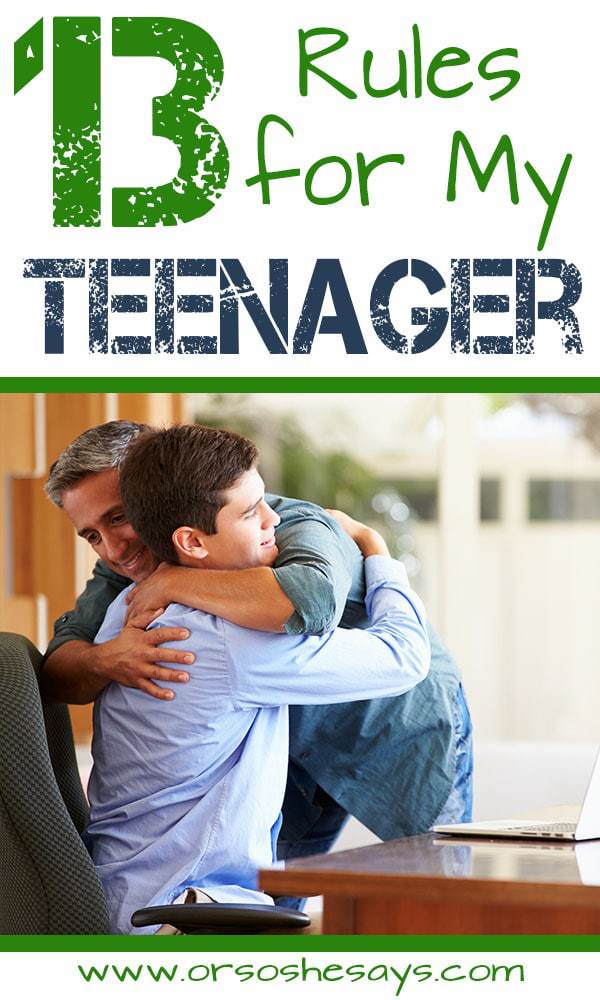 Thirteen Rules for My Teenager
Dear Tracen,
Congratulations! At long last, you are thirteen and officially a teenager… scary! Welcome to what will likely be the most terrifying, turbulent, and in some ways terrific years of your life. Buckle your seat-belt and if I thought you might actually obey me, I would tell you to keep your arms and legs inside the ride at all times, but you're a teen now, so I guess I expect you are going to push the boundaries a bit, so go ahead raise those hands up!
You can expect some disturbing phenomena to take place during the next seven years—and maybe some of them already have. Strange eruptions may appear on your heretofore flawless face. These are called zits and they are loads of fun to pop, but I don't recommend doing that if you can help it, but if you're like me you won't be able to help it, so at least wipe down the mirror when your done. Also, a special type of awful funk will waft from your increasingly hairy armpits, and my guess is in the next year or so, people will be able to tell your voice apart from mom's when you answer the phone. Also, strange sensations may overtake you by surprise. These are called hormones, and they are going to probably nearly drive you crazy when you are around girls. Furthermore, your body will likely stretch well beyond its current 5'4″ (with your current hair style 5'8″) and it's likely that you will eventually hit that coveted six foot mark you're seeking. Finally, though I suspect at times you already do, you may find yourself feeling like you are living with strangers. All of a sudden your all-wise, all-loving, and almost all-knowing parents may morph into imbeciles who know nothing about life on this planet. In some ways, you will be right, we are just a couple of idiots trying to raise a teenager for the first time, but these idiots have been on this earth far longer than you, and believe it or not, we are right about 94.8% of the time. With regard to the other 5.2% we are still mostly right.
So what can you do to survive these perilous times?
Well, to help, below please find thirteen guidelines to survive and thrive during the next seven confusing, complicated, cataclysmic years of your life.
Have fun with good friends. Good friends don't rip on everyone behind their backs. If your "friends" are doing this towards people you care about, then you can rest assured they are doing it to you when your not around. Avoid people who are mean spirited. Instead, surround yourself with all the awkward, cheerful, polite and fun-loving kids you can. There is nothing wrong with being goofy and obnoxious, it's a right of passage to be so as a teen.
Trust your parents. Please try to remember that your chubby, balding, and technologically challenged father can not only A – still kick your butt, but B – actually knows a thing or two about life and what you are going through. Yes, it may seem like I am ruining your social life by refusing to allow you to Snapchat, but I make rules based on what I feel is best for your long-term well-being, not your short term social status. Furthermore, realize that just because your mom is infinitely nicer than I am doesn't mean she will give you everything you want… everything you want during your teens is most certainly not everything you need!
Take care of your body. Look man, I know that right now you are watching your friends pound a six pack of Rockstars in a sitting, all while eating nothing but fast food with seemingly no consequence, but I can assure you that it will catch up with them. Take a look at me. I used to eat five Whoppers at Burger King (back when they were .99 each) for lunch every day in high-school… the sad truth – I just gained 10 pounds by even typing that sentence. Practice eating and exercise habits that will follow you into young adulthood. Oh, and don't do drugs… DUH! Get your high from exercise and keeping yourself in control of your body. Fitness and health are the gateways to increased happiness in your teens and the rest of your life.
Develop your spirituality. Of course my hope is that you would follow our example and continue on in our faith, but ultimately, my desire for you is that you have a relationship with God. There is a power much higher than us, who I believe loves us dearly. If friends fail and life seems stacked against you, it is my hope that you turn to your maker. In Him I believe you will find the best guidance and advice, infinitely better than my own. There is feeling beyond what you can see, hear or touch. It resides in your spirit, and don't let the world tell you it doesn't exist. Keep faith and hope alive in your heart – exercise these to bless the lives of others through charitable service. It is my promise that you will never be disappointed in the outcome of living a spiritually rich, service-oriented life.
Carry on your love of reading. Go find the best books. Read for pleasure, read for encouragement, read for learning. Learn of other cultures, customs and places. Read biographies of good men and women. Reading is the best way to self-teach and keep yourself from being ignorant. Also, read and memorize good poetry. The language of poetic expression is a beautiful gift to this world. Learn to appreciate the written word.
Do well in school. I know that you are going to be a professional soccer player, just like I was going to be a professional basketball player and my dad was going to make a living in baseball… but on the off chance those dreams don't pan out, have a back-up plan. Let that plan include a real education in a field that challenges you. Don't take the easy street when it comes to schooling.
Be nice to your siblings. This one is hard. I mean super-tough. It is too easy to get annoyed with those you live with, especially when they are out to do nothing more than bug the poop out of you. Trust me on this one, at some point in the next 10-20 years, all of your best friends today, or any friends you make in the next seven years, will most likely be nothing more than a memory to you. However, your siblings will always be there. The relationship with your brothers, if you take care of it now, should be the best friendships you will ever have.
Caution: The next five rules deal with girls. Not for the faint-of-heart, but these will have application sooner than you think.
Be friends with many girls, but avoid pairing off. You want a sure-fire way to ruin a great friendship with a girl? Start getting exclusive with her while in your teens. Jealousy, immaturity, and hormones are the most potent destroyers of friendships between you and the opposite sex. Skip the drama by refusing to have a steady girlfriend. And yes, feel free to call me the biggest hypocrite of all time on this one, but go ask your mom, she will tell you the same thing, having a steady girlfriend in high-school rarely works out in the long run.
Do not date until you are sixteen. Give yourself a few years of figuring yourself out as a teen before you jump into dating. Hang out with girls in groups until then, but unless you have means of transportation and some sort of job to actually pay for a date, what's the point? Please refer back to #8.
Avoid Porn as you would rat poison: Porn is unfortunately ubiquitous, this is something that was not the case when I was your age. I can promise you that it is already beginning to destroy the character of many of your peers. I cannot stress enough to you how dangerous to your mind this type of media is. I know that you are going to see it, someone is going to shove it in your face or you are going to chance upon it at some point, but my sincere hope is that you won't seek it out. It it is going to be tempting to indulge in its darkness, but I warn you son, porn is a lie. It will leave you feeling hollow and unfulfilled. Truly, pornography betters no man or woman. I beg you to stay away from it as you would the Ebola virus, because to your soul, it is every bit as dangerous.
Be home in time for your curfew—normally midnight, unless there are special exceptions. Tell me of anything good that ever came out of a group of teenagers hanging out together after midnight. Random acts of kindly service, sound judgement, good clean livin', and charitable deeds are not high on the list of to-dos for teens after the witching hour (midnight). Especially if you are with girls.
Save yourself for marriage. Half of the modern world would read this piece of advice and laugh in my face. I realize that this counsel may sound old-fashioned, unrealistic or prudish, but I assure you that it is one of the best tips for long-term happiness I can offer you. Don't get in your mind that sex is a bad thing, it's not a bad thing (I hope it doesn't gross you out when I tell you that actually, it rocks!) but it's not meant to be shared with just anyone. It is my hope that you will reserve that part of yourself for your future wife. Here are a few tips to help you get there.
No girls in your bedroom and no you in girls' bedrooms.
No being alone in a house with a girl.
No being alone in a car with a girl if the car is not moving.
And, as Grandpa Jacobs always said,
"Beware the horizontal." – Please don't make me explain what this means…
Ready for the last rule?
Remember that we will love you for always, no matter what. Trace, you are bound to break some of these rules, it's my hope that you won't, but I realize that in spite of all my great advice and best wishes for you, your life is your own. Please understand that regardless of what happens, whatever it is that you might choose for your life, that your mom and I love you. We will be there for you cheering you on, picking you up if needed, figuratively slapping you upside your thick teenage skull, and yes, even sometimes crimping your style. We have grown together so much over the last 13 years, we know that together we can make it through the next crazy seven and come through these times even closer.
If you follow these guidelines, we believe you will have the most fun possible—and avoid the most pain possible—during these wonderful, crazy, years. YOLAATO (You Only Live As a Teen Once)! Make the time count.
All our love,
Mom and Dad
Have you subscribed to the 'Or so she says…' newsletter yet? We send out emails with more great ideas, and your first one will include Mariel's five FAVORITE recipes from the blog. You can sign up by clicking HERE.
For more posts on parenting, try these:
Connecting with Older Kids – 15 Tips to Try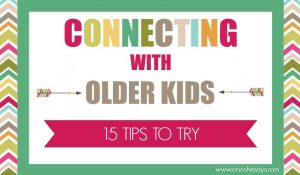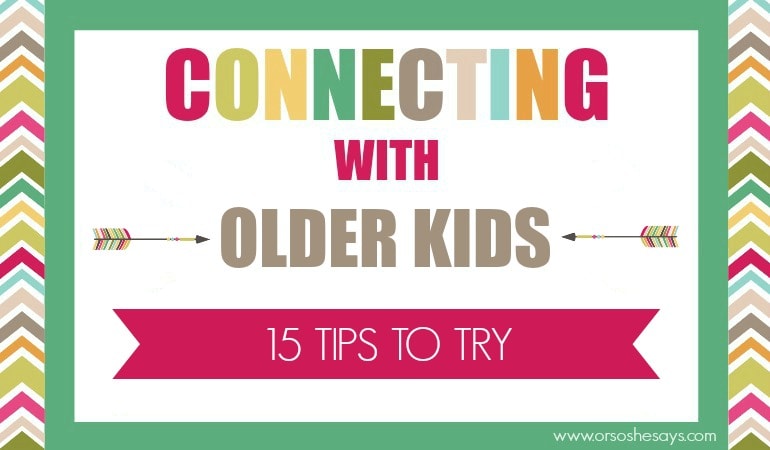 Parenting a Strong Willed Child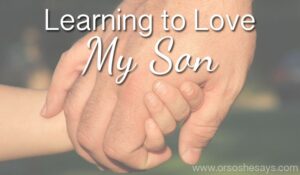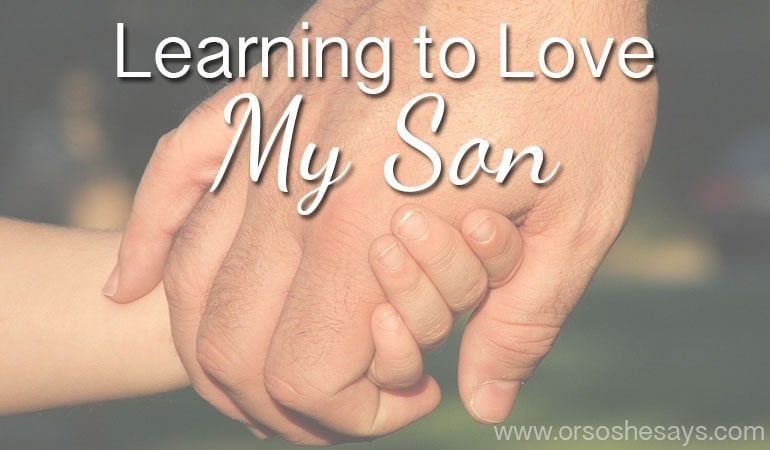 Million-Dollar Life Lesson for a Quarter