The number one reason I decide to just order a pizza is because I don't feel like making the meat. Can you relate? I don't love touching the slimy, wet, raw meat…cutting out the arteries and veins…and then cooking it too. I dread it. So, lately I've been thinking ahead. I'll throw the chicken, roast, pork or whatever into the crock pot, shred it, bag it and freeze it. It makes life so much easier and I have to do the yucky stuff only once! I can have dinner ready on any given day in less than ten minutes! Perfect!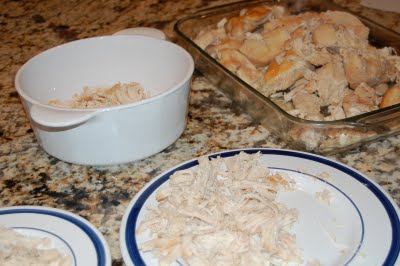 I will get like 15 or more pounds of chicken (or other meat), stuff it in my crockpot with about a cup of whatever broth I have on hand…and cook it on low for 8 to 10 hours until done. If I don't have time to shred it that day, I'll just put it in the fridge until the next day when I might have more time.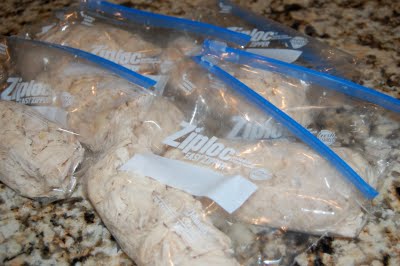 I then put about two cups of meat into several freezer ziploc bags, squeeze out the air and then throw them all into a gallon sized freezer ziploc bag. Freeze. Done. Life, simplified.
Now, on to the good stuff…and the reason I pulled out a bag of frozen chicken today! Have you been to Rumbi Island Grill?? Or, is it just a Utah thing? This place has yummy salads! One of my favorites is the Voodoo Chicken salad, so I was super excited to see their chef on Good Things Utah a while back giving out the recipe. So, this is the real deal…no copycat's here!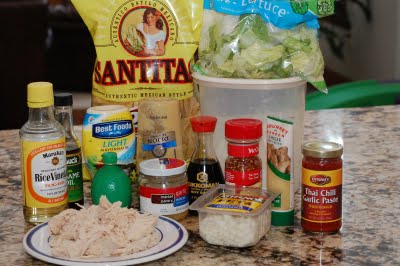 There's a good number of ingredients in the dressing but it makes a big batch and you'll have enough for days to come (plus family/friends)! Plus, if your chicken was made ahead of time…this is a 5 minute meal!
Okay, for the salad you need: lettuce mix, feta cheese, tomatoes (I don't like tomatoes…so, none pictured), tortilla chips (or if you are ambitious, make your own strips, chicken and the dressing.
For the dressing you need: dijon mustard, lime juice, chili paste, crushed red pepper, lite mayo, sesame oil, rice wine vinegar, soy sauce, white sugar, minced garlic, and pureed ginger.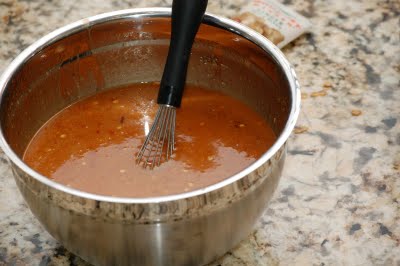 To make the dressing you combine all dressing ingredients in a bowl, except for the ginger. Mix with your hand mixer for about 2 minutes. Using a whisk, stir in the ginger until blended.
* Note – It took me so long to find chili paste at a store! Most stores don't have it. But, I finally found it at Smith's in the asian food section. I could only find a garlic chili paste but that worked fine. Chili paste and chili sauce are NOT the same thing.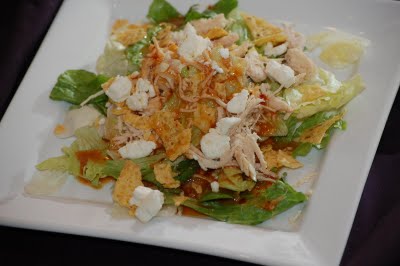 The salad consists of the lettuce (obviously), warm chicken, crushed tortilla chips or homemade strips, feta cheese, tomatoes, and the dressing! So good!
With your frozen chicken bags, you can also make these yummy meals in a matter of minutes:
Rumbi Island Grill's Voodoo Chicken Salad
For the salad:
Lettuce
Feta Cheese
Diced Tomatoes
Crushed Tortilla Chips or Homemade Strips
Voodoo dressing
Cooked chicken (diced, shredded, etc.)
For the dressing: (you may want to cut this recipe in half if you don't want tons of leftovers)
1/4 cup Dijon Mustard
1/4 cup Lime Juice
1/4 cup Chili Paste (found in the asian food section)
2 TBS. Crushed Red Pepper
3/4 cups Lit Mayonnaise
1 1/2 cups Sesame Oil
1 cup Rice Wine Vinegar
1/2 cup Soy Sauce
1 1/2 cups White Sugar
1/4 cup Minced Garlic
1/3 cup Pureed Ginger (found in the produce aisle)
Directions: Mix all of the dressing ingredients, except the ginger, in a bowl with a hand mixer for a couple minutes. Add the ginger and stir with a whisk until well blended. Top your salad with the chicken, tortillas, feta cheese, tomatoes, and the dressing.