Sore throats have been rampant at my house. The minute we think it's clearing up, it's back and worse than ever. Bleh. I recently stumbled across a recipe for Russian Tea. I had never tried it before, but it sounded nice, hot, and maybe even soothing for our sore throats. But, most of the recipes I found had Tang in it and that sounded kinda icky, but I loved the idea of a citrus cider, as opposed to apple cider, which I had been drinking daily. I finally found a recipe that didn't use Tang and I was so excited… but, I didn't love it. So, I did what I usually do… call my gourmet-chef-mother and beg her for help. She had just the recipe for me and I love it.
This Russian Tea recipe makes a TON, so I filled up about 6 gallon size Ziploc bags (about half-way full) and laid them flat in the freezer (after we had already guzzled a pitcher-full.) I'm so glad to have a supply in stock. When the kids start complaining about their sore throats, they always asking for a cup of this. I just pull a frozen bag out, defrost it in the microwave for a few, then dump it in a pitcher that I store in the fridge. When someone is ready for a mug, I heat it up, by the cup, rather than the whole pitcher. And yes, it's got sugar in it, so it's not mega-healthy. But, it's filled with vitamin C and the heat really is soothing on throats. Besides sore throats, I just want some when I'm cold! … or, when I'm not. It's delicious.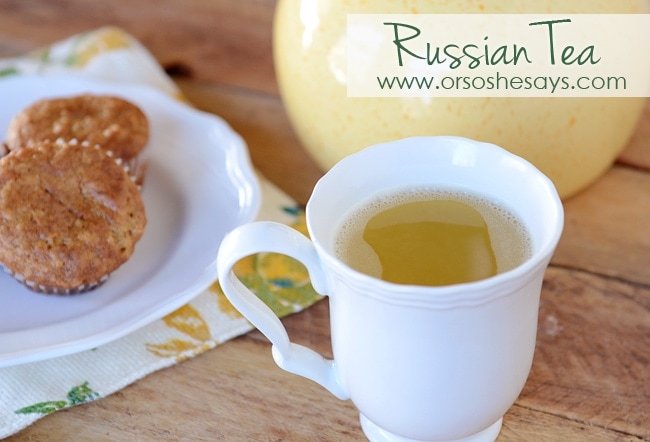 Russian Tea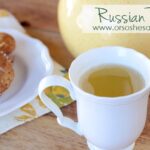 Russian Tea ~ Bulk Recipe
Ingredients
8

quarts

water

32 cups

4

cinnamon sticks

regular size

30

whole cloves

2

cups

lemon juice

bottled

1 12

oz.

can frozen orange juice concentrate

2 46

oz.

cans pineapple juice

7

cups

sugar
Instructions
In a LARGE stockpot, combine the water, cinnamon and cloves. Bring to a boil and let boil 10 min.

Add lemon juice, orange juice, pineapple juice, and sugar. Stir together.

Continue to cook until hot and flavors combine. About 10 more minutes.

The cinnamon and cloves will likely be floating off the top, making it easy to use a mini strainer to pull them out.

Serve hot (or cold, if you prefer.)

* If you want to freeze the extra, wait until the tea is cool before pouring it into gallon sized Ziploc freezer bags. I fill them about half-way full, then wrap a grocery sack around each one, in case there are any bag leaks. Then I lay them flat in the freezer. When we're ready for one, I either let it defrost on the counter, in the fridge, or stick it in the microwave on defrost. I store it cold in the fridge, until someone wants to heat up an individual mug.
Other recipes you might like: Apple Cinnamon Bran Muffins (pictured with Russian Tea), Fresh Squeezed Lemonade, and Banana Slush Punch.