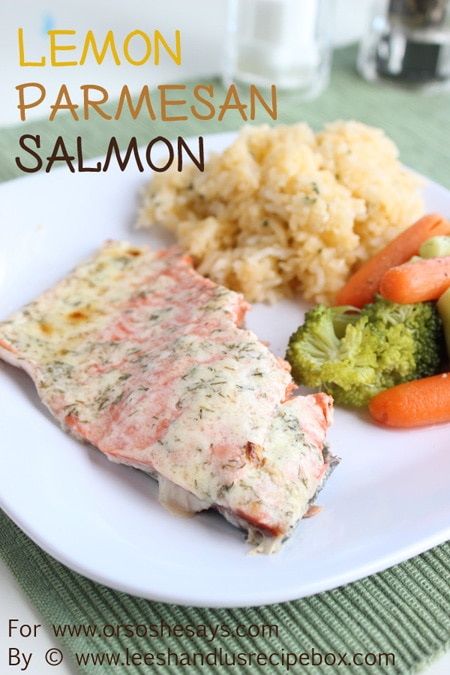 Leesh and Lu here. We are excited to be here sharing more of our favorite recipes with you this year! Today we have a quick, easy, and family-friendly salmon recipe baked to perfection for you. With the new year comes new resolutions and many of us are trying to eat and feed our families more nutritiously. This recipe is a great one to get kids eating fish. The creamy Parmesan mixture makes it oh-so-tasty and really, who doesn't love cheese?!
The bubbly browning of the cheese makes it so delicious and seals in the moisture so you won't get dry fish! It's super simple and quick to throw together. We usually serve this salmon recipe with a side of roasted or steamed veggies and either a simple rice pilaf or roasted potatoes.
Lemon Parmesan Salmon Recipe Baked to Perfection!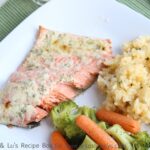 Lemon Parmesan Salmon
Ingredients
1 ½

pound

salmon filet

1

tablespoon

butter

softened

1

tablespoon

mayonnaise

1

teaspoon

dill

2

teaspoons

lemon juice

¼

cup

grated parmesan cheese
Instructions
Preheat oven to 400. Mix butter, mayo, dill, lemon juice, and parmesan into a paste. Place your salmon down on a lightly greased, foiled baking dish. Spread the mixture into a thin, even layer on top of your fish. Baking time will vary greatly with the thickness of your filet, but check for flaking after 10ish minutes. When this fish is just about done, turn your broiler to low and let it for for 30 seconds to a minute and a half until the mixture starts bubbly and getting some nice golden brown color. When it's browned to your liking, remove and serve immediately.
Here are a few more lighter favorites:
Green Drink | Baked Chicken Nuggets | Omelete on the Go
For more great family-friendly recipes on OSSS, check out the following:
30 Copycat Recipes That Are So Spot On It'll Blow Your Mind!
25 Delicious Freezer Meal Recipes