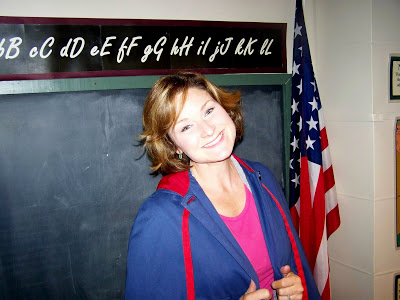 I'm sorry to hear that Jessica will be leaving Or So She Says, but I love to see someone prioritizing and putting first things first in life. That is so important for us to do as women and as mothers! So, best of luck to Jessica! We have loved your work and contributions to this great forum of women from all walks of life! I'm sure you'll be back after a while. In the meantime, let's all pitch in to help Mariel not lose her mind! 😉
~~~~~~~~~~~~~~~~~~~~~~~~~
So, I'm a news person, and I've got a newsflash for all ya'll:
Christmas is coming…No, really it is.
And there's nothing that you can do to stop it from coming, so you might as well get to work!
If you like making your gifts, I thought you'd enjoy making this unique sound-matching game that I call "Shake, Rattle & Match".
It's a great gift for younger children, while still being challenging for adults.
Note: I found all of the materials for this project at Michael's Craft store.
"Shake, Rattle & Match"
~~A Sound-Matching Game~~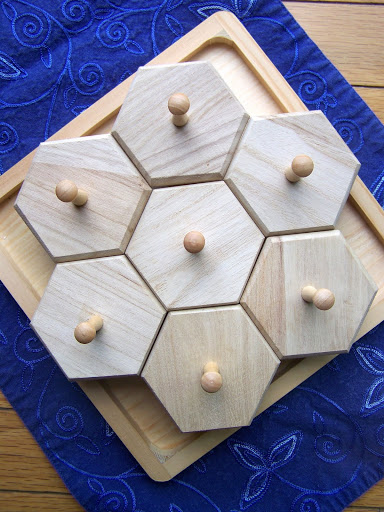 You will need:
-12 small wooden boxes with lids (They should all be of identical size and shape.)
-1 wooden tray that accommodates all of the boxes
-a drill/drill bit the same size as your knobs
-6 different colors of acrylic paint
-6 different items that make distinct and interesting sounds. I used: pennies, rice, a large jingle bell, a glass marble, dry oats, small wooden beads. Whatever you decide to use for your "sounds", make sure you have double of each item.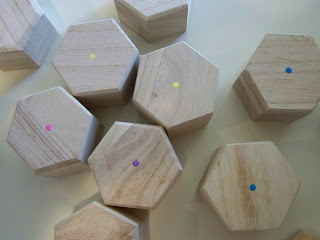 Step 1 – Flip your boxes over and color code them. Do this by placing a dot of paint directly on the center of the bottom of each box using all six paint colors. You should have two boxes of each color dot when you are finished. This will allow the child to check their sound matches as they play. Let the paint dots dry, while you play with power tools.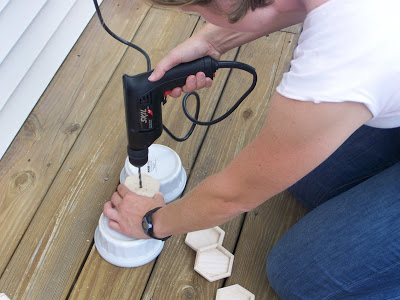 Step 2 – Measure your lids and mark the center using pencil. Then drill holes in the center of each lid.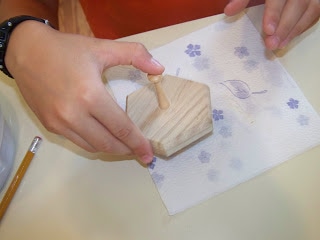 Step 3 – Apply wood glue to the knobs and insert them into the holes that you drilled in the lids. Wipe any excess glue with a paper towel. Allow glue to set.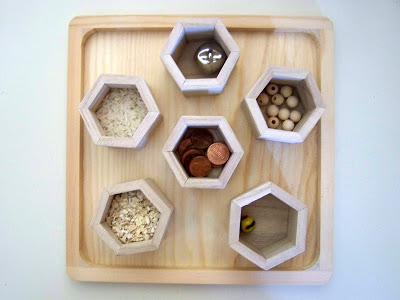 Step 4 – Fill your boxes with the sound-making items of your choice, being careful not to mix up the color coding. I filled and glued two boxes at a time, checking the color dots as I went. Note: During this step, you might also want to make sure that the sounds are distinct enough for your game. You can always swap your items out for something else during this step, but not after.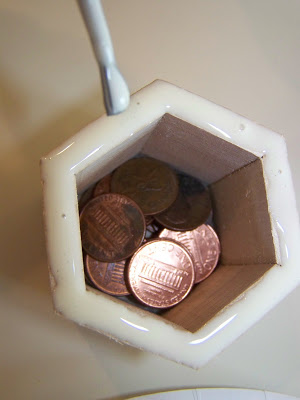 Step 5 – Apply wood glue to the rim of each box and glue the lids on. When the glue has dried, arrange the boxes on your tray and play!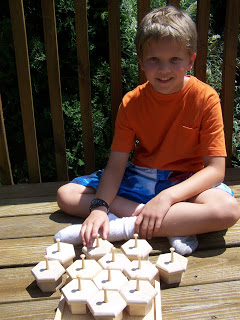 Because of the nature of this game, I decided against embellishing the outsides of the boxes in any way. Since it is a matching game that relies on listening, flashy designs would have just been a distraction. With this game, the treasure truly is inside…and the beauty is something to be heard and not seen! That said, I think that the natural wood is elegant in and of itself.
(And easy enough for a kid to make…double-awesome!)
Ok, are you ready to see it in action?

Here is one of my kid-testers, age 3, playing "Shake, Rattle & Match"!
Also, if you are looking for another Christmas gift idea, check out my tutorial for handmade journals…a very quick, easy, beautiful project!
—
I am having a "Santa's Little Helper" Contest. To kick-start our collective celebration of the true meaning of Christmas, I am giving away $75 to help someone play Secret Santa to another person or family. To enter, readers must email me their "Secret Santa Plans" to help others. I will choose the Santa's Helper whose idea I like best and they will win $75 to spend on anything that they like at CSN stores online to help them play Secret Santa this Christmas. I will also post the various ideas that people share with me to help others get their creative juices flowing!
Jocelyn Christensen
~~~~~~~~~~~~~~~~~~~~~~~~~~~~~~~~~~~~~~~
Send your guest post to [email protected]