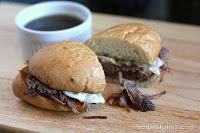 Hey, everybody! This is Kate from Our Best Bites. First, we want to thank Jessica and Mariel for being so gracious to invite us to guest post on their blog! I co-author Our Best Bites with my friend Sara and I think both of us agree that one of our favorite things about the blogosphere are the random friendships and connections that we've been able to make.
We originally started Our Best Bites as a way of sharing some of our favorite recipes with our families and friends. Over the last 1 1/2 years, we're reaching a lot more people than just those we're closest to, but at the heart of it, we're still the same people. We're both moms of two small kids, we both work from home part-time, we both have so many responsibilities that it can feel like a constant juggling act. The vast majority of our recipes are designed to help people like Sara and myself out–ideas that are a little out of the cream of chicken casserole comfort zone, but still affordable and easy (and we shoot for healthy, but let's face it, we have seriously obsessive relationships with our ice cream makers!)
This recipe is one of the all-time faves on our blog. It's easy, it feeds an army, it's incredibly delicious (like hard-core restaurant delicious), the leftovers are super versatile, and it's something that you can serve at your teenage daughter's slumber party or at something a little more fancy. I promise, after you try this, you'll never be able to eat another French Dip sandwich made with deli meat!
Thanks again, girls, for letting us post and we hope your readers will pop on over to http://www.ourbestbites.com/ for more fun and easy ways to spice things up in the kitchen!
–Kate and Sara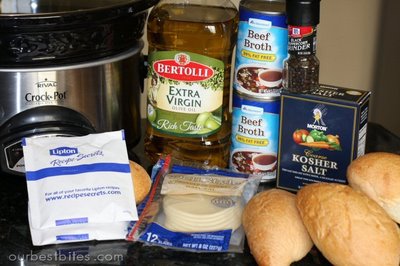 French Dip Sandwiches
Print Recipe Text Only
1 2.5-3 lb. beef roast; aim for something on the lean side (you can use a frozen roast if you want)
2 Tbsp. olive oil
salt and pepper
2 1-ounce packages dry onion soup mix
2 c. water
2 cans beef broth
6-8 large buns (make your own if you're feeling ambitious!)
Swiss, provolone, or mozzarella cheese, shredded or sliced.
Heat oil in a large pot over medium-high heat and rub roast with salt and pepper.
When very hot, carefully place roast in pan and sear on all sides. You're not cooking the meat, you're just browning it quickly on all sides to add flavor and seal in the juices. Oh, and it smells so good–just like Grandma's house on a Sunday afternoon.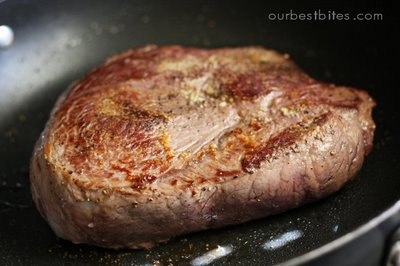 Place in crockpot and sprinkle with onions soup mix. Pour water and beef broth over roast.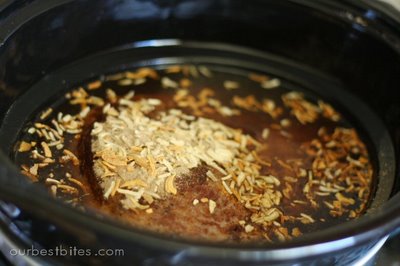 Cook 8-10 hours on low or cook 4-5 hours on high and another 3-4 hours on low. It's hard to screw this part up; basically, the longer it cooks, the more tender it will be. But you know it's done when you pop a fork in it and the meat just falls apart. When meat is ready, shred with a fork.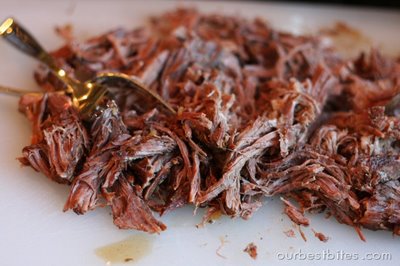 Place meat in crusty rolls. Top with cheese and broil open-faced in the oven or toaster oven for a few minutes, until bread is golden and cheese is melty. And don't even think about walking away–things can go from lightly-toasted to on fire within a matter of seconds when you're using your broiler.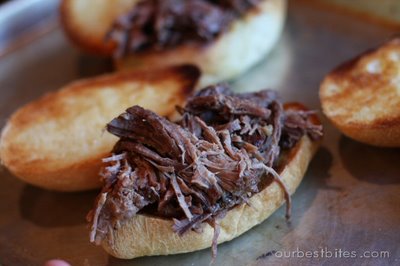 Ladle juices into small cups for dipping and enjoy!
FREEZER DIRECTIONS:

Prepare roast through the searing step; after meat has cooled, place in a plastic freezer-safe container (think Gladware), cover with onion soup mix and bouillon, and freeze. When ready to cook, pop it straight into the crockpot (frozen), add 2 cups of water, and set to high until warm or, even better, simmering. Turn to low; cook for a total of 8-10 hours.