So, I recently shared a recipe for Broccoli Cheese Soup and I promised that I would share the soft pretzel recipe that was in the picture. Today's the day. I've already bragged about my sister-in-law, Bonnie, who is one of the many that supply me with delicious recipes, but this is another one of hers. (Other Bonnie recipes: Gingerbread Crumb Cake, Favorite Cinnamon Rolls, and Death by Special K) I first had these soft pretzels at a family gathering. She served them with a big pot of soup, and I had to have the recipe… along with everyone else. I love how there are only four ingredients and they're all things I have on hand. Plus, the kids loved helping out on this one, shaping their own pretzel, painting on melted butter, salting…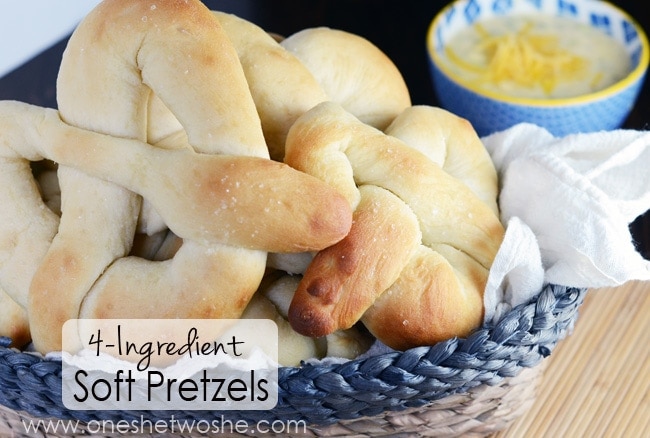 Bonnie's Soft Pretzels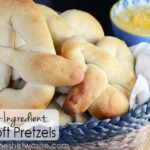 Bonnie's 4-Ingredient Soft Pretzels
Ingredients
2

TBS.

yeast

2

cups

warm water

1/2

cup

sugar

5

cups

flour (usually less is needed. Add enough flour until the dough barely starts to pull away from the side of the bowl.
Instructions
Put yeast in slightly warm water in a mixer.

Add sugar and let sit for 5 min. till yeast looks frothy.

Start mixer and slowly add sifted flour 'till dough starts to pull away from sides of mixing bowl.

Cover and let rest 20 min.

Remove dough onto a floured surface.

Roll out into long snakes and shape into pretzels on a baking sheet.

Brush with butter.

Let rise 15 min.

Bake 8-10 min. at 450 degrees until lightly browned.

Brush with butter again and add salt, cinnamon sugar, or parmesan, etc.