I made something way yummy last night, that I've been excited to share with you! It needs a better name, but as of now its called "Spaghetti with Cauliflower & Cabbage." It's a recipe from Lugano, some restaurant that I've never been to…but, after trying this, I'm thinking I should probably go. Anyway, I'm not digging the recipe name because I would typically
never
make anything with that name…except, I noticed it had pancetta in it and THEN it caught my attention. Pancetta is a real bugger to find at the stores SO I opted for ham and it turned out wonderful…who needs pancetta?? Oh, something else…when I told the Beard Man I was making this for dinner, he totally groaned and told me I should just stick to the recipes I have. Lame. I told him to cook his own blankity food. He backed down. 🙂 So, when he served himself up some of this goodness, he totally apologized and said it was way good and to make it again. Wassup, sucka.
Oh, bonus…this meal is super quick, easy and would be perfect to serve company!
Okay, so you will need: Parmesan cheese, cabbage, imported spaghetti noodles, pancetta or ham, cauliflower, extra virgin olive oil, garlic cloves or minced garlic, salt and pepper, and red chili flakes.
Boil a pot of water and cook the spaghetti noodles (about a pound or 3/4). I bought imported spaghetti noodles and I love them…not so slimy 🙂 Drain and set aside…meanwhile…
Cut up about a pound of ham (or pancetta) and fry it in a couple TBS of olive oil. It really doesn't matter how much meat you want. We're meat eaters around here, so I added lots of ham. Fry it until it becomes slightly crispy.
Add 2 tsp. of minced garlic (or about 4 garlic cloves). This recipe really is super lenient…if you want more garlic, add more. Whateva. Cook for a couple of minutes. Meanwhile, throw some cauliflower pieces in a covered bowl with a couple TBS of water and cook it in the microwave until its soft.
Add the cooked cauliflower pieces (I made mine pretty small, so as not to scare off the husband), some shakes of red pepper flakes, and salt and pepper to taste. When you love it, throw in a handful of chopped cabbage (I just bought a pre-chopped bag)…however much you want. 🙂 Stir together. Turn heat to lowest setting just to keep it warm.
Add the cooked pasta to the mixture and toss together. I didn't end up using a whole pound of spaghetti…I held some out so I could have a better ham/noodle ratio. Add some more drizzles of olive oil to moisten the mixture and stir in a couple handfuls of grated Parmesan. Eat!!
This would be great served with a salad and some yummy fresh bread with dip.
If you come up with a more appealing name, let me know!
Spaghetti with Cauliflower & Cabbage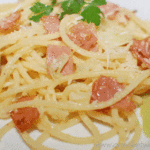 Spaghetti with Cauliflower & Cabbage
Ingredients
3/4 to 1

pound

imported spaghetti

Extra virgin olive oil

2

tsp.

minced garlic

or 4 cloves

1/2 to 1

head of cooked cauliflower-ettes

1

cup

or large handful chopped cabbage

Chopped pancetta or ham

your preference on amount

Salt and pepper

to taste

Red chili flakes

1/2

cup

or more Parmesan cheese
Instructions
In pot, bring water to a boil and cook spaghetti noodles. Drain and set aside.

Meanwhile, in separate large fry pan, fry the chopped ham or pancetta in a couple TBS olive oil until slightly crispy.

Add the garlic and cook a couple more minutes.

Add the cooked cauliflower pieces (microwave cooking is fine), a couple shakes of red chili flakes and salt and pepper, to taste.

When it tastes great, throw in a good handful of chopped cabbage.

Turn heat to lowest setting and add the spaghetti. Toss together.

Drizzle more olive oil on the mixture to moisten and stir in 1/2 cup or more Parmesan cheese. Serve.