A few months back, I started hearing a buzz about this new site called Stitch Fix. What intrigued me was their pictures of super cute, original clothing and the fact that they become your PERSONAL stylist and MAIL you cute stuff. I had to know more! With six kids, as you can imagine, I don't get out of the house much to buy myself clothes. I can always find fun stuff for my kids online (hello, Zulily!), but rarely do I find anything for myself. And, sometimes I want a cute outfit, dang-it. So, I decided to give Stitch Fix a try, see if it was as cool as it sounded.
I went online, signed up, and filled out their style form …not sure of the official name. But, it was a form that asked your sizes in everything, how much is too much to spend on specific clothing items, and lots about what sort of styles you like. They had pictures of all different styles, and you pick your favorites, to help them understand what you like. They even ask for your Pinterest ID, so they can check out your boards and see what sort of styles you pin. Crazy cool, huh!?! Lastly, you schedule your 'fix.' Soon enough, they'll be sending you FIVE items, selected specifically for you, based on your preferences.
How it works is, if you like it, you go online, fill out a report on what you liked/disliked and what you're keeping or sending back. They only charge your for what you keep and anything you don't want, you put in the postage-paid bag and stick in the mailbox. However, there are benefits to keeping your whole fix, like a 25% discount off your total.
I was soooo anxious to get my first package and see what they put together for me. Finally, it came, and LUCKILY they improve each time they send you a package, as they learn more about your likes and dislikes. I got a package filled with adorable items, but they didn't take note of one major request that I had. As a Mormon (remember?), I wear what we call 'garments' under my clothing, so all my shirts need to have sleeves and no plunging necklines. And, my shorts, skirts, or dresses need to be knee length. Pretty important. It does NOT look cool when my 'G's' are hanging out, I promise. Anyway, so they kinda-sorta didn't pay attention to that and I got a box filled with stuff that didn't work. Cute, but didn't work. But, no biggie. I just packaged it all up in the bag, stuck it in the mailbox, went online and reiterated what I needed, and scheduled my next fix.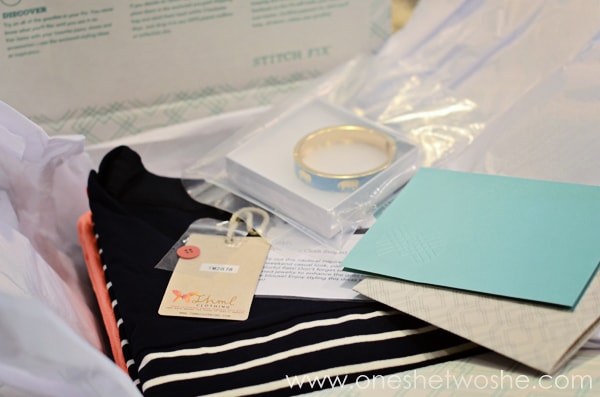 And, like I said, it got better. Oh, yes. Dangerously better. I so love Stitch Fix. My next package came and everything was perfect. They totally listened to me and in their note, even mentioned how they spent some time studying my Pinterest boards so they could get it just right. Here are some of the pieces from my last fix…
Okay, it just gets better. So, see those cards attached to all the clothing items? They are ideas on HOW to wear the specific piece. Hallelujah! I love that. My extensive collection of yoga pants is a clear indication that I need a few style reminders. I made a little stack in my closet, saving all the idea cards for when I'm in a rut.
Anyway, the truth is, it can be a little pricey, and I usually try to recommend more budget friendly things. But, Stitch Fix is a treat. I'm way excited about it! It can be just once a month, once ever, or every once in a while. The end.