Do you know your family history? Try sharing stories with your kids to bring past and present generations together! Here's a Family Night lesson to get you started.

What makes a family strong, resilient, and happy? It is something we all desire. There are many articles and books written on this topic. One of my favorite is an article published in the New York Times written by Bruce Feiler. It is titled, "The Stories That Bind Us." (Link Here) I like this particular essay because the principles taught make sense, it feels right, and it is easy to implement.
This article teaches a simple principle that draws the generations of a family tree together and makes the overall family resiliency strong. It is all about stories. What is your family story? Talk about it tonight with this fun Family Night Lesson.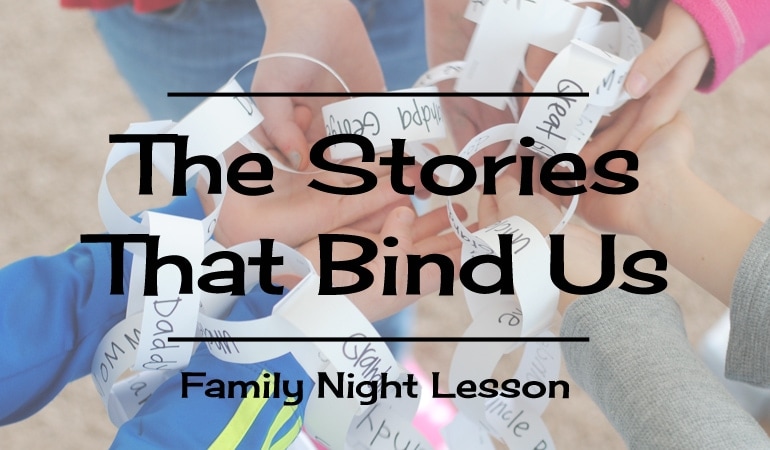 Lesson:
I recommend reading the article in advance to teaching this lesson. Or, read it together as a group. It will only take a few minutes and it will help you understand the lesson better!
First, define what family means. There are two parts to the common definition. The first is, "A group consisting of parents and children living together in a household." Obviously, this ideal isn't always the case, and that is ok!
The second part of the definition is, "All the descendants of a common ancestor." Adding this part of the definition to the world family is important for this lesson. We are part of something bigger than just our single family unit.
Talk about who your family is. What is Grandma's name? Who is Aunt Susan? Where did they come from? Where do they live? Pull out a scrapbook and show your children pictures of your extended family. I love to look at physical similarities. Do your kids have Great Grandpa's nose? Did they inherit Uncle Billy's curly hair? Is there a trait that is consistent through the generations? The grandkids in my family are really lucky when they get my father's bright blue eyes. My siblings and I all secretly hope our kids will be born with them, because they are the most vibrant beautiful blue eyes a person could have.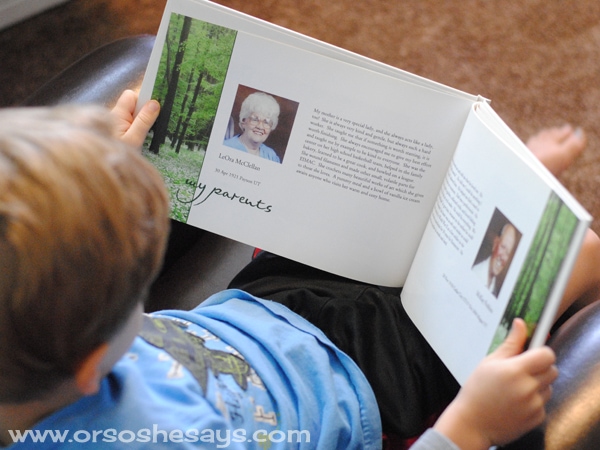 Why is it important for your children to know about their ancestors? In the article Dr. Duke said, "that children who have the most self-confidence have what he and Dr. Fivush call a strong intergenerational self. Meaning, they know they belong to something bigger than themselves." Their research points to a direct correlation between a child's ability to cope with stress (general happiness and resiliency) and the child's sense of being part of a larger family. When a child knows that they are a link in a strong chain of people, it makes life easier to handle. Each person is not battling life alone, but as part of a greater whole.
Isn't that an amazing gift? We are all part of a family that is bonded together through trials and success. The more you know and your children know about your ancestors, the stronger the family bond can be.
So, how to you make this link solid? By telling stories! Take a few minutes to share a few stories about your ancestors that are interesting, funny, inspirational, or educational. You don't have to go very far up the family tree if you don't want to. You can talk about your parents or your siblings. Tell your kids about how your parents met. Talk about what they did to earn a living. Is there a time when you were impressed by a hard decision your parents had to make when you were a kid? Share it. This is story time. And these are the stories that will bind your family together.
This might be a fun time to call a grandma or grandpa on the phone to ask them questions! Ask them about where they served a Church mission. Ask what they liked to learn about in school. What is their favorite vacation? Find out what trial was the hardest in their life and how they overcame it. Make a list of questions on a piece of paper before you call to help guide the conversation. This little interview will help you get to know them better.
A few months ago, while preparing dinner, I took two minutes to tell my kids a story about their Great Great Great Great Grandpa Dan Jones. This is what I said in a nutshell: Dan Jones was a Mormon Pioneer. He was with his good friend Joseph Smith the night before the prophet was martyred. Dan Jones got lost heading home that night. It was a lucky mistake, because there was a mob of people waiting to kill him on the correct road to his home. The Lord was watching out for Dan. He knew him and He knew there was still so much good work for Dan to do on Earth. He was a very special man. You kids are so lucky to have a brave hero as a Grandpa.
That was it! I wasn't even sure if my kids were listening. Then, a few weeks after I told the story, my family and I were at Disneyland. We walked past the Indiana Jones ride in Adventureland. My little six year old boy's eyes lit up and he got so excited. He exclaimed, "Mom! It's the Dan Jones ride! We know him!" After I laughed, my heart swelled up. Because, he remembered the story and he was proud to be related to Mr. Jones. Even if it was the wrong hero. His sense of self was elevated because of his connection to his Great Grandpa Jones.
Kids really do feel a bond with their ancestors when they learn about them through the stories we tell.
Activity
Cut paper into strips that are about 1 inch thick. Give each person a single strip of paper and have them write their own name onto it. H0ld the paper in a circle. (Don't staple it yet) Tell each child that this link represents you.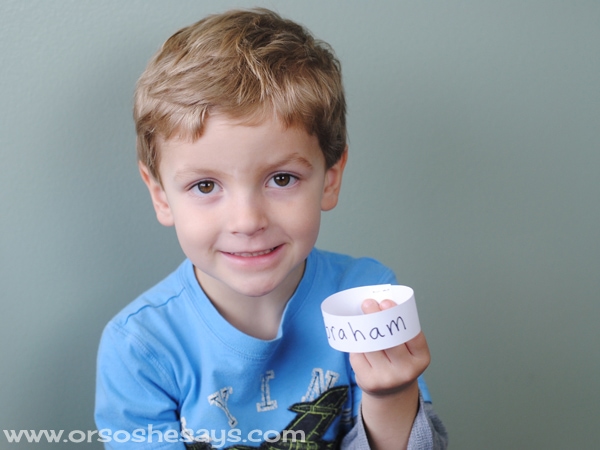 Link the pieces of your chain together so that the links that represent your immediate family are all together.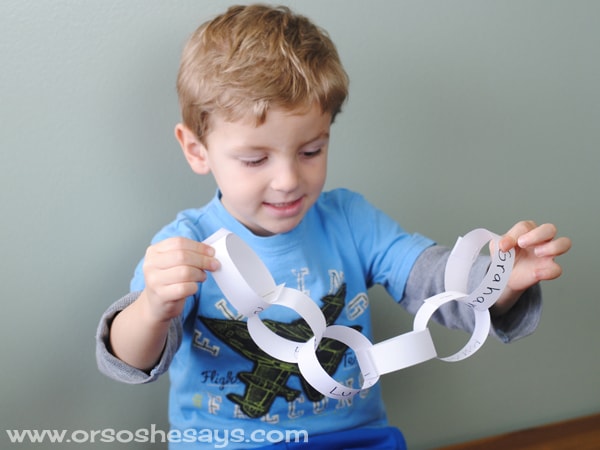 Then, start writing down the names of your extended family onto the extra paper strips.
When you write the name it would be good to say a quick thing about that person. For example, "Great Grandma Mary-she made the best orange rolls every Thanksgiving dinner. My siblings and I would get stuffed eating as many as we could. I got my recipe from her!" Take turns hooking the extended family chain pieces to your own family chain.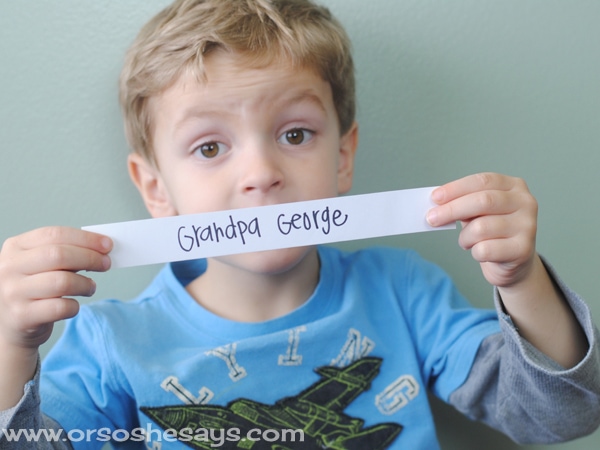 When you are finished you will have one giant family chain that has been bonded together. This giant chain is much more impressive than the individual links you started with. Hang the chain up so that you can see it throughout the week as a reminder that you are all part of a family bond.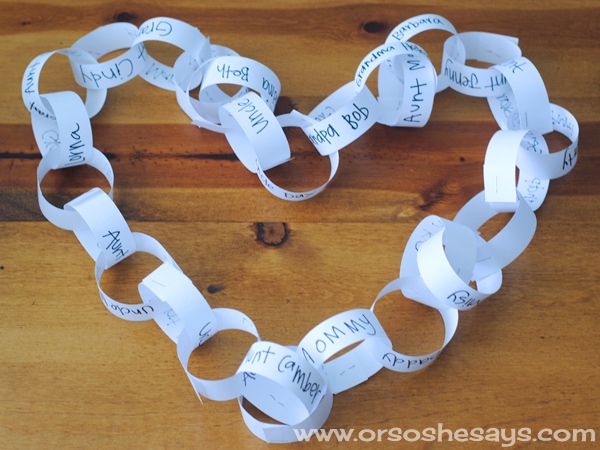 Conclusion
Sharing stories about your family should become a consistent dialog in your home. The article in the New York Times gave the suggestion to utilize times when you are already together to talk about family stories. Stories can be told and bonds can be built during family dinner time, while riding in the car, waiting at the dentist office, walking home from school, after a hard loss at a sporting event, before a big date, or during young children's bath time.
Hopefully, you are already spending time together. (That is the first big step!) Now, you just need to remember to use that time to create a sense of family belonging in the hearts of your children. It is amazing how knowing who they are and what their family has accomplished over time really does make a child feel more important, strong, better adjusted, and happier than those who are living life without that bond of love and belonging.
For more posts like this, check these out:
Recording Family History Through Pictures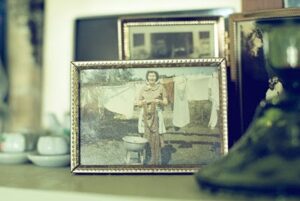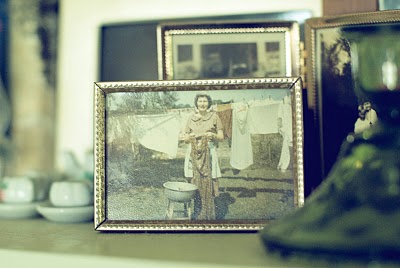 The Moment I Realized Family History is AWESOME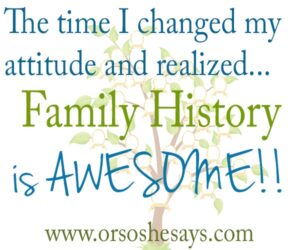 Family Night: Kids Interviewing Grandparents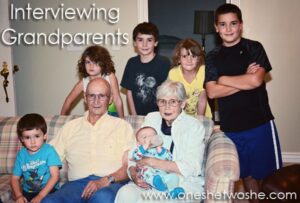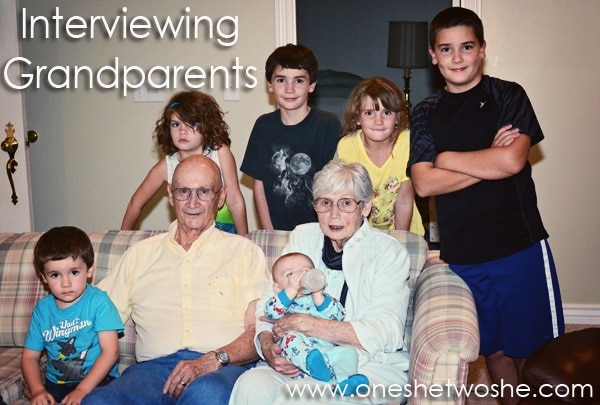 Save
Save