Family Night is a family activity that can be held once a week. Set aside one night when your family can all be together. Teach your children important values and how to be better family members, people, citizens, friends, and neighbors. The dedicated time together is the most important thing. Once a month, I will share a Family Night lesson on the blog to help get your creativity rolling and to inspire us all to try a little harder to be a little better.
I love that that Holiday Season begins with a focus on gratitude. The month of November is an ideal time to make a list of all the things you are grateful for. This festive Thanksgiving Family Night idea was created to help each member of your family understand the importance of "stuffing their lives" with gratitude for their many blessings.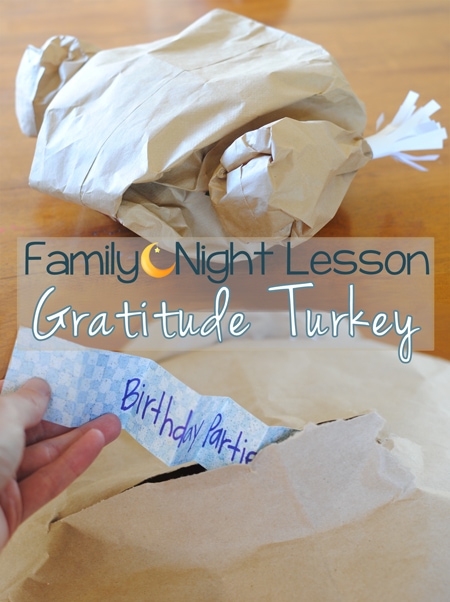 Lesson
Ask the Question: What is Gratitude?
Gratitude is a feeling of appreciation and thankfulness for blessings or benefits we have received.
Ask the Question: What things are you grateful for?
Talk about all of the things your family has that make you safe, comfortable, and happy. Basic items like a home and food are very important. We can also be grateful for the fun things in life too! Stuffed animals, curling irons, makeup, soccer, soft pillows, pizza, slippers, and holidays are a few things that come to my mind.
Ask the Question: Who are you grateful for?
Talk about the people in your life that you are grateful for. Teachers, friends, parents, grandparents, neighbors, police officers, church leaders, and most importantly, Heavenly Father and Jesus Christ. Discuss what makes the individual important to you.
Ask the Question: Why is it important to be thankful for our blessings?
As we cultivate a grateful attitude, we are more likely to be happy and spiritually strong. A good indication of the happiness in a person's life is measured by their ability to recognize blessings.
Read the scripture: D&C 78:19. There, the Lord promises, "He who receiveth all things with thankfulness shall be made glorious" (D&C 78:19).
Ask the Question: How do we express our thanks for the blessings in our lives?
We should regularly express our gratitude to God for the blessings He gives us and to others for the kind acts they do for us. Saying "thank you" is a good habit. You can also express thanks with a hug, a smile, or with a friendly note or text message. Serving people is also a great way to show gratitude!
Being grateful brings happiness and joy into our lives. You can print the following quote to display in your home. Discuss it with your family.
Activity/Craft
Make your own Gratitude Turkey!
Cut paper into strips. Give each person ten pieces of paper. Have every person in your family write down 10 things they are grateful for. Give examples to get their creativity flowing. Talk about experiences they might have had and favorite hobbies and activities they enjoy. Encourage each person to include at least two items that are of a spiritual nature. For example: the scriptures, prayer, prophets, primary teachers, girl's camp, etc.
These gratitude papers are going to act as the "stuffing" for the turkey. I folded them accordion style so they fill up a lot of space in the belly of the turkey! If you have young kids, let them fold the papers while you make the turkey.
To make the turkey you will need: one large paper bag, two lunch sacks, a sheet of white paper, tape, and scissors.
Make the legs first.
Cut the white paper in half "hotdog style" so you have two long strips. Cut fringe along one end. These are going to be the leg bones.
Open the lunch sack. Poke in the corners to make the sack rounded at the top.
Gather the open end together and twist it closed. Wrap the paper bone around the end of the sack and tape it in place.
The large paper bag will be the turkey body. Open the bag and punch in the corners so that it is rounded–similar to the process you used with forming the legs.
Now, it is time to stuff the turkey with your gratitude papers. During this process, talk about how when we live a life of gratitude our lives are full. We are stuffed with happiness!
Fold the open end of the turkey body closed and tape it into place.
Place rounded tape onto one side of each turkey leg and then press them onto the side of the turkey body. You have to be kind of careful not to smash the leg while you do it. Just apply light pressure.
You can carve your turkey on Thanksgiving Day as an activity for the whole family. Or, pick a special time during the month to gather together to feast on the blessings in your home.
When you dig into your gratitude turkey, take a moment to read all of the blessings out loud and discuss them as a family.
Conclusion
I hope you enjoy discussing gratitude with your family this month. Gratitude is one of the greatest attributes we can obtain. When we live a grateful life, we are happy. I wish you are very Happy Thanksgiving.
Here are some more posts on cultivating gratitude:
Gratitude Journal – 365 Reasons to Love Your Spouse
And you can find LOTS of Family Night Ideas right HERE.