This post goes out to Alisa- thanks for the request!
D
r
y
i
n
g
m
y
h
a
i
r
,
(
w
i
t
h
a
h
a
i
r
d
r
y
e
r
)
t
e
n
d
s
t
o
b
e
o
n
e
o
f
t
h
e
l
a
s
t
t
h
i
n
g
s
o
n
m
y
p
r
i
o
r
i
t
y
l
i
s
t
f
o
r
t
h
e
d
a
y
.
It takes way too long, it makes me sweaty, and my son screams the whole time I'm doing it. Using a curling iron is out of the question. But for all you good women out there who are making our gender "look good" this one's for you!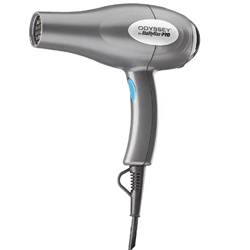 Got 100% review on Makeup Alley. There was not one bad review on it! Here's what women said about it:
I needed a hair dryer that would dry my hair faster, my old one was taking 10 minutes and I have shoulder length FINE hair. This hair dryer did the trick! Its heavier than most hair dryers but I didn't find it to be too heavy. Love that it blows cold air and it dries my hair in under 5 mintutes. Would definitely buy again!
Wow – what a wonderful hair dryer! I can dry my hair in about 10 minutes – and I have waist-length, super thick hair. Although, I don't dry my hair to bone dry. I would love to find this hair dryer in a travel size with the travel adapters like the T3 Tourmaline one…
I am in love. Why did it take me this long to find out what a good hairdryer can do for you? I have bra length, ridiculously thick naturally curly hair which I usually straighten w/ round brush. I got this on ebay($60 US) from the recs here and could not be more pleased. This is why I may marry my new Pro Odyssey: 1. drying time was much shorter 2. my hair was super soft and shiny-basically I did not recognize my own head 3. could actually hear my phone ring while I was using it 4. did not overheat and shut off like ALL of my other dryers did 5. is now part of my exercise regimen as this 4 pounder is bound to do wonders in toning my arms.
Here are some of it's features:
Ceramic pulse heat technology- Ceramic emits far-infared rays which :
reduce bacteria formation, resulting in a healthier scalp
prepares hair to resist the affects of weather conditions
helps create luster and hair that feels freshly conditioned
produces high-heat drying effect, with lower temperature
6 speed/heat setting combinations
cool shot button
2 year limited warranty
This dryer is amazing. you will have a salon quality blow out every time you blow dry your hair with no frizz but rather smooth volumous hair. if you blow dry your hair often i highly recommend investing your $ for this dryer. my only regret is i didn't sooner!
LOVE this blow dryer. I do agree that it can get hot if not careful. I have not had any damage to my hair do to the increase in heat. But, it dries my hair so much faster and I have cut my styling time in half.
WOW! I have used decent hair dryers in the past (and of course have had them used on me in salons), but lately I have been buying fairly cheap dryers at Target and such. Well…I dropped my cheapo yesterday morning and it died. My parents live around the corner so I went over to my mom's to borrow this dryer. She offered to buy me the same one if I liked it. LIKE IT??! Are you kidding me? My hair has never dried so fast, so straight, so frizz free, or so easily!!! It was super fast (and that was starting w/ very wet hair which I try not to do normally) and I could use my round brush with ease and get great results. I love this!!! I wish I hadn't wasted so much time and sweat w/ other cheap dryers! I found a really good price and free shipping for this at drugstore.com. Much cheaper than the Bed, Bath, and Beyond price.
The Good Housekeeping Research Institute shows that you don't have to spend hundreds for a great hair dryer. They compared the T3 Tourmaline and the Revlon Tourmaline and were evaluated by women on the following criteria:
Drying time with swatches

Frizz measurement results with swatches

Noise levels

Weight of dryer

Ease of use

Overall Performance

Overall Satisfaction
Results: The Revlon Tourmaline had the highest overall score and highest lab score. It was the lightest, quietest and for the money and performance it's your best value. This is the hairdryer I have and I love it!
The Helen of Troy 2 inch gold plated curling iron got 100% on Makeup Alley. (I apologize for not being able to find a picture) Reviewers liked it because it gave them loose wavy hair and not "go big or go home" hair.