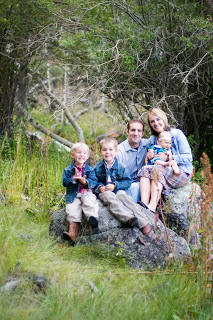 Hi everyone, I'm Bonnie, Mariel's sister in law. Here's my little family to the right. My three kids always keep me busy, but lately the two boys have been pestering me non-stop about telling them stories. Not the kind out of a book, mind you, but stories about me or my husband when we were young or made up stories with them as the heroes.
Is it just my kids or do all kids constantly beg, "Please tell me a story."? My kids have this line down so well they literally say it in their sleep (or at least as they are drifting off to sleep every night). Come to think of it, almost anybody loves a good story. I know I do.
Some of the best memories I have from childhood revolve around storytelling. My grandma was a great storyteller and she passed the talent along to my mom. So, growing up I had plenty of chances to hear them spin a yarn. Nothing brings on that feeling of nostalgia like hearing my mom tell a familiar story to my kids just like my grandma told it to me years and years ago.
Since having children, my interest in being a good storyteller has really been peaked. The problem is that (like many things that I didn't appreciate until I got older) I really never took the time to understand the art behind storytelling. Oh, I know, anyone can read the words out of a book, but do you really make it entertaining? And what happens when the kiddies want a "real story". Can you pull something out of your hat and make it sound interesting?
It's much harder than I ever thought, but I am trying to learn some tricks so that I can carry on the tradition. Here are some helpful hints that I have found.
#1- Using Voices .This is really important. Your story is not going to seem believable if everyone in it talks the same way. You might feel sheepish at first, but I can guarantee you that your kids won't mind. You don't have to sound like Jim Dale (narrator of Harry Potter for those who don't know). But try and find a different voice for each of your characters.
#2- Sound effects. When something happens in the story, i.e. "the wind blew through the trees", add a little sound effect that makes it sound like the wind really is blowing through the trees. It will make things seem more real and various noises will help keep the kids attention.
This guy, Fred Newman, is amazing with sound effects. My sound effects are pathetic in comparison but he is good inspiration and really attention grabbing! If you're really ambitious, he even has a book.
#3- Make eye contact with those listening to the story. This is one reason why stories read out of a book are different than stories told from memory. It is hard not to pay attention when someone is looking straight at you. Mind you, I am a book fanatic and the written word has its place too, but just try sometime telling a story that you know by heart and looking at your kids while you tell it. See if it has any effect.
#4-Emphasize the five senses. Talk about things in the story that can be seen, heard, tasted, smelled, or touched. I have boys so sometimes I use descriptions that are downright disgusting. One of their favorite stories is about me being at Sea World as a youngster and watching a girl standing next to me get pooped on by a seagull. They love it! The grosser the better.
#5- Use stories that you know well. While you may have a special knack for making up stories on the spot, most people find it easier to at least know where the story is going and how it will end. You don't need to have every word memorized, but know the most important parts.
Ok. So those are the tips. Happy storytelling. If you are still needing more or better advise, or if you want to get the man in your life involved, this book/CD is supposed to be really good and helps people learn how to tell stories that will teach their children what is right. It is specifically focused on Dad's telling stories to their children.
Also, there are story telling festivals that are amazing. You might be surprised how entertaining it is to hear professionals tell stories the way they were meant to be told. I know there is a Mt. Timpanogos Mid-winter Festival in February. Check it out at ww.timpfest.org.