I love November. Thanksgiving is my favorite Holiday. I love PIE!!
So, when my family decided to incorporate an awesome new Thanksgiving tradition about 10 years ago…I was all for it!
"We're Thankful for Pie Night!"
It's okay to be thankful for pie, right? It makes everything in the world good, right? At least that's what I tell myself!
We celebrate Pie Night on Thanksgiving Eve (Wednesday night) because, honestly after a big nice Thanksgiving dinner who has any room left for pie? This way we can have all the pie we want & then will still be hungry for Thanksgiving dinner the next day. Win, win I tell ya! We have every family invited bring their favorite pie & then we go to town.  If we're not with family for Thanksgiving we have a nice Pie Night at our home with our friends.  Such a great tradition!!
Over at my blog Double the Deliciousness we celebrate "We're Thankful for Pie Night" by having a week full of pies just for you. It's GLORIOUS!!!  Last year I shared the beautiful Blackberry Pie, Pumpkin Chiffon Pie, Pecan Brownie Pie, Blueberry Banana Chiffon Pie, and Lemon Strata Pie.  And I'm excited to let you know that we will be having another week of pies this year!  Yay for pie!!  Come join us!
But for today, let me introduce you to one of the most glorious pies I've ever eaten (and I've eaten a lot of pies in my day!!:)).  Tin Roof Sundae is one of my favorite ice cream flavors, so it's no wonder I love this pie.  The sweet and salty combo, chocolate & caramel…I'm drooling!  Add this pie to your Thanksgiving round-up…you'll be glad you did!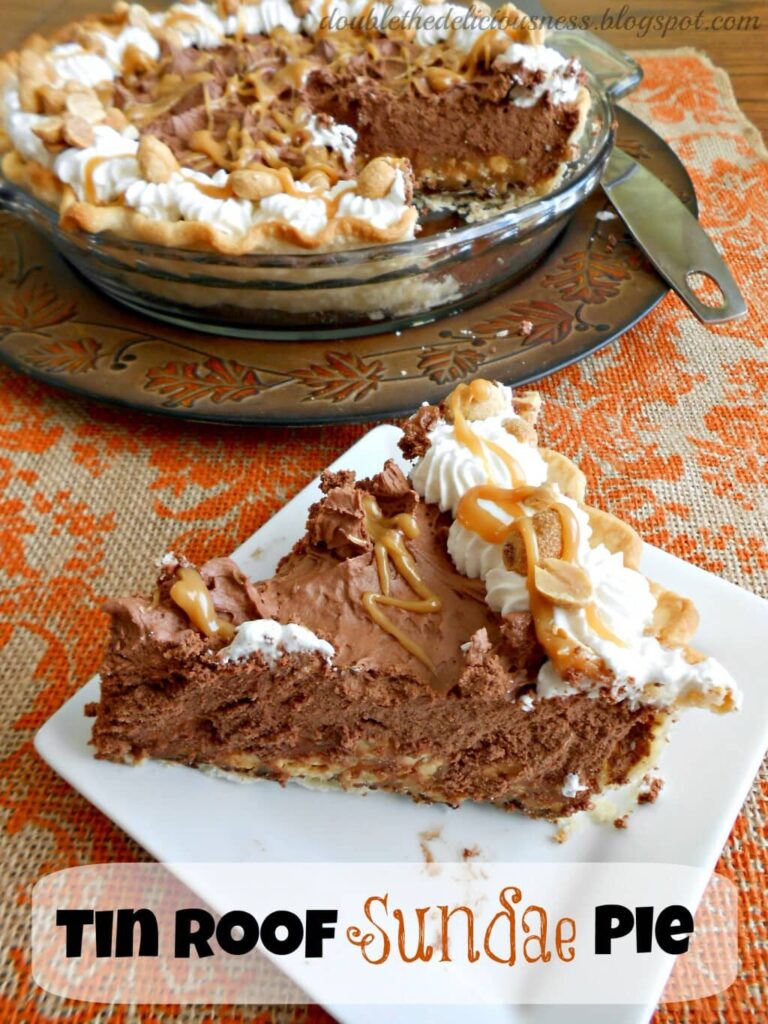 Tin Roof Sundae Pie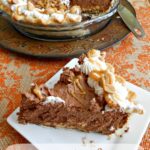 Tin Roof Sundae Pie
Ingredients
2

ounces

semi sweet baking chocolate

1

tablespoon

butter

1 9

" pastry shell

homemade recipe or store bought

Peanut Layer:

20

caramels

1/3

cup

whipping cream

1 1/2

cups

salted peanuts

Chocolate Layer:

8

ounces

semisweet baking chocolate

2

tablespoons

butter

1

cup

whipping cream

2

teaspoons

vanilla

Topping:

3

caramels

5

teaspoons

whipping cream

1

tablespoon

butter
Instructions
Bake emplty pastry shell and let cool.

Melt the chocolate and butter in the microwave stirring every 30 seconds until completely melted and smooth.

Spread over the bottom and up the sides of the pie crust.

Place in fridge until chocolate is set.

For the Peanut layer, put caramels and whipping cream in small saucepan and over low heat melt until smooth, stirring frequently.

Remove from heat and stir in peanuts. Pour over chocolate layer and put back in the fridge.

Now for the chocolate layer. Melt chocolate and butter in a small saucepan over low heat until smooth.

Remove from the heat and let stand for 15 minutes to cool a bit.

Beat whipping cream and vanilla together until soft peaks form and then carefully fold 1/3 of the whipping cream in with the melted chocolate.

Then fold in the rest of the whipping cream and pour over the peanut layer and refrigerate.

Garnish with whipped cream and peanuts and then in yet another small saucepan 🙂

melt the caramels, whipping cream and butter for the topping over low heat.

Drizzle over pie.

Place in fridge until ready to serve.
Enjoy!