Hi, everyone I am Loren and my story began with the birth of my son about three years ago. I went from working full time since I was 16 to all of the sudden being a stay at home mom without any outlet. Crafting was the only thing that kept me sane while taking care of my loveable son. Now I am a full time blogger and loving every moment of it and sharing it with everyone. Today I have a great holiday kid's craft idea for you- felt ornaments!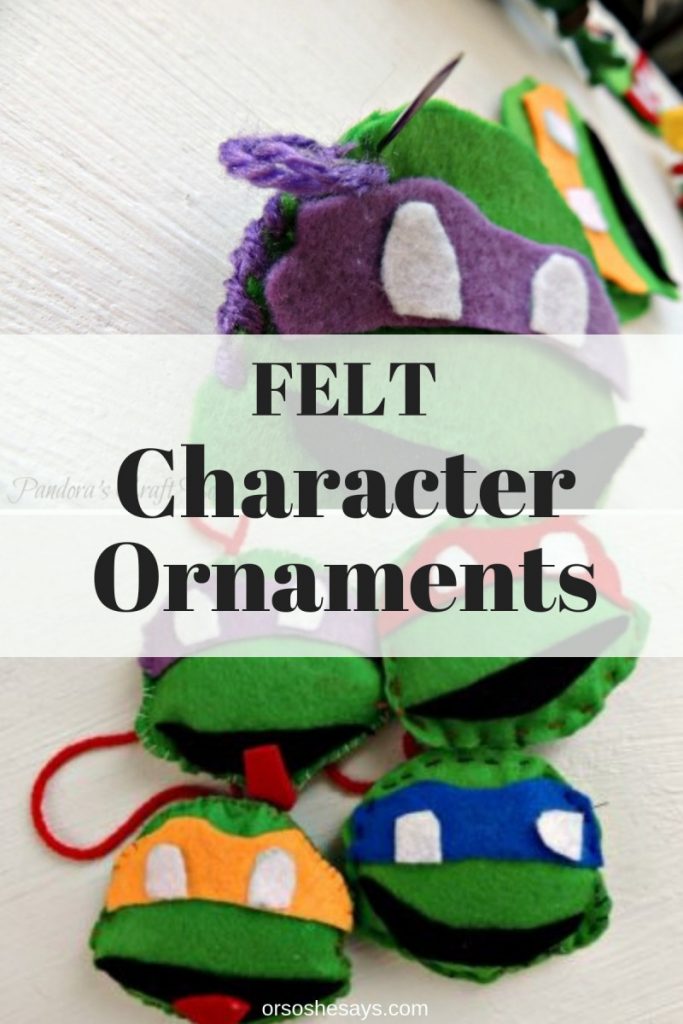 My son loves Ninja Turtles and apparently every boy goes through this stage in their life. My hubby was the same as a child and my little brother too. Its funny to think that no matter what generation you are Ninja Turtles was part of it. I decided to have my son help me make Ninja Turtle felt ornaments for the holiday season this year. My little boy was so excited to find out that we where going to do Ninja Turtles that he wanted to leave right there and then and go out to the store to get all the colors of felt at the store. If your son is as excited about it as mine was, then here are a few thing you will need…
Supplies for felt ornaments:
1. Felt in green, purple, red, black, orange, blue, white
2. Needle and thread or yarn
3. glue
4. batting
The first thing I did was free hand a shape of a Ninja Turtle head.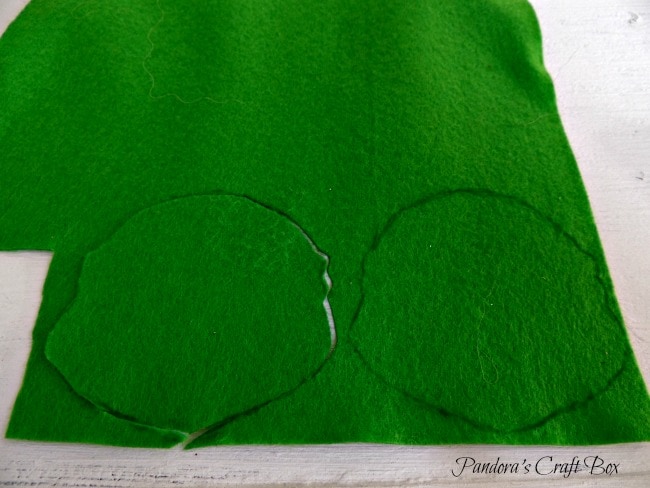 Once I free handed it with marker I cut the felt shape heads. I did the same with the mask, eyes and mouth. It does not have to be perfect; my son was so excited he did not care what color it was or shape.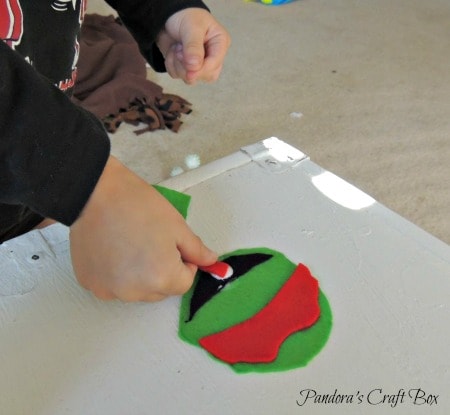 My son wanted the Ninja Turtles to have their tongues sticking out so I just cut a small piece of red felt to make it look like it. He had a blast gluing everything together for the felt ornaments, but the problem was that he wanted to rip it apart once he was done to do it all over again, silly boy.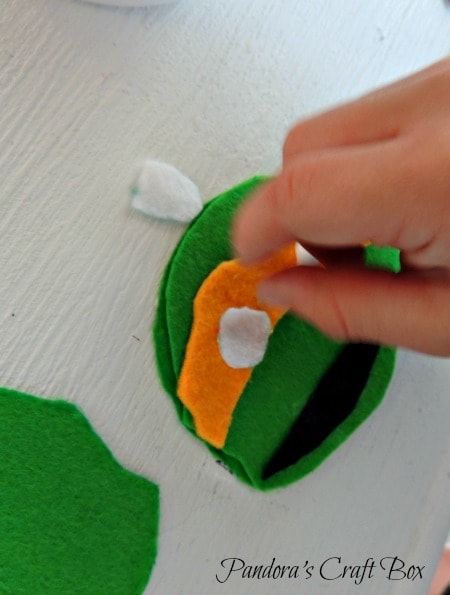 Once all pieces are glued on you will need to make sure you have made an extra piece of the head of the ninja turtle ornament for the back to be able to stuff it with batting. I used yarn to sew the two pieces of the felt ornaments together.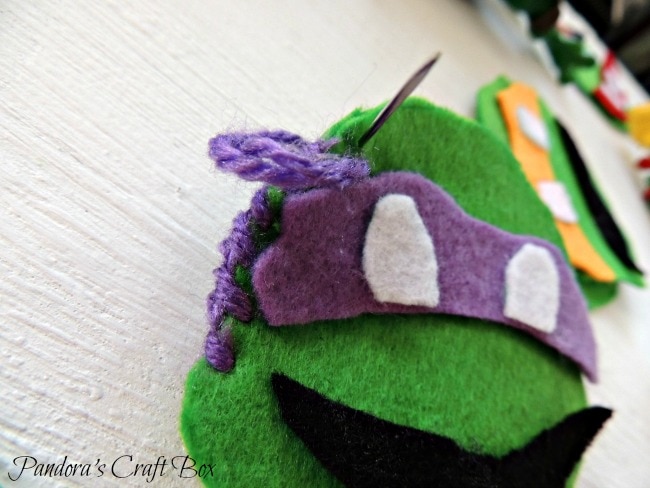 I left a little opening to stuff the batting.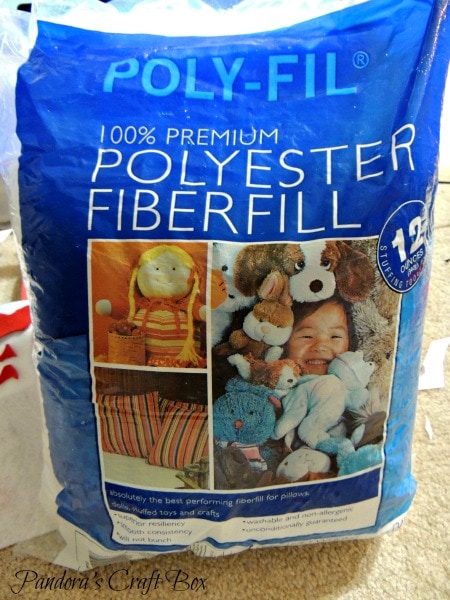 I did the same thing with my Hello Kitty felt ornament.
Now you have your every own Ninja Turtle felt ornaments, and the best part is you get to do all four 😉
I also did a Hello Kitty ornament because I am expecting my little girl to be here for Christmas and she of course needs her very own felt ornament too! My son was all hands on too on this one. I did the same thing with making my Hello Kitty ornament that I did with the Ninja Turtle felt ornaments.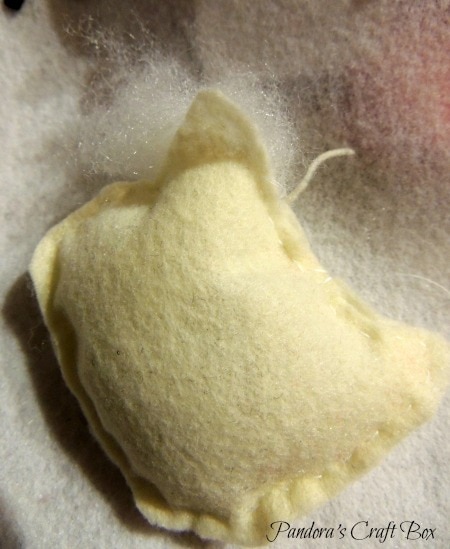 I cut the shape of a cat in off-white felt. I decided to sew it with white thread first and stuff it with batting.
I followed with just cutting little three little black circles for the eyes and nose. I also cut six strips of black felt for the whiskers. I make the bow out of red felt. Now the fun of gluing everything together. I learned with my son that I need to have everything prepared a head of time because he is not very patient while I cut everything for him.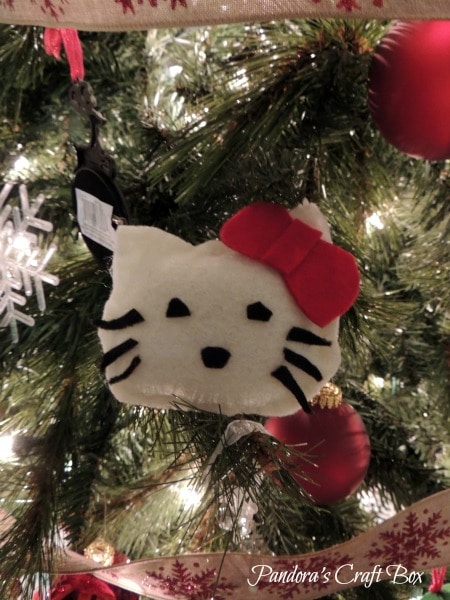 I hope you enjoyed my felt ornament craft for kids!
~Loren
Other posts on OSSS you'll enjoy:
Our picks for making felt ornaments:
flic-flac 44PCS 4 x 4 inches (10 x10cm) Assorted Color Felt Fabric Sheets Patchwork Sewing DIY Craft 1mm Thick
Acrylic Craft Felt Packages (25pcs/pack), Apple Green
Fairfield PF20B Poly-Fil Premium Fibre Fill, 20-Ounce
Tear Mender Instant Fabric and Leather Adhesive, 2 oz Bottle, TG-2