Happy 2014 everyone…hopefully it is off to a great start! After the holidays are done and the new year is upon us, I usually find that I have accumulated a pantry full of baking ingredients, haphazardly thrown onto the shelves in my haste to get everything done in those last crazy weeks of December. Then in January comes the resolution to be organized. But all of those ingredients! What is a girl to do but keep on baking? Today I am sharing a concoction that came together because I was trying to use up some of those pantry items so that I can get down to organizing. Please tell me I am not the only crazy person that does that…?
Toasted coconut and almond, chocolate covered, salted caramel matzoh candy. That's a mouthful.
I am not going to lie, this stuff is the real deal. I took the commonly known "matzoh crack" recipe and upped the ante with the toasted almonds as well as some toasted coconut and a sprinkle of sea salt. Granted, at first I was thinking, "use up some ingredients…clear out that pantry." At this point I was thinking, "Samoa, Almond Joy, all the things I love…yes please!"
Now, if you don't want to eat it all yourself (because it is totally easy to do), put it in a pretty box lined with parchment, put a bow on it, and gift it to your Valentine. He or she will love you forever.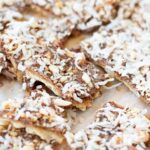 Toasted Coconut & Almond Matzoh Candy
Ingredients
4-5

plain matzoh crackers

1

cup

unsalted butter

1

cup

light brown sugar

sea salt

1

teaspoon

pure vanilla extract

1

cup

chocolate chips

1

cup

toasted

sweetened, flaked coconut

1/2

cup

toasted

finely chopped almonds

coarse sea salt
Instructions
Preheat oven to 375°. Line a 13x9 baking pan with tin foil, making sure the foil reaches up the sides of the pan. Line the bottom of the pan with parchment paper. Lay the matzoh crackers in a single layer in the pan, breaking pieces apart so they fit. Set aside.

Melt the butter and brown sugar in a medium pan over medium heat. Bring to a boil and and continue to boil, without stirring, for 3 minutes. Remove from heat and stir in the vanilla and a pinch of sea salt. Pour over the prepared matzoh, spreading evenly. Put the pan in the oven, reduce temperature to 350°, and bake for 15 minutes. The caramel should be bubbly. Remove the pan from the oven.

Sprinkle the top of the caramelized matzoh with the chocolate chips. Allow to sit for several minutes until the chocolate is melted, then spread evenly across the matzoh. Sprinkle the coconut, almonds, and a pinch of sea salt over the chocolate, pressing down gently if needed. Allow to cool completely. Once the chocolate is set, remove the matzoh from the pan and break apart. Enjoy!
I am all about a little treat here and there. If you are hoping to stick to those resolutions, here is a healthy matzoh bark recipe that will satisfy the craving with a little less guilt!