Has anyone else noticed, besides my family, that I haven't been cooking as much?? It's true. I totally agree with your responses, when I asked… we need to get more recipes on the blog! Everyone suffers when I'm on a diet. Just teasin, but I'm pretty sure at least once a week my kids will say, 'Mom, do you fit into your jeans YET?!?' They're itching for some pancakes! Sunday is my 'free day,' and my kids don't want me to make some never-made-before blog recipe, they want their old favorites. But we'll compromise, and I promise I'll get you (and me) some new recipes! …ya just gotta wait until my free day. EXCEPT for this recipe, Kale Chips. It's healthy, delicious, and a great snack. Even better, I'm not kidding… kids love it.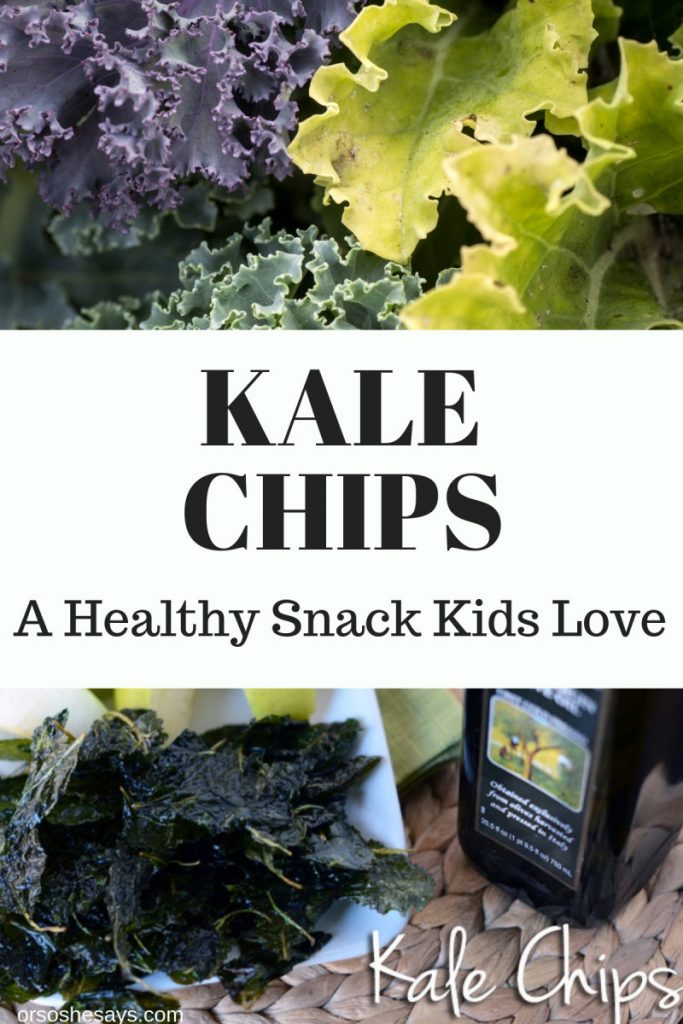 I could eat kale chips any day of the week.

I had never heard of Kale Chips before last week. Okay, I had… but, my brain had never bothered to process what they actually were. I think I heard the word 'kale' and tuned out. I can be like a little kid, sometimes. But, my sister-in-law was over last week and we were talking about healthy recipes and she mentioned that her little kids love Kale Chips. She explained and I was thinking, 'Hmmm… ya, I don't know.' But, then she was going on and on about how everyone that got their hands on them, couldn't stop munching. My curiosity was piqued, the recipe sounded quick and easy, I was sold.
I bought a container of Baby Kale (I could have also bought a bunch of kale and had bigger chips, but I found the baby kale first,) spread it on a sheet pan, did a quick drizzle of olive oil on top, sprinkled with sea salt and tossed with my hands. After spreading it back across the pan, I baked at 350 for about 10 minutes. Took a taste… mmmm…for a healthy snack, kale chips are a winner!
I snapped my blog photos, called the kids upstairs and challenged them to taste a chip. I immediately heard, 'EWWWWW.' But, then I taunted them about being a bunch of weenies and they raced to grab a chip. Little do they know that I had the same reaction as them when I first heard about it! Shhh…
Okay, basically what I'm leading up to is these puppies were gone in about 5 seconds. They tasted them super slowly and then scarfed the rest down. Here's my little girl and the neighbor friend posing, with open mouths and everything. Here's their review: 'They smell like barf, but they're actually pretty good.'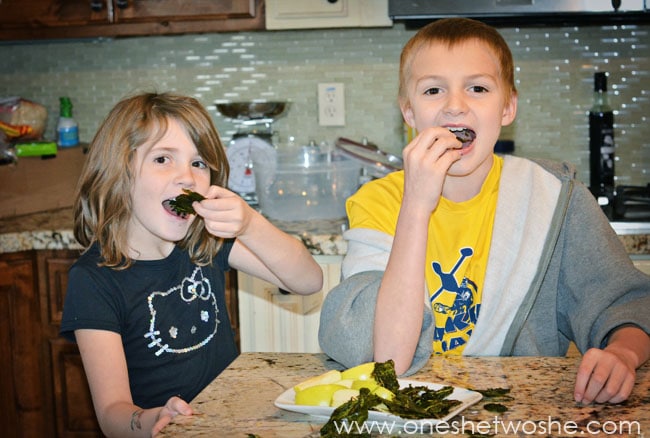 And, cleaning every last speck off the plate and pan…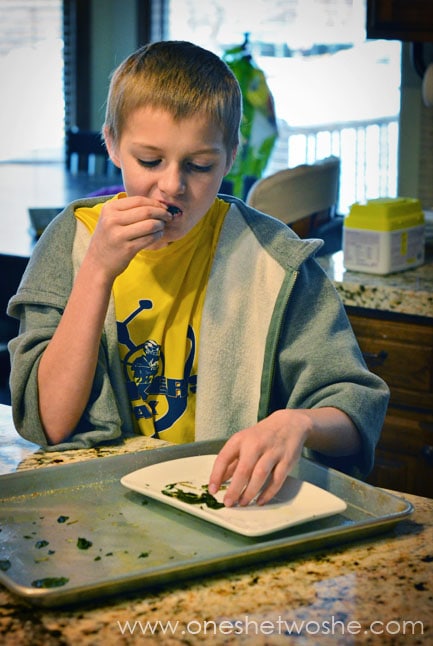 Awesome, huh?!? I'm totally excited about Kale Chips! Oh, and get this… according to WebMD, 'One cup of chopped kale contains 33 calories and 9% of the daily value of calcium, 206% of vitamin A, 134% of vitamin C, and a whopping 684% of vitamin K. It is also a good source of minerals copper, potassium, iron, manganese, and phosphorus.' Not too shabby. No wonder we call it a 'super food.'
Kale Chips recipe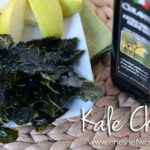 Kale Chips ~ Healthy Snack That Kids Love!
Ingredients
1

bunch kale

olive oil

approx 1 TBS.

sea salt

to taste
Instructions
Heat oven to 350 degrees

Tear kale into chip sized pieces (unless you're using baby kale, keep as-is)

Spread kale on a rimmed cookie sheet

Drizzle olive oil on top of kale

Sprinkle with sea salt

Toss with your hands to coat the kale with oil and salt

Spread across the pan evenly

Bake about 10 minutes, or until kale is crisp

Our picks for Kale Chips:
Nordic Ware Natural Aluminum Commercial Baker's Jelly Roll Baking Sheet
Nordic Ware Natural Aluminum Commercial Baker's Quarter Sheet with Lid
Colavita Extra Virgin Olive Oil, 68 Fl Oz
Other posts on 'Or so she says…' you might like: