I can't believe it's already 2014! If there's one thing I enjoy almost as much as Disneyland, it's a Disneyland top 10 list. Yesterday, our contact David, from the Disneyland Resort, stopped by our office to remind our staff of all that there is to do at the resort. The review and tips he shared made me even more excited for my upcoming trip. So, in honor of the year 2014, Disneyland and top 10 lists, I have compiled my own version of 14 Reasons to Visit the Disneyland Resort This Year. Here they are in no particular order:
Fantasy Faire: This new expansion of Fantasyland is a must for anyone traveling with girls. Disney's most popular princesses can be found here – and at the end of the queue, you get one-on-one time with three different princesses all in a row! Fantasy Faire is also home to the Royal Theatre where two different shows play throughout the day. One features Rapunzel and the other Belle. The venue is intimate and the shows are funny and interactive.
Indiana Jones Adventure: This is one of my favorite attractions and last year it was upgraded with some fancy new effects. Pay attention to Mara, the forbidden idol, before your journey begins.
World of Color: This is my all-time favorite show at the Disneyland Resort. If you haven't seen it, you need to. It combines the best of Disney's stories and songs with fountains, water screens, lasers, fire and more. Disney occasionally adds new sequences with new films that come out. Each time I've seen it it's been a little different, but it's amazing every time.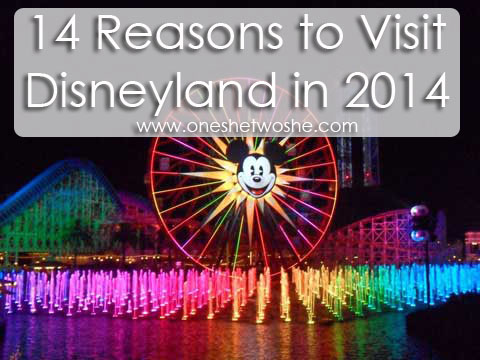 Fantasmic!: In my opinion this is the "original" Disney nighttime show. If you're looking for a "new" way to watch the show, try watching from the side nearby the loading area for the raft to Tom Sawyer's Island. It's hardly ever crowded and you can see a lot of the behind-the-scenes action.
Mickey and the Magical Map: This musical show debuted last year and is a combination of digital effects, animation, and live dancing and singing. It plays six times daily and features songs and characters from Princess and the Frog, the Little Mermaid and more favorites. I haven't seen it yet, which is why it's one of my personal 14 reasons to visit the Disneyland Resort this year.
Cars Land by day: The rides are a blast, the restaurants are unique, the food is delicious and the scenery is breathtaking. I love the whole vibe of Cars Land and I love that you can get in an hour early four days a week when you stay at one of the three Disneyland Hotels!
Cars Land by night: Yes, there is a difference. A huge difference. At night Cars Land becomes alive with neon lights and the red rock formations are completely illuminated. They even do a little lighting ceremony at dusk each day. It's worth checking out.
Toy Story Midway Mania: This ride is addicting. I really think it's impossible to get off and not want to ride again if for no other reason than to beat your own score.
Soarin' Over California: This is another of my favorites of all time. It's going through a minor refurbishment and will be open better than ever this June. My favorite moment is when you soar over the castle into the Disneyland fireworks. It's magical.
Pirates of the Caribbean: It's a classic. One of the most classic classics and I love it even more since they added Captain Jack Sparrow.
Halloween Time and/or Holidays at the Disneyland Resort: No one does the holidays (ANY holiday) better than Disney. Whether you're looking forward to the exclusive Mickey's Halloween Party or the twinkling lights adorning Sleeping Beauty's Winter Castle, both holiday seasons are incredible and unforgettable.
The Little Mermaid ~ Ariel's Undersea Adventure: This is one of my favorite rides, probably because it was one of my favorite childhood movies. The music is great, the animation is awesome and the lines are quick moving.
Trader Sam's Enchanted Tiki Bar: The food here is delicious and you can order drinks (both with and without alcohol) with fun names and fruity flavors. Order a Ship Wreck on the Rocks or an Uh Oa for exciting surprises.
Disney's Aladdin – A Musical Spectacular: No matter how many times I see this show (a 45 minute Broadway caliber production), there's always something new. The talent and effects are fantastic and as a bonus, the theater is a comfortable break during the day.
Add your own top reason to visit Disneyland in the comments!
If you need another reason to visit Disneyland in 2014, Get Away Today is offering Adults at Kids' Prices on 3, 4 and 5-day Disneyland Resort tickets for travel in January, February, May and September. We also have free night hotel specials throughout the year, but they go quickly so you'll want to book soon. And for 2014, there are no booking fees – even better! Use promo code: OSSS10 for an extra $10 off any 2-night or longer Disneyland vacation.
For lots of Disneyland Tips and Tricks, check out the Disney Everything! page. You'll also find lots of other great family vacation ideas there, as well.