We just decided that we are going to take the kiddos and drive up to Washington (from Utah) to visit my brother-in-law. That part sounds great, love the dude and his family. But, the drive? With 5 little kids?? I'm hoping for the best. I know I've shared several posts with you before, with lots of 'traveling with kids' ideas. But, usually the same tricks don't work twice! They've read all of the books and over-used all the activities from our past vacations. So, we need some fresh stuff to entertain on the car ride. I really don't mind another excuse to seek out some fun products, you know me. And, I hope you like getting tons of ideas too!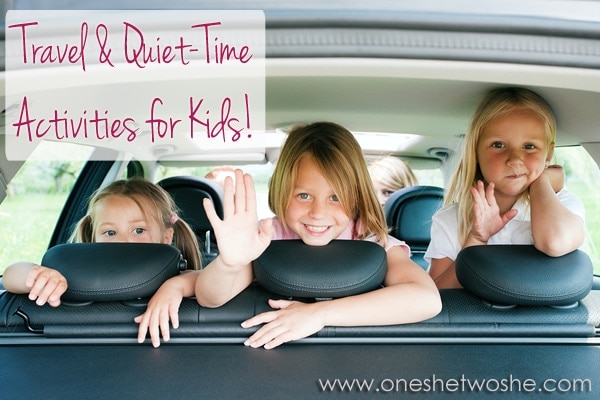 Here's what I found:
Find It Games
– We've all seen those "I Spy" bags and games. I think these area similar idea. Reviewers say they are great to use alone, or to compete with others to see who can find all the objects the quickest. There are several different themes available: the original, zoo, the beach, glam, sports,Wizard of Oz, birds, and more.
Perplexus Maze Game
– Remember the Labyrinth game, where you manuever the ball across the wobbly platform? I loved that! It reminds me of the good times at my grandparents' house. So, sounds like this game is like that, but a bit more intricate. There are 100 different barriers to conquer and should take plenty of concentration! Great for hand-eye coordination.
Lacing Cards – I've mentioned these before, but I love lacing cards. They are perfect for my little 5 and 3 year old girls, to keep them focused. It only helps a LOT that there are fairies on them! (But, there are several available that aren't so girly…)
My First Book of Cutting
– Do you have a little one that likes to use scissors? Cutting Barbie hair, paper scraps, their own hair?? I'm all too familiar with that. This book gets awesome reviews for kids, ages 3,4, and 5. It's filled with pictures, specifically for cutting out, with big fat lines, that progress to thin lines, towards the end of the book. Great for working on manual dexterity. 🙂
Chicken Socks 'Totally Tape'
– Klutz has a zillion awesome activity books. But, this is a clear favorite! Totally Tape has darling pictures, with lines blanked-out to stick a piece of colored tape. Kids can wrap a mummy, build a train track, and so on. The book includes tape, and it is reusable. Another great Klutz book for kids is called "Hand Art
."
Melissa and Doug License Plate Game
– I've had this for a while, waiting for the perfect trip to pull it out. I think this is the one! This wooden game, has a wooden block of each of the states license plates attached. Whoever finds the car with a certain plate first, turns over the block to their team color…red or blue. See who can find the most license plates from across the U.S.A.! Indirectly, the kids are brushing up on their geography. 🙂
Twirled Paper 'Make Almost Anything With Simple Paper Strips'
-Otherwise known as "quilling" or "paper filigree," this craft has been around for ages. This is a perfect book for beginners. It includes paper strips, glue, twirling wand, and googly eyes. It may be tricky in the car, but I'm thinking perfect for vegging in the hotel room.
Melissa and Doug Travel Hangman
– Who is Melissa and Doug? I would like to give them a big hug! Their products are so cute and great quality. This Travel Hangman game is no exception. Reviewers give it plenty of 5 stars! And, for 7 bucks? I'll take it.
And, for the big kid, driving the car…I think I'll keep him awake with some "Would You Rather" questions (The Pocket Travel Version). Twisted, Sick, and Wrong?? Sounds right up his alley.
Need more ideas for traveling with kids?

Check out these links:
20 Travel Games and Activities for Kids
Activities For When The Kids Need To Be Quiet
Traveling With Kids