Hey Everyone! I'm Beth, and I'm so excited to be guest blogging on Or so she says again!! We just hosted dinner for the whole fam damily, which is fun, but WAY too yummy! I had one too many treats (who can turn down homemade cookies or garlic mashed potatoes?!). Today I'm feelin' it. Besides hopping on the treadmill for awhile to pay for my sins, I also made myself my go-to green smoothie – the one that helps me kick it into gear when I want to feel healthy.
I call it a green smoothie; some call it a salad shake.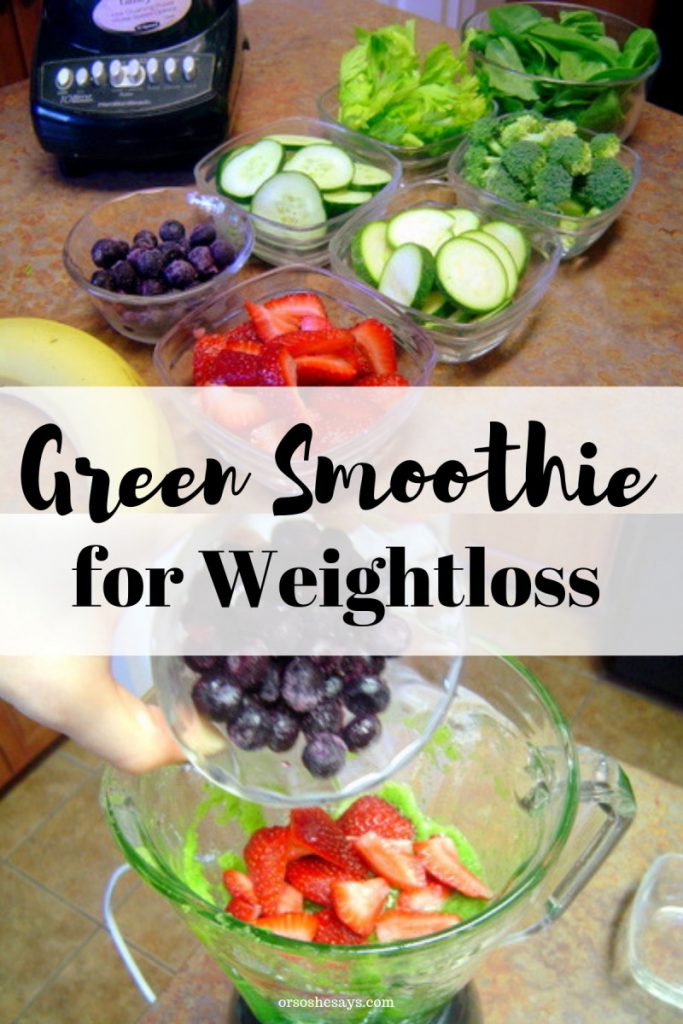 Either way it
tastes great
and makes you
feel
even better! Wanna try making one? Basically your ingredients begin with anything you want to put in a salad (no, not croutons and cheese!). 😉 Today I have spinach, celery tops, broccoli (tops AND stems), cucumber, and
zucchini
. (No measuring required, really. Just about a handful or two of everything works great!). In a minute we'll add fruit – whatever's your favorite. I'm adding frozen blueberries, strawberries, and 1/2 a banana.
One of the things I love SO MUCH about this green smoothie is that I can make it out of anything in my produce bins that NEEDS to get eaten. The stems of broccoli that no one loves, strawberries that are getting ripe too fast, and the leafy parts of celery that tend to get thrown out. Not only is it healthy for me, but it also saves us some $$cash$$ from not wasting, which I'm a big fan of!
After chopping everything into bite sized pieces, I add all of the "salad stuff" first.
When everyone's in the blender, add about a cup of water. Feel free to add more if needed.
Blend away!!
When everything is completely blended, it'll look like this:
To me, it smells like…fresh. If fresh and healthy had a smell. Usually this makes about 3 cups. I divide the salad part in two by pouring half of it in a cup to use for tomorrow's shake. It just needs to be covered and put in the fridge.
Next comes the fruit!
Sometimes adding juice makes it a little sweeter.
I always put a heaping tablespoon of flax seed in there, too.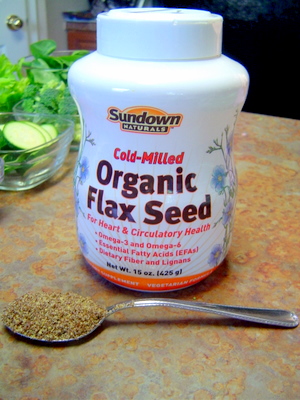 You'll want to add protein to the smoothie – like tofu or eggs. And here's where things get a little controversial.
I use raw egg whites.
I do.
Freak out if you want, call the salmonella police. I know. My suggestion is to do what YOU feel comfortable with. DO NOT use raw egg whites if it scares you or weirds you out. ****I am NOT responsible for whatever happens to you if you do choose to use them! Um kay?****
That being said, I use three raw egg whites. This is something I've been doing for years, and so far so good.

I learned the trick from a football player friend who use to drink Slim Fast with a raw egg white or two as an extra meal. In place of raw egg whites, feel free to use egg substitute like Egg Beaters, or tofu, protein powder, or milk.
Once everyone's in the pool, it'll look something like this:
And, blended thoroughly:
The finished product:
I give this green smoothie TWO thumbs up!
One thumb for the way it makes me feel, and one for the way it reminds me to make healthy choices the rest of the day. And, speaking of the rest of the day…Usually there is SO much smoothie to drink, I pour it in two cups. One gets gobbled up for breakfast, and the other I sip on throughout the rest of the day. If I'm snacky, I drink some green smoothie first. It usually gets rid of the cravings for junk I might be having.
I've noticed pretty cool changes since drinking my green smoothie regularly…
1. It's aided me in losing 38 lbs (!) in the last year! (All my little J baby weight, plus some!)
2. I am completely full from breakfast til lunch. Ex: One morning The Hubs and I had somewhere to be. He ate cereal and milk. I drank a smoothie. By lunch time (3+ hours later), we could both hear his tummy growling. I still felt full from the morning. Awesome!
3. I used to just make the shake with spinach and fruit. I lost 4 lbs the 1st week I added the other veggies.
So, do you make green smoothies? Fruit smoothies? If you do, feel free to leave your recipe, or a link to it, in the comment section. Or, if you try this shake, let me know how you like it!! It's perfect for these warm summer mornings!
Have a great day!
~ Beth
Love this post? You may want to check out: 10 Favorite Apps to Help You Keep Your New Year's Resolutions and 15 Inexpensive Ways to Get Healthy and Fit.
Other posts you'll love:
Healthy Greek Chicken Pita Sandwich
Kale Chips – Healthy Snack Kids Love!
Orange Julius – No Sugar Added!
Supplies for your own green smoothie:
Ninja Professional 72oz Countertop Blender with 1000-Watt Base and Total Crushing Technology for Smoothies, Ice and Frozen Fruit (BL610), Black
Hamilton Beach 58148 Power Elite Multi-Function Blender with Glass Jar (58148A), OSFA, Black
NutriBullet NBR-1201 12-Piece High-Speed Blender/Mixer System, Gray (600 Watts)
Blendtec Total Classic Original Blender with FourSide Jar (32 oz), Professional-Grade Power, 6 Pre-programmed Cycles, 10-speeds, Black
Amazing Grass Green Superfood Organic Powder with Wheat Grass and Greens, Flavor: Original, 30 Servings
Viva Naturals – The BEST Organic Ground Flax Seed, Proprietary Cold-milled Technology, 30 oz (Packaging May Vary)
Body Fortress Super Advanced Whey Protein Powder, Great for Meal Replacement Shakes, Low Carb, Gluten Free, Chocolate Peanut Butter, 2 lbs
Vital Proteins Collagen Peptides – Pasture Raised, Grass Fed, Paleo Friendly, Gluten Free, Single Ingredient (20 oz)