I LOVE key lime pie…in fact, I love limes. Lime Popsicle, lime candy, lime lip balm, lime smell, lime in my pop, lime in my ears, lime, lime, lime. So, naturally I was all smiles when Oprah shared her favorite recipe from Donald Trump's Mar-a-Lago restaurant. It is so easy to make, has the perfect combo of sweet/tart, and it can be done in a jiffy!The only beef I had with the recipe was with the graham cracker crust ingredients. It called for 2 sticks of butter…just in the crust…for a puny 9″ pie dish! Someone's either smokin' something, trying to give us all heart attacks, or it was a serious typo. Or, it's always possible that I just don't have the advanced baking skills needed to make a small pie crust with 2 sticks of butter. Either way, I hesitantly followed the instructions the first time and ended up with greasy, very soupy, soft, nasty crust…with a fabulous filling! Other commenters on the site seemed to agree, something wasn't right with the crust. Thankfully, making your standard graham cracker pie crust is a piece of cake. So, that is the only difference here between Trump's recipe and this one…the crust.
For the crust, you'll need 1 stick melted butter, 1/4 tsp. sea salt, 3 TBS. sugar, and 1 pkg. graham crackers.
Preheat your oven to 325 degrees. Crush one package (there are usually 4 or more packages in a box) graham crackers with a pastry roller. (I like to do it in a zip-loc bag.)
Pour the crumbs in a bowl, add the sugar, salt, and melted butter. Mix together and press into a 9″ pie dish. Bake for 10 minutes. Allow to cool. While it's cooling, make your filling…you will need: 4 egg yolks, 2/3 cup Key Lime juice (NOT the green lime squeeze containers. Usually, you can find Key Lime juice in the baking aisle or the juice aisle.). You also need 1 lime's zest and 1 can sweetened condensed milk. I'm making two pies, that's why there are extra ingredients in the picture.
So, whip the egg yolks and lime zest in a bowl at high speed for about 5 minutes. If you have a whisk attachment, use that. Gradually add the condensed milk and continue to whip about 4 minutes longer. Lower the speed and add the lime juice.
Pour the mixture into the crust and bake for 15 minutes, or until the filling has set. You'll know. It will give a little Jell-O type jiggle when you shake the pie. Let cool and then stick it in the fridge for at least an hour…more is better.
Make some homemade whip cream: 1 cup heavy cream, 1/2 cup powdered sugar, and 1 tsp. vanilla. Whip at high speed until thick. (Whipping happens quicker if you chill your bowl and/or the beaters in the freezer before you pour the heavy cream in and start whipping…but, not necessary.)
Note: This pie is not green. Lime juice does not turn a pie green, only food coloring does.
I ran out of white chocolate, but shaved white chocolate on top is pretty fancy. If you don't have any on hand, use graham cracker crumbs or lime zest (there's the green you so desire). It's so yummy!
Key Lime Pie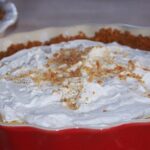 Trump's Mar-a-Lago Key Lime Pie
Ingredients
Crust:

1

pkg. graham cracker crumbs

3

TBS

sugar

1

stick melted butter

¼

tsp.

sea salt

Filling:

4

egg yolks

1

can sweetened condensed milk

14 oz.

2/3

cup

Key Lime juice

1

lime

grated zest

1

can sweetened condensed milk

Whipped Cream:

1

cup

heavy cream

½

cup

powdered sugar

1

tsp.

vanilla
Instructions
Preheat oven to 325 degrees.

Crush graham cracker crumbs with pastry roller. Add the sugar and melted butter. Work together and then press in the bottom and sides of a pie dish.

Bake for 10 min. Allow the crust to cool.

While the crust is resting, use a mixer with whisk attachment to whip the egg yolks and lime zest at high speed until fluffy, 5 minutes.

Gradually add the condensed milk and continue to whip until thick, 4 minutes longer.

Lower the mixer speed and slowly add the lime juice until incorporated.

Pour the mixture into the crust and bake for 15 minutes, or until the filling has set.

Cool on a wire rack and then chill for 30 minutes, plus.