I'm not a fish person. I don't like to eat them. I don't like to smell them. I don't like to touch them. And, I prefer people to not eat fish while I'm eating. I know it's all mental. I know I'm crazy, but that's just how it is. So, what I'm getting at is that I can't vouch for these sandwiches. I've never tried them. But, my dear husband is in love with them, so I would imagine that y'all might like them too.
Randomly, my sweet sis-in-law feeds Dan (the hubs), and his employees lunch, when they're working in her area. She's made these Tuna Melts for them a couple times, and every time he has come home BEGGING me to make them too. So, last night, I made his wildest dreams come true. I exposed myself to the icky smell and touch of fish, just to satisfy his beastly appetite…I made a Tuna Melt. Oh, the things I'll do for him.
I was wanting to take some super cute picture of mini sandwiches stacked on top of each other, but he was literally breathing down my neck, while I snapped this shot. He couldn't wait to get his mouth on that thing. So whatever, un-cute picture, but I'm hoping you dig another easy lunch idea.
All you need is some yummy bread (I used wheat), a can of tuna, mayo, butter, dill pickles, and your choice of cheese (I used my favorite Denmark Havarti from Harmons.)
Mix up your tuna with a couple TBS. (or so) of mayo. Chop up a couple dill pickles and mix it with the tuna. Butter two sides of bread, and slice your cheese.
Place the bread, butter side down in a fry pan, on medium heat. If you are making a bunch of sandwiches, use one of those huge electric skillets. Scoop some of the tuna mixture on top and place the cheese over it.
Place remaining slice of bread on top, and flip the sandwich over when toasted on the bottom. I know, I don't need to tell you how to toast a sandwich, but I did, cause maybe you…forgot?
All done. Easy, like Sunday morning.
Tuna Melts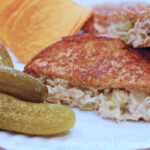 Tuna Melts
Ingredients
1

can of tuna

2

TBS.

mayo

Dill pickles

chopped

Cheese

Havarti, Swiss, Provolone, your choice!

Bread

Butter
Instructions
Mix your tuna with the mayo.

Chop the dill pickle (amount is your preference), and mix with the tuna.

Butter 2 slices of bread. Place one slice of bread, butter side down, in a fry pan, on medium heat. Spread some tuna mixture on top of that slice of bread, and top with slices of cheese, and other slice of bread.

Flip the sandwich over, when the bottom is golden.
Love sandwiches? Here's a couple more favorites…
The Rachel Sandwich
Bacon & Ranch Chicken Salad Croissants
For even more sandwiches, click here!