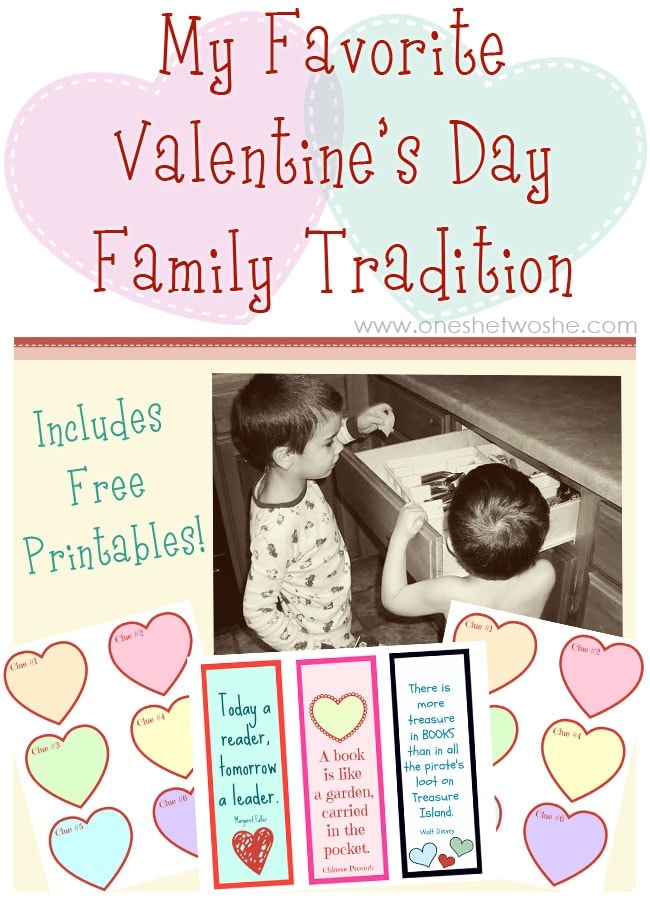 So, I've shared our little Valentine's tradition with you a while back, here on OSSS and also on Make and Takes.  It's just something simple that I came up with because I was still pooped from Christmas and didn't feel like the kids needed any more toys.  I decided that every Valentine's Day we would do BOOKS.  Yay, for books!  But, not just books… a Valentine's Day scavenger hunt!  Even though I told you about it before, I decided it's okay to bring it up again because THIS TIME I have printable for you… cause guess what??  I just figured out how to make them the other day.  Now there's no stopping me.
This is a picture from our first annual Valentine's Day Scavenger Hunt, seems so long ago!  Let's see, at least 7 years.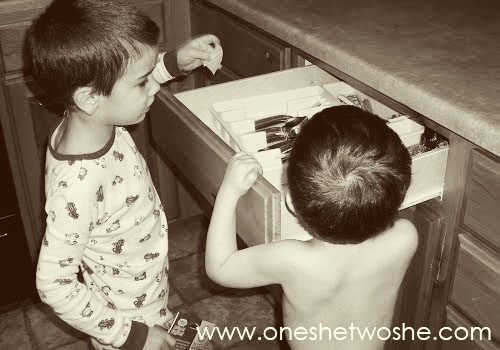 You can go back to the old post to see how it works OR I'll just explain it again.  Much easier (for you.)
My Favorite Valentine's Day Family Tradition:
So, I pick up a couple fun books for each kid, usually one fun book and one educational book.  Then I get a handful of candy items.  I hide clues all over the house that eventually lead to the books.  The candy is hidden with random clues along the way.  So, sometimes they take a small bag with them to keep their candy in, as they race through the house looking for clues.
For example, the clues may look like this:
1. Look where mom goes to relax.
2. Look in the coldest room. (candy included)
3. Look where you find the frozen pizza.
4. Look where Joey hides when he poops in his diaper. (candy included)
5. Look where dad keeps his secret stash of beef jerky.
… and on, and on.  We do 9 clues and at #10 they find their stash of books with a Valentine's Card for each of them, written by mom and dad.
So, to make it easier for me this year, and to help you out if you're interested in doing this… I made some printable heart clues for you to download and print.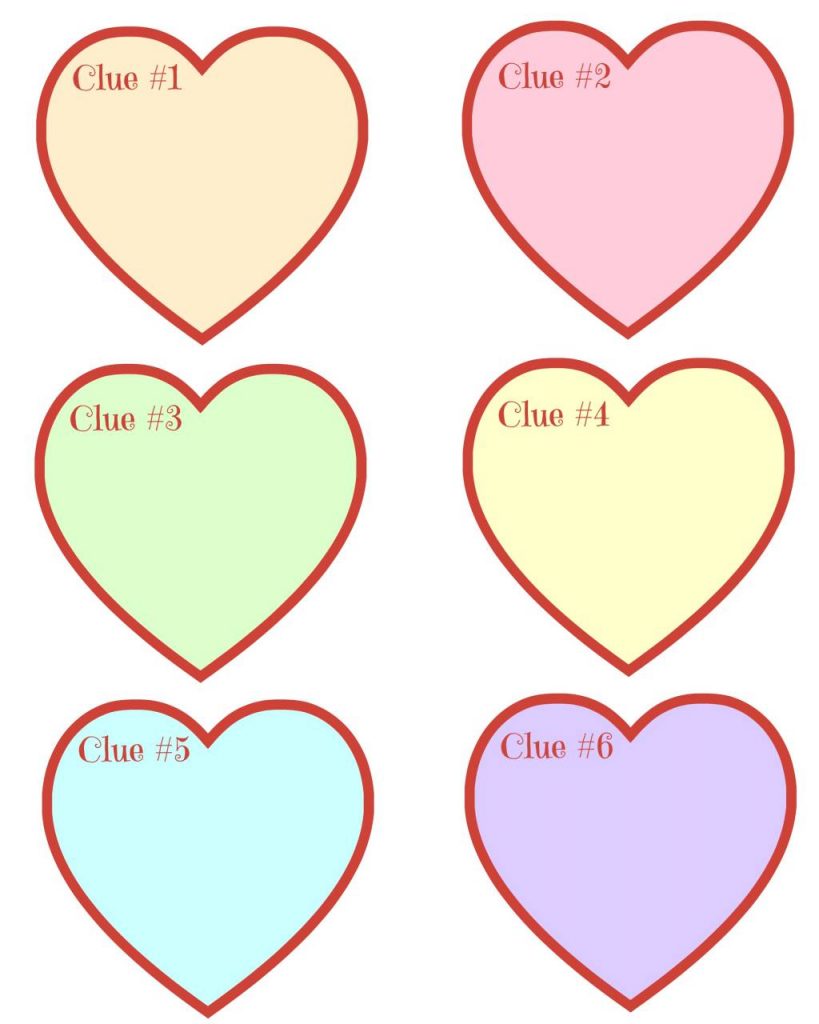 Valentine's Day Scavenger Hunt Clues 1-6 ~ Free Printable ~ Click Here to Download
Valentine's Day Scavenger Hunt Clues 7-12 ~ Free Printable ~ Click Here to Download
Also, I was feeling a little extra ambitious and decided to make some printable Valentine bookmarks to laminate, stick a ribbon in the top, and include in their new books.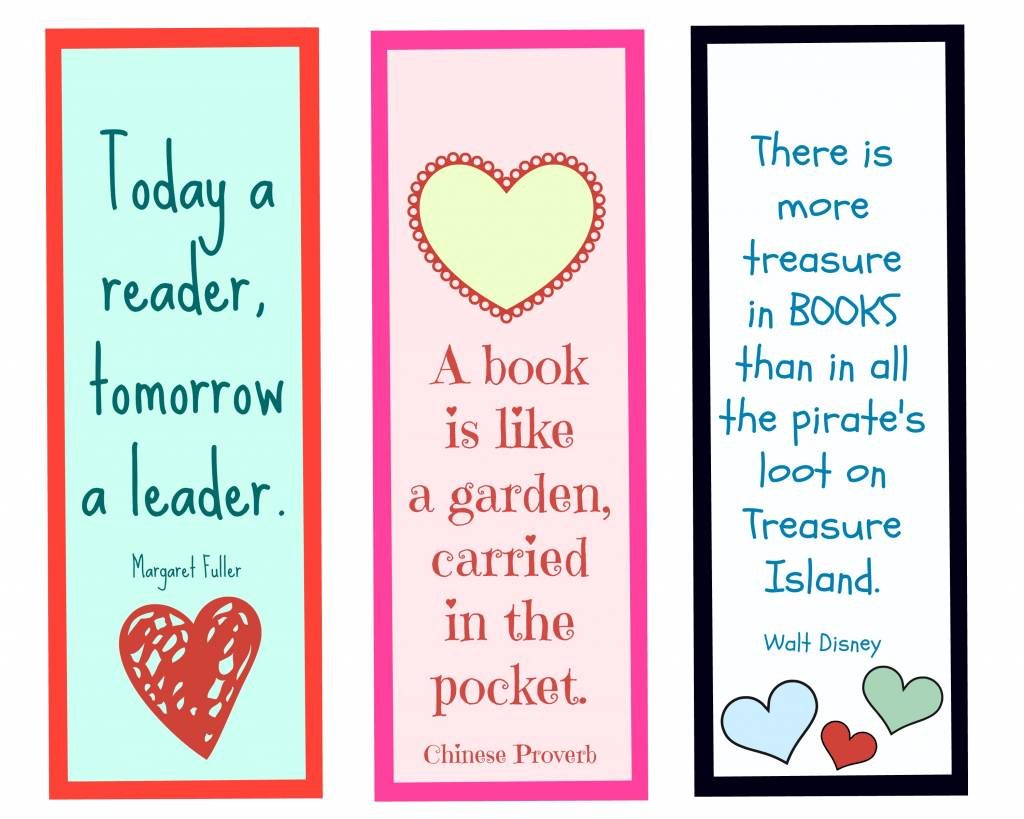 Valentine's Day Bookmarks ~ Free Printable ~ Click Here to Download
Stay tuned and I'll share a post with you about the books I picked out this year.  If you don't want to wait, but need children's book recommendations, check out these posts: 100 Great Books for Older Kids, Children's Book Picks, 100 Great Books for Children.