So, here's a little story. I have this sugar cookie recipe that I really love… they're soft, chewy, and super addicting. I had a sweet reader try them, liked them, then mentioned that if I love those, I will surely love her Gingersnap Cookie recipe. Just like the sugar cookies, these Gingersnap Cookies are soft, chewy, and so amazing. I'm soooo glad she sent me this recipe! They're definitely a new go-to. The only thing I added was the buttercream frosting on top (the same frosting used on the sugar cookies)… it really took it up a notch and when I make them again, the frosting is a FOR SURE.

I had actually been hanging on to this recipe for several weeks, waiting for the right time to fudge on my diet. Then I found out I was pregnant (number 7!) and started feeling really sick. I took to Facebook and asked all my 'Or so she says…' friends what the heck to do for nausea. It had never been this bad before. It was interesting to hear so many people say GINGER helps a lot. Best day ever! I printed off the recipe, made my cookies, and ate them non-stop for 3 days. Did it help the nausea? Not really, I just had a belly ache from eating so many. But, they were so good… mmm…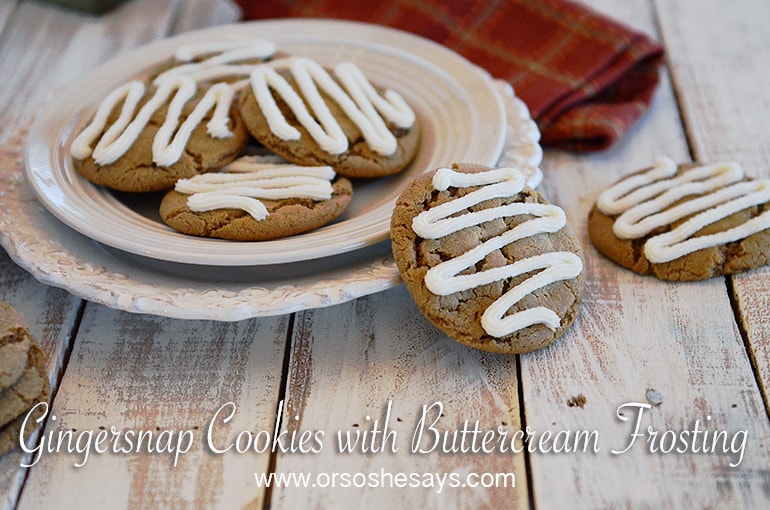 I hope you love them too!
Gingersnap Cookies with Buttercream Frosting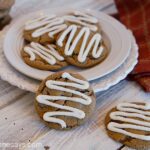 Gingersnap Cookies with Buttercream Frosting
These Gingersnap Cookies with Buttercream Frosting are totally soft, chewy, and soooo delicious! I recommend doubling the recipe to have enough to share with friends or freeze for later. Find this and lots more AMAZING recipes on www.orsoshesays.com.
Ingredients
Cookies:

3/4

cup

butter

1

cup

sugar

1

egg

1/4

cup

dark molasses

2

tsp.

baking soda

1

TBS.

ginger

2 1/2

cups

flour

1

tsp.

cinnamon

Frosting:

1

stick softened butter

4

cups

powdered sugar

1

tsp.

vanilla

milk

to consistency
Instructions
Heat oven to 350 degrees

In a mixer, beat the sugar and butter together

Add the egg and molasses

In a separate bowl, stir together the flour, baking soda, ginger, and cinnamon

Add dry ingredients to the mixer, mix well

Roll dough into balls and place on cookie sheet

Bake for about 10 minutes

Make frosting while the cookies are cooling

For frosting, combine all ingredients in a bowl and mix with hand mixer. Scoop into pastry bag to squiggle on top of completely cooled cookies
If you like this Gingersnap Cookie Recipe, be sure to check these ones out too!
The Best Sugar Cookies in the World
Mom's Cookie Cutter Sugar Cookies