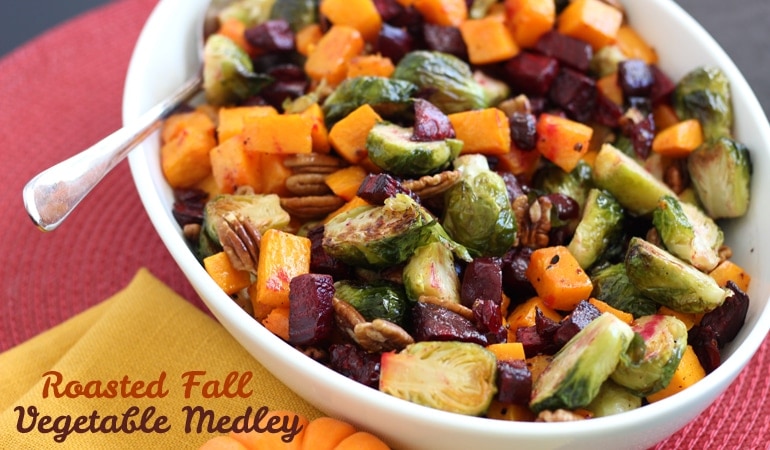 Thanksgiving is just around the corner and we have the perfect side dish for you to add to the table. Not only are these roasted veggies crazy delicious, the colors are gorgeous and you will wow all your friends and family with how beautiful this simple side dish is. It can be made ahead and reheated so you aren't competing with the turkey and stuffing for oven time right before dinner. It is also fabulous served at room temperature–so don't sweat trying to serve it warm.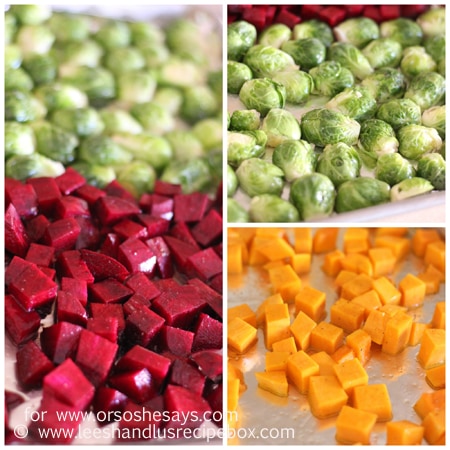 Start by prepping your veggies. Peel the outer later or any yellow off of the brussel sprouts and cut them in half. Toss them in a tablespoon of olive oil and sprinkle with kosher salt and freshly ground pepper. Arrange cut side down on a greased, foil-lined baking sheet. Wash, peel, and cube beets. Toss them in olive oil and salt and pepper also and throw them on the same baking sheet as the brussel sprouts (or a different one if you run out of room). Last, peel and cube your butternut squash and do the same–toss with olive oil and salt and pepper. Dump it onto a separate greased, foil-lined baking sheet becuase the squash doesn't need quite as much time to roast as the other veggies.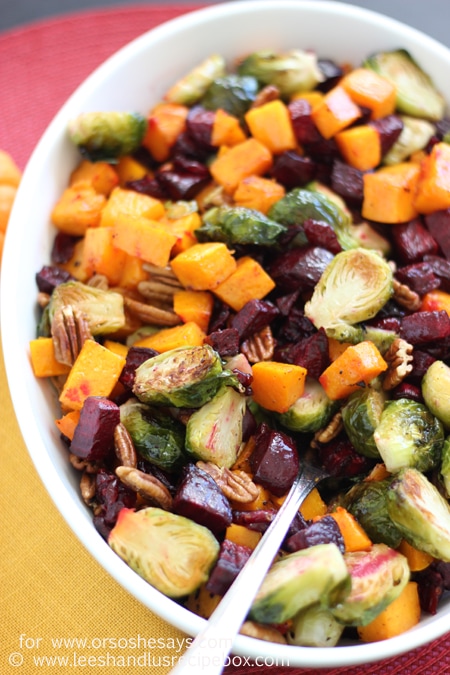 Once all your veggies are roasted, roast a few handfuls of pecans (unless you bought them already roasted). Let the veggies cool for a few minutes before tossing them all together with the pecans and craisins. Serve and prepare to be wowed! I made this for our last Thanksgiving dinner and it was a huge hit and a refreshing change so I will definitely be making it again this year!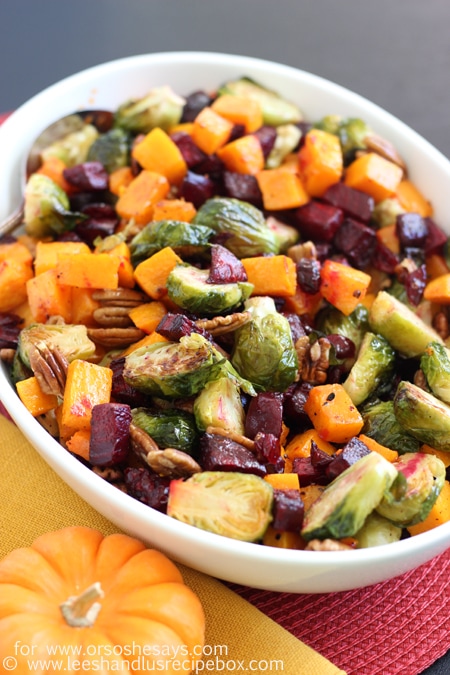 Pin-friendly image: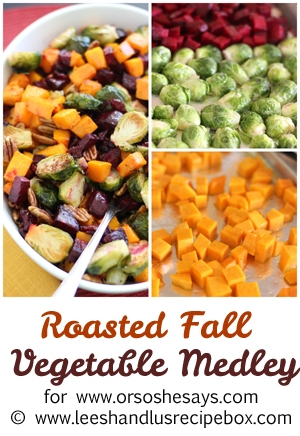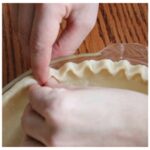 Roasted Autumn Vegetable Medley
Ingredients
3

cups

Brussels sprouts

ends trimmed, yellow leaves removed

3

tablespoons

olive oil

Salt and freshly ground pepper

to taste

1

and ½ pound butternut squash

peeled, seeded, and cubed into 1/2 ­inch cubes

1 - 1 1/2

pounds

beets

1

cup

pecan halves

roasted (and roughly chopped if you want)

1

cup

craisins

Cooking spray or extra oil for greasing pans
Instructions
Preheat oven to 425 F. Lightly grease the foil­-lined baking sheet with cooking spray.

Trim ends and remove any yellow leaves from Brussels sprouts. Cut all

Brussels sprouts in half. Toss them in a bowl with a tablespoon or two of olive oil and salt and freshly ground black pepper. Place, cut side down, onto a foil­-lined baking sheet.

Prepare beets by peeling and cubing them. Toss them in a tablespoon of olive oil and season with salt and pepper. Add to same foil-lined baking sheet with Brussels sprouts, or a separate sheet if you don't have room. Roast beets and Brussels sprouts for about 20­25 minutes. During the last 5­-10 minutes of roasting, flip the veggies.

Toss cubed butternut squash with a tablespoon of olive oil and salt and pepper.

Place butternut squash in a single layer on the baking sheet. Bake for 15-20 minutes, turning

once half-­way through baking, until softened.

Allow veggies to cool for a few minutes before tossing together.

Gently toss all veggies together with roasted pecans and craisins. Season additionally to taste. Serve warm or at room temperature.
Recipe Notes
If your oven is large enough, you can roast both pans of veggies on the same rack at the same time. Just be sure to check on the squash and take it out earlier since it typically cooks faster than the beets and sprouts.
Adapted from Julia's Album here. (Added beets, adjusted cooking time and temp, omitted cinnamon and maple for a more savory dish)
Try a few of our other Thanksgiving favorites:

Cranberries (Cooked & Raw) | Perfect Pie Crust | Cinnamon Banana Cream Pie
For more posts like this, check these out:
32 Thanksgiving Sides – Sure to be Crowd-Pleasers!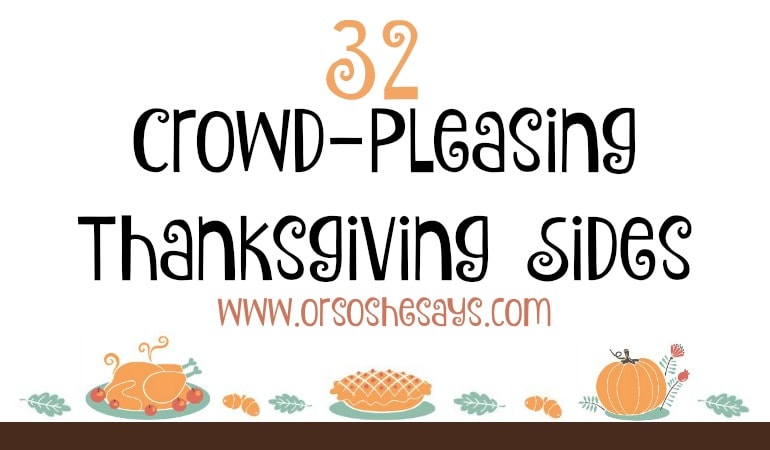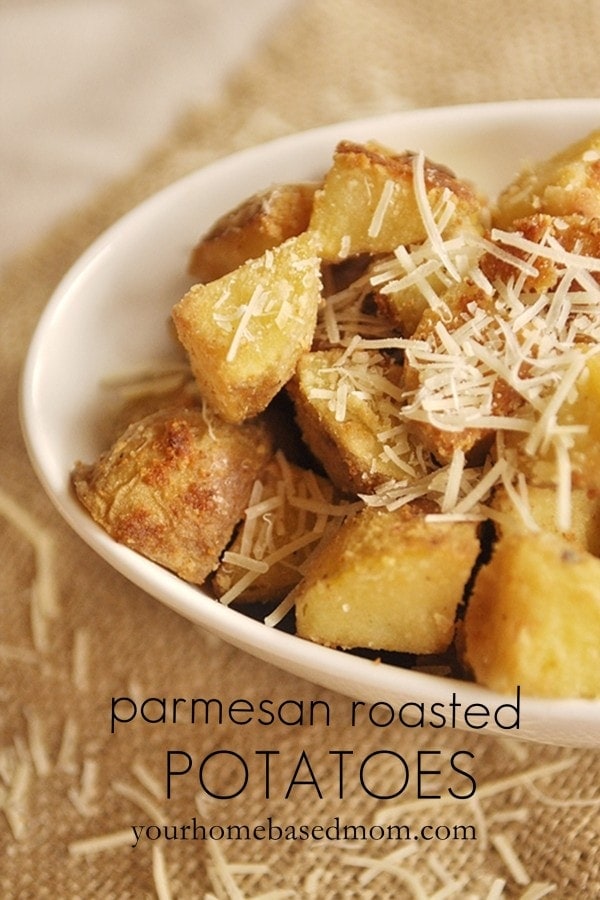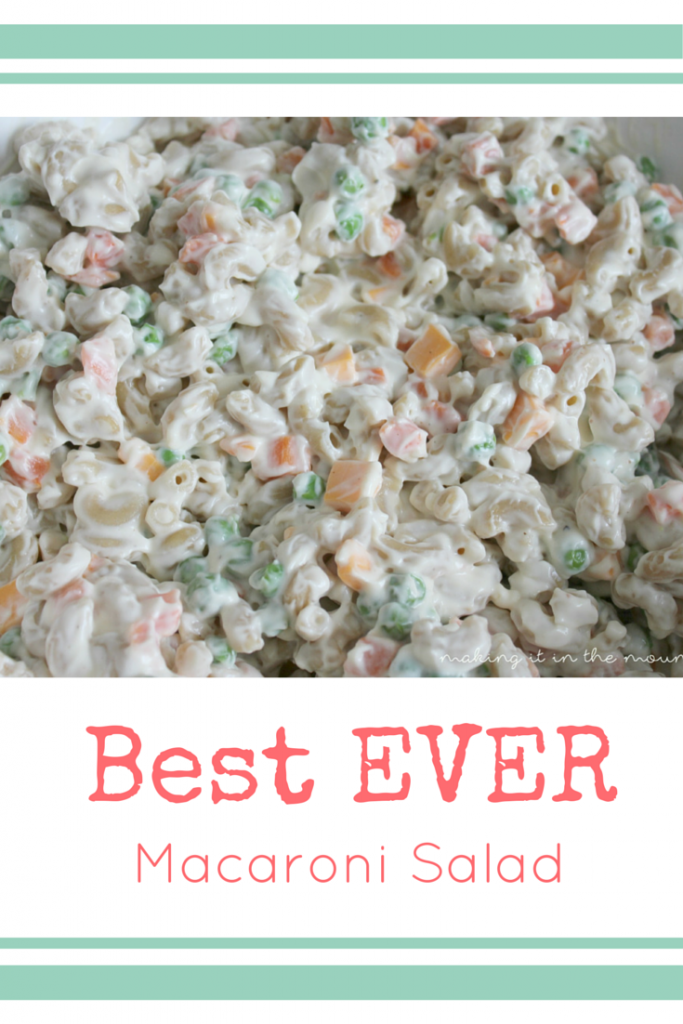 Save