DaySpring sponsored this blog post. The opinions and text are all mine.
Hey everyone, Liv back again! I'm thankful this opportunity with DaySpring Christian Celebrations came along when it did. I recently moved my laptop into my basement "office" and the area needed SO MUCH HELP. It's also the guest room, the room where we have a piano, and the room in which we've set up the electric trains so I'm not always tripping over them upstairs. It's been a bit of a disaster trying to work amidst all the clutter the last couple of weeks. Working with DaySpring Christian Celebrations to specifically find items to enhance my work space with uplifting messages is just what I needed! It motivated me to take steps toward really making the desk space conducive to my work needs. I want a place that inspires me to be my best and do the work that's asked of me. Sitting in a jumbled mess of cords, papers and kids' toys wasn't helping me there. I've never decorated the space until now, and it's so refreshing to finally have something beautiful to look at while I work.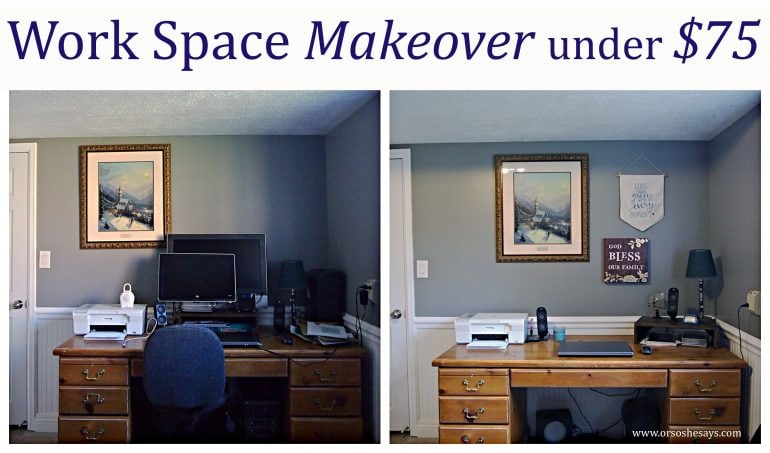 I also had enough money in the budget to purchase two Veggie Tales notebooks from the collection so my daughter can bring gifts to a couple of her friends having a birthday party later this month. Share the love, right?! My daughter absolutely loves Veggie Tales and is so excited to give those books to her friends. It can be hard to get just the right thing for her little girlfriends, but when we browsed the DaySpring collection together at Walmart, the familiar faces of those Veggies stood right out to my daughter.
So, let me give you another look at the really embarrassing before of my desk: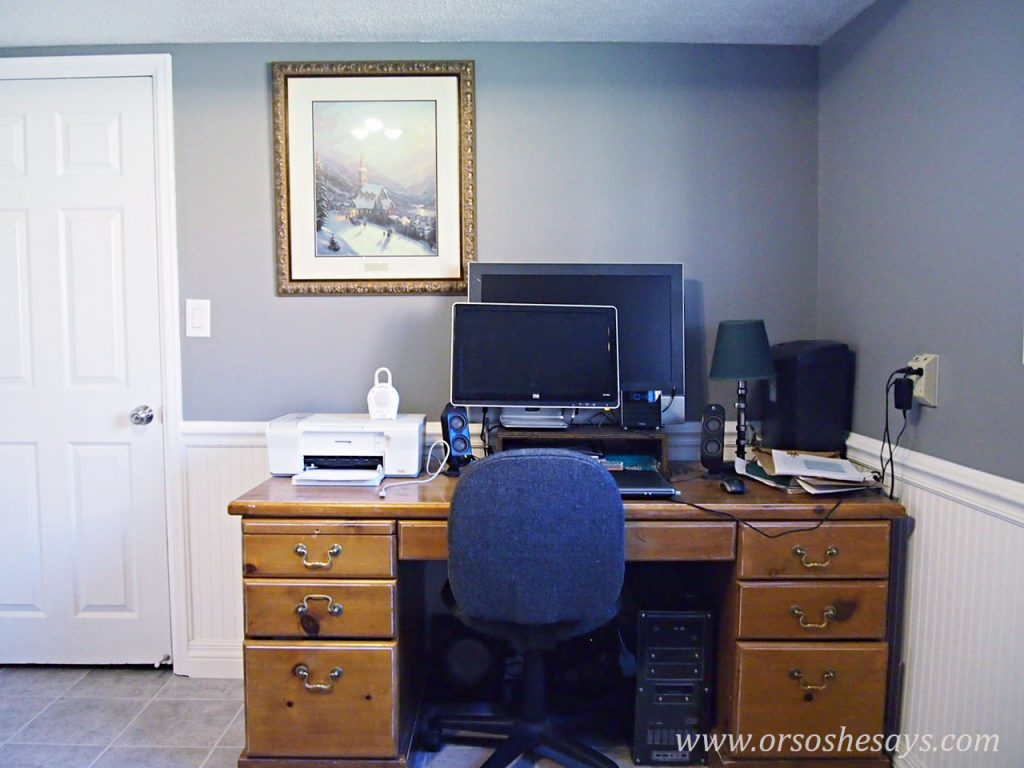 There's a paper shredder on the desk, laptop, two TV screens (why, dear husband, why?!), printer, speakers and other miscellaneous junk. It made me crazy. You can also see the picture my husband hung completely off-center above everything that has been such an eyesore to me. I'm going to give him the benefit of the doubt and assume there was already a nail there so he just used it ;).
With my DaySpring budget of $75, I purchased two wall hangings from the collection at Walmart to balance out the print my husband likes so much. Since the point was to execute this work space makeover on the cheap, I didn't want to completely remove everything and buy new; I wanted to simply complement what I have, and commit to organizing the space better. So I moved my husband's painting over just a smidge and added the two DaySpring hangings in the open space.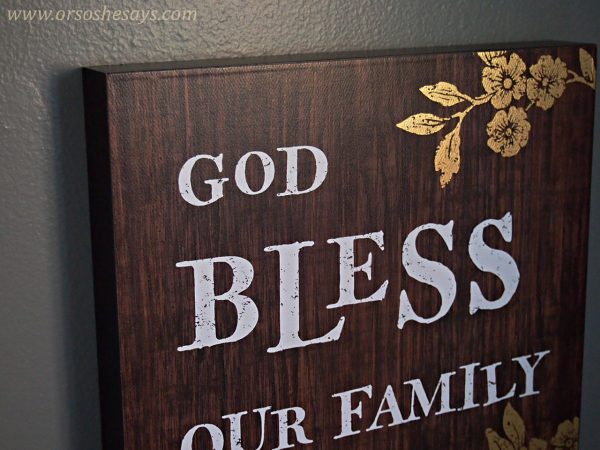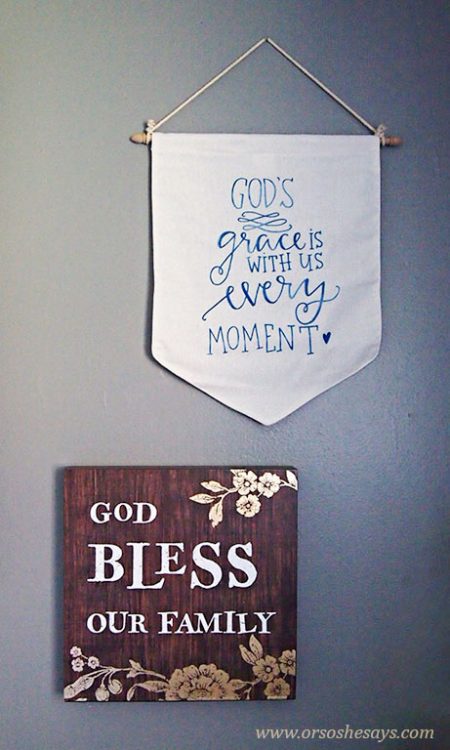 I still might move the print down a few inches, since after staring at these photos for so long I'm not sure I love it. What do you think?!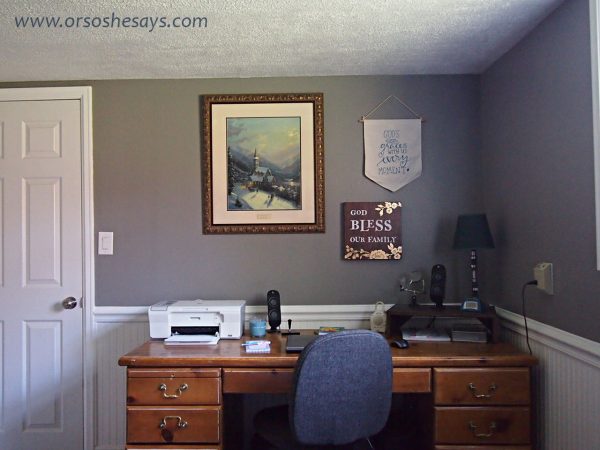 Once I got the art hung, I sorted through the desktop/drawer items to find a space for everything (some was donated/thrown away/put into organized drawers). After all that, I actually have room on the desk for something pretty! Who wants to sit in an ugly work space without anything lovely to look at? I know I was getting tired of all the clutter, and I love that the "Let your light shine" candle from DaySpring not only complements what I have in the room, but it also smells amazing. I can forget I'm working in a basement with my kids playing trains behind me on the floor. Almost. And the words are a nice reminder to do good every day. It can be so easy to sit behind a computer and say unkind words because we think we can rely on anonymity; it can be just as easy to instead be a light to others.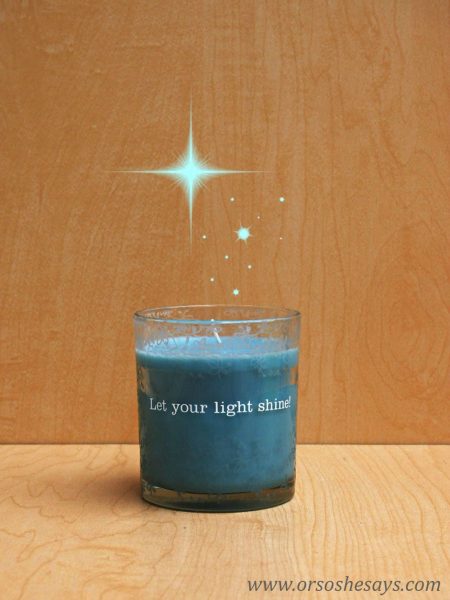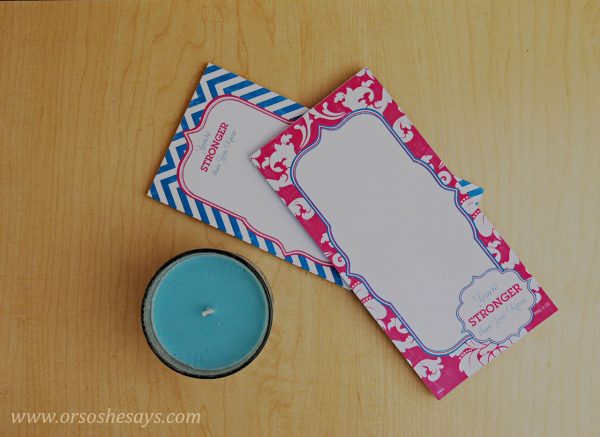 There's just something about finally having a defined work space makes it more inviting for me. I find I want to go into my basement when it's time to work, and I look forward to sitting at my desk with these reminders that I am a child of God, and have many talents I can improve upon and share with the world.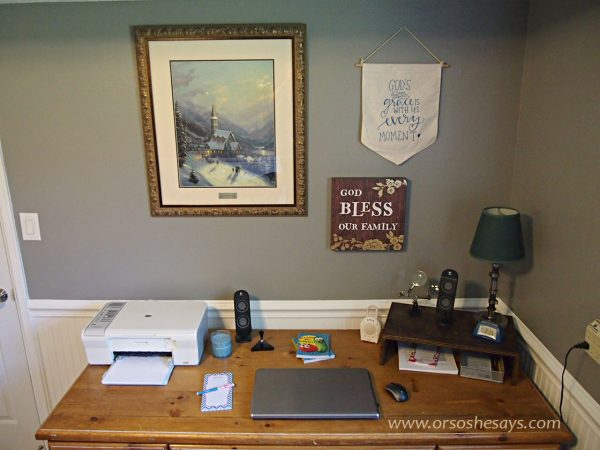 You can see that this is a very low-key makeover, but it has a huge impact. In an organized work space, I can get so much more done, and I actually look forward to using it.
Here are my suggestions for a low-cost work space makeover-
Shop around your house first. Find art, decor, supplies, storage containers, etc. that you already have at home. After rounding up your items, you can decide what you may need to purchase during your next Walmart visit.
Clear the work space of clutter. This can help you define the space and be selective about what makes its way back.
Use functional pieces that are also beautiful. The little shelf on my desk was built by my stepdad for me to use in college. My husband later stained it and made it such a beautiful piece I've hung on to for a decade.

With all the work I do at my computer, I'm so happy to finally have a functional, beautiful, inspirational space to call my own. For a chance to win products from the collection that inspired me to makeover my work space, head to a participating Walmart, buy any of the Christian Celebrations products and share inspirational uses on Instagram using the hashtags #ChristianCelebrations and #Walmart. Make your purchase and share your Instagram post by September 12, 2016 to enter for a chance to win. To find a Walmart near you that carries the DaySpring collection, visit the DaySpring Christian Celebrations website. If a Walmart near you doesn't stock the collection, visit the DaySpring site and comment using the Rafflecopter below. Be sure to log your entry in the Rafflecopter widget!
a Rafflecopter giveaway

#ChristianCelebrations #Walmart Save Save Save Save Save Save Save Save This is a sponsored conversation written by me on behalf of DaySpring. The opinions and text are all mine.
Save
Save
Save
Save
Save
Save