Hello! I'm Alycia, or Leesh, from Leesh and Lu's Recipe Box where my sister, Lindsay (Lu), and I share tried-and-true, family-friendly recipes. We are thrilled to be here sharing with you today.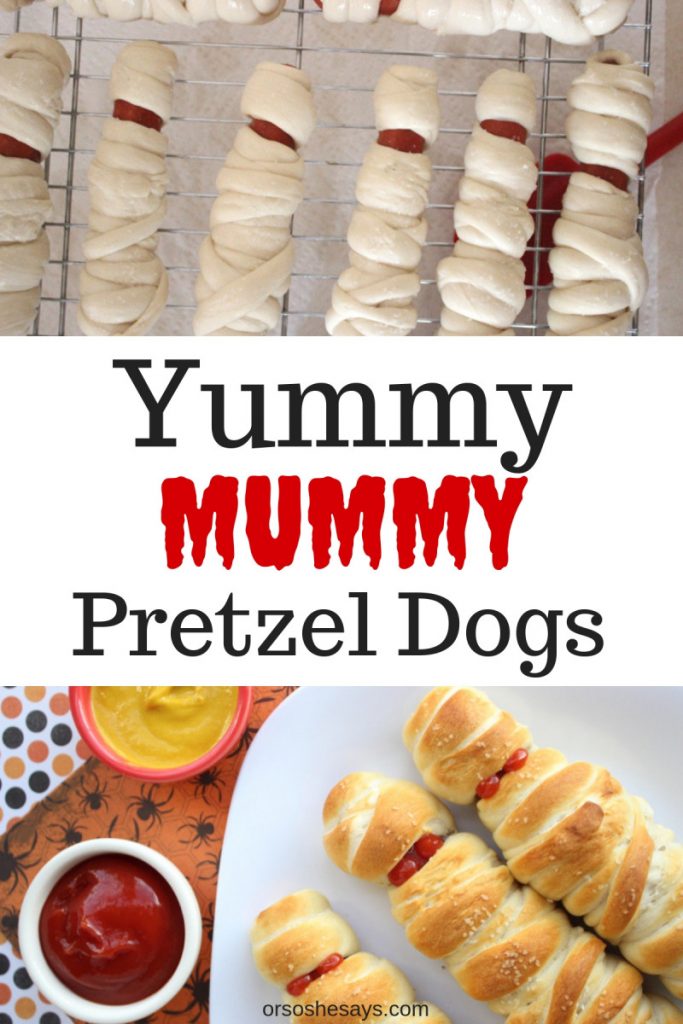 In our family, we always like to have a festive Halloween dinner. It's something our mom always did for us and we love to keep the tradition alive with our own kids. On the menu this year (and the past 2 years!) at my house are these yummy mummy pretzel dogs! They come together pretty quickly and the kids always go crazy for them because not only are they fun and spooky, they are equally delicious! Lu and I love to involve our kids in the kitchen, and rolling out the pretzel dough into long "snakes" before wrapping the mummies is the perfect job for little hands.
Roll your dough into long "snakes" and wrap it around your mummy, leaving a little bit of the hot dog showing for his face.
Traditionally soft pretzel dough is boiled in a baking soda bath before baking, but we simplified the process and just dissolved the baking soda in some super hot water before dunking our mummies.
After dunking your mummies, let them drip off a bit on a cooling rack so they don't get all soggy on the bottom while they bake. Soggy mummy=no bueno.
Place them on a lined/greased baking sheet. Pretzels are notorious for sticking, so use a silicone baking mat or be sure to grease your pan/foil/parchment. Sprinkle them with some coarse ground salt and bake up any extra bits of dough as soft pretzel bites or twist them into regular soft pretzels. Let them "rise"..haha…for 10 minutes or so and bake them up!
Happy Halloween!! We'd love to hear how they turn out for you if you decide to try them!
Mummy Pretzel Dogs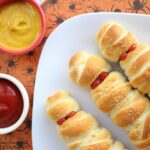 Yummy Mummy Pretzel Dogs (she: Leesh and Lu)
Ingredients
1 ½

cups

warm water

1

tablespoon

sugar

1

tablespoon

instant yeast

4 ½

cups

All Purpose Flour

give or take a few tablespoons

2

teaspoons

Salt

2

tablespoons

vegetable oil

2

cups

hot water

¼

cup

baking soda

Coarse salt for sprinkling

12

hot dogs *see note below
Instructions
In the bowl of a mixer, add 1 1/2 cups warm water, sugar, and instant yeast.

To that mixture add the oil, salt, and 3 1/2 cups of the flour. Mix on low until all the flour is incorporated.

Once flour is incorporated, begin adding the remaining cup a couple of tablespoons at a time until the dough is smooth and pulls away from the sides of the bowl. It should begin to form a ball around the dough hook. Knead for about 5 minutes. You should have a fairly stiff, pliable dough--not dry.

Cover with a lid and let rise at room temperature for about an hour or until doubled in size. (You can speed this up by putting your dough in a warmer spot.)

Preheat oven to 425. Line 2 baking sheets with silicone liners, foil, or parchment. If using foil or parchment, grease it or your pretzels will stick!

In a small loaf pan, combine 2 cups of hot water (as hot as it comes from the tap is fine) and baking soda.

Allow it to sit and dissolve while you roll out the dough.

Remove hot dogs from package and pat them dry with a paper towel. This will help the dough stick to the hot dog better.

Divide dough into 12 equal portions.

On a clean and lightly greased work surface, roll the dough out into a rope about 35-40 inches long--you may want yours longer or shorter depending on how long your hot dogs are.

Tightly wrap a pretzel rope around each hot dog pinching the end to help it stay in place. I like to let the ends peek out. You can also let a little of the hot dog show in the middle for a "mummy face" if you want.

Dunk each hot dog in the baking soda solution and set it on a cooling rack to drip.

While they are wet, sprinkle with coarse salt.

Once all the hot dogs have been dunked, transfer them to the baking sheet.

Bake for 12-15 minutes until they have a nice color and the hot dogs are heated all the way through.

Serve immediately with ketchup and your favorite mustard for dipping.
Recipe Notes
Most hot dogs come in packages of 8--so I usually only make 8 pretzel dogs and then make 3 or 4 plain soft pretzels with the remaining dough in this recipe.
Also, I have skipped letting the dough rise when I'm in a hurry and it still comes out fine--not quite as airy, but still delicious.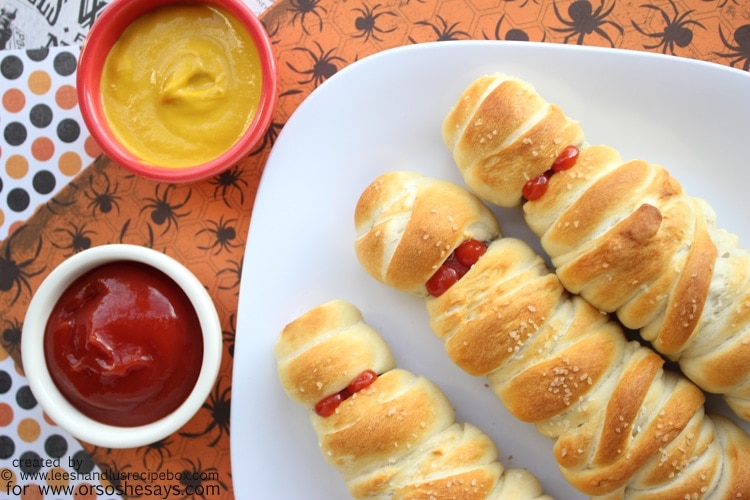 Recipe Source:
Inspired by and adapted from Joy the Baker
Check out some more of our fall and Halloween favorites:

Spider Web 7-layer Dip | Mummified Stromboli | Classic Chili
For more things Fall, visit the following OSSS posts:
DIY Halloween Stenciled Trick Or Treat Bag
And if you're looking for a round-up of fantastic fall foods, here's the answer: