Spotlights of the Month ~
Meet Aaliyah…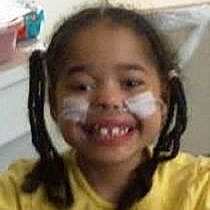 Aaliyah, born 6/06, is an African American/Caucasian little girl with a great smile and a vivid imagination. She has a strong and sassy personality and does not let having an oxygen tube or being fed through a GJ tube hold her back. Aaliyah is home schooled and loves that a teacher comes to see her in her home. She enjoys coloring, writing the letter "A" and using her safety scissors. Aaliyah also loves Dora the Explorer, dancing, playing with her baby dolls and her princess bed. She needs a loving, patient and committed adoptive family who understands her need for ongoing medical attention as well as her need to be home schooled. For more information on adopting Aaliyah. visit her page on Adoption.com.
Meet Joshua…
Joshua is a charming young man with brown hair and brown eyes. He enjoys being outside and playing sports like football and basketball. His real passion is music. He likes to write rap songs and dreams of a career in music. Joshua has experienced a great deal of loss in his young life. He had to overcome many challenges, but he has made tremendous progress with counseling and the support of caring adults. "Joshua is a wonderful young man", his counselor says. Joshua does well in a structured and consistent environment where boundaries and expectations are very clearly defined. His family will need to advocate for him in school and participate in his counseling. Joshua very much wants a permanent home and is optimistic about his future. He would like to have a brother. He would like a father that will be a good role model for him. "I know GOD will give me a family", he said. "I just got to believe". For more information on adopting Joshua visit his page on
Adoption.com
.
If you've been a long-time reader of my blog, you already know that I am a huge fan of adoption and foster care.  It has had a special place in my heart for almost my entire life.  Was I adopted?  No.  Have I adopted or fostered a child?  No.  But, I spent several of my growing years getting up close and personal with the process.  They are beautiful memories, etched in my mind, as a child, that I have always held dear.  My father, Steve Sunday, was an adoption social worker and has been heavily involved in foster care and adoption advocacy for as long as I can remember, and he continues to be.  It really means a lot to him and has touched his life, profoundly.
As a homeschooled child, I was lucky enough to be my Dad's little business partner.  I remember the times when I was hanging out in his office, waiting for him to get off work, and I would flip through the binders, filled with pages and pages of children, hoping to be adopted.  It broke my little heart.  I used to say that when I was older, I was going to adopt every one of them.  I couldn't believe there were so many innocent, older children that really had nobody to love them.  Now, I am older, and I'm not yet in a position to adopt, but I am in a position to advocate for them.  I know there are many loving people out there, who have rooms in their hearts and homes, to let these children into their families.  They just have to be found!




As a child, I also accompanied my Dad on many, many business trips, as he traveled to counsel those in need, and assist in the adoption process.  My Dad did a great job of making his little girl feel important and needed on these trips.  The neatest memories were when I had the opportunity to be there as a young mother so lovingly placed her child in my Dad's arms, ready to give it to the family she had chosen.  Though I was only 8 years old, it was heart wrenching, but I also knew that what I was witnessing was very special.  It was a moment of pure love and selflessness.  I really admired those girls.  I knew that, even as a child.  I was able to witness the new families at my Dad's office, anxiously awaiting their sweet baby.  Oh, it was amazing!  They cried and cried, tears of joy, and I will never forget those moments.  Becoming a mother, myself, has made those moments seem all the more powerful.
I know there are handfuls of adoption nay-sayers.  I know there are people that have spoiled the experience.  I know there are instances where and things don't always work out.  And, I know that I am not a true participant in any side of the process.  But, I also know a good thing when I see it…a good thing when I FEEL it.  And, I felt it.  Adoption, fueled by love on all sides, is so beautiful.  I know there are sooooo many others who have felt it too, whose lives have been blessed by adoption.  I will be sharing their stories, regularly, on this blog. 
So, in continued partnership with my father, I introduce you to my Adoption & Foster Care page.  Here you will find valuable information to help you adopt, place a child, and foster children, from other women who have been there.  Who better to learn from, than women who treasure their adoption and foster care experiences?  You will also find trusted resources, upcoming events, and emails where you can send your questions to.  Thanks for coming by!
Information for Potential Birth Mothers ~
National Council for Adoption
I Choose Adoption
Blessings in a Basket
Birth Mother Baskets
Have Questions About Being a Birth Mother??  Send an Email!
Professional:
Shanna Gwilliam – Having had parents who adopted her brother, Shanna has been involved in adoption in one way or another for as long as she can remember. As an adoption practitioner since the year 2000, her love of birth parents has grown even more and she considers them to be among the most courageous, selfless women (and men) she will ever know.
Personal:
Sherri Barker - Sherri is a birth mother, adoption advocate, volunteer, speaker,  NCFA member, and future author of her own book about being a birth mother! 
Information for Adoptive Parents ~
Information for Foster Parents ~
* If you are interested in sharing your posts/articles regarding positive experiences with adoption or foster care on this page, or becoming a guest blogger on the "Or so she says…" homepage, email ladies@oneshetwoshe.com.