Well, what do you know? It's Saturday and this recipe is called Saturday Chicken…how special is that? So, my mom used to make this when I was little, it is one of the favorites in our house! It's incredibly simple. It's so simple it seems like it couldn't possibly be good, but is is ALWAYS the request from my Beard Man and the tots whenever I'm looking for dinner ideas.
All you need is about 6 B.S. chicken breasts, 1/2 pint of whipping cream, paprika, 2 family size cans of Cream of Mushroom soup, garlic salt, dried parsley, and that's all! Along with the chicken, it makes a gravy (and enough of it that you put it on top of mashed potatoes). Oh, oh, oh baby.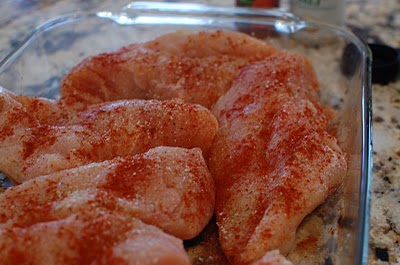 Cut anything ugly off of the chicken and place it in a casserole dish. Sprinkle both sides of chicken with lots of garlic salt and lots of paprika. Optional: sprinkle the top side with a little bit of dried parsley flakes.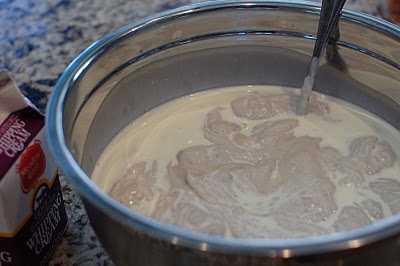 In another bowl, stir together the Cream of Mushroom soups and about half a pint of cream. Pour this mixture on top of chicken.  I just add the cream until the condensed soup isn't so thick and is more like a thick gravy.  Aren't you thinking, "this cannot be good"??  You are so wrong.  You will literally want to drink this gravy with a straw.  Pour the sauce over the chicken.  I'm a salt lover, so sometimes I can't help adding more shakes of salt and paprika on top.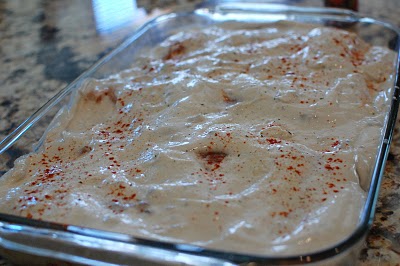 Bake in a 350 degree oven for 1 to 1 1/2 hours.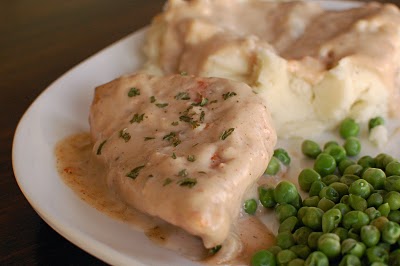 Slightly whisk the gravy around the dish to mix up the flavors. Taste it.  I almost always add even more salt, garlic salt, paprika until I'm super happy.  Serve the extra gravy over mashed potatoes! This is a hundred times yummier than it looks! My husband and I always joke about how ugly this dish is, but how much we both love it!  I will make it until the day I die.
Saturday Chicken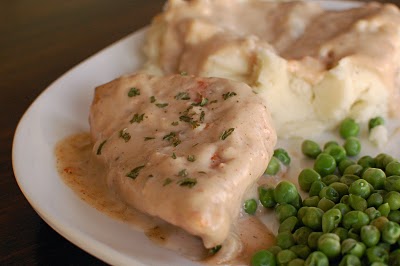 Ingredients
6 BS Chicken Breasts
Paprika
Garlic Salt
2 cans Family Size Cream of Mushroom Soup
½ pint cream
Dried Parsley Flakes
Instructions
Place chicken in glass casserole dish, sprinkle both sides with lots of paprika and garlic salt. Sprinkle some parsley flakes on the top side of the chicken.
In another bowl, stir together the mushroom soup and heavy cream. Pour on the top of the chicken. Bake at 350 degrees for 1 hour.
Whisk around the gravy to mix flavors. Serve the extra gravy on top of mashed potatoes!